When any visitor arrives to your workplace, they are there to connect with a person. It might be their host for a meeting, one of the people who receives food or package deliveries or someone they need to consult with. Helping the guest and their host connect is a crucial step in any visitor management process. There is nothing worse than walking into a building and talking to ten different people before you find someone who can actually help you. So how can you make this step seamless?
First, of course, you have to ensure you are first greeting guests, if necessary. Upon knowing their purpose, you can determine who they came to see; it may be a specific person, a group of people, a department or even security if they are not wanted at your site.
What is a host employee's job? And what are the mechanics of making sure the host knows their guest has arrived in a timely manner?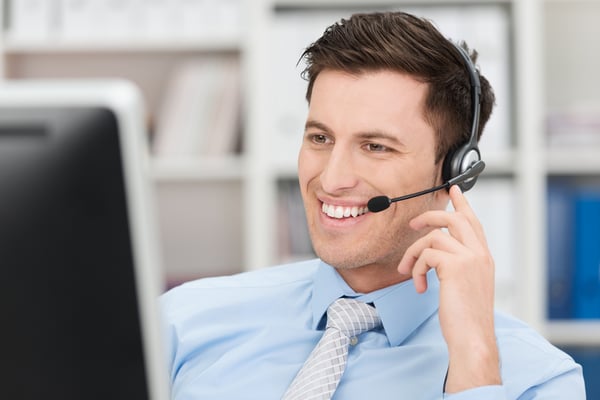 The Responsibilities of a Host
When we think of a host, we often think of those who hold a dinner party, house guests or even travelers in their home, like Airbnb. The fact is, whenever an employee has someone come to see them at work, that employee is serving as a host. For however long the visitor is at your organization, that employee is the face of your organization. It is their responsibility to leave a good impression.
Here are some basic reception etiquette tasks a host can do prior to a guest's arrival to make sure their visitor has a good experience:
Provide crucial information to a visitor, like their name or their department.
Communicate vital contact information, like telephone number, email and office number.
Inform the guest of which entrance to use and any sign-in requirements your organization has.
If possible, determine a meeting spot with the guest in advance and be there prior to the appointed meeting time.
If appropriate, preregister the guest with either your human receptionist or visitor registration
The Mechanics of Connecting Visitors to Hosts
How you connect your visitors to your hosts will largely depend on how your reception area is staffed and what the practices of your organization are, but the mechanics are basic. One of the following things has to happen:
A phone call, text, email or instant message - or several of those - is sent to the host, who comes and meets the guest.
The visitor is given directions for how to find the host, either by another person or a posted directory, and finds the host themselves. This method can have several unfortunate consequences ranging from lost and frustrated guests to unwanted visitors unfettered access to your place of work.
The visitor is escorted by another person to their host.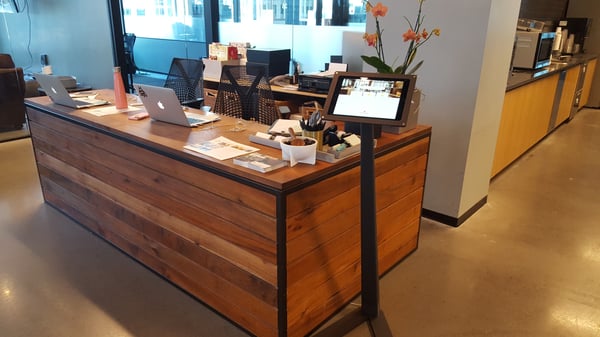 Who Makes the Call and Why it's Important
While the mechanics are simple, there are multiple consequences that could interfere with how work gets done and the impression guests get from your organization. The pros and cons hinge on whose responsibility it is to contact the host:
The Receptionist: If you have an obvious reception desk, then the receptionist handles making phone calls, answering questions, giving directions and escorting guests. While this has the benefit of being great customer service, it also requires a very knowledgeable and personable staff member – and it's expensive. In a busy office, the receptionist might be overwhelmed by people who don't follow rules, or too many people at once. This could leave your desk without staff, and keep guests waiting. It also prevents the receptionist from accomplishing other work, if necessary.
The unlucky person by the door: If you are in a modern office or coworking situation, you likely don't have a designated receptionist. The unfortunate soul who sits near the door may find themselves constantly interrupted by deliveries, salespeople, prospective candidates and more. They then have stop what they are doing to use a phone, shout across the room (we hope not!) or guide the guest to the person in question, wasting work productivity in the process.
A Digital Receptionist: Having a digital visitor check-in kiosk with a visitor management system can be a simple solution for visitors. It can automatically inform the host of a guest's arrival via the host's preferred method. A digital system can be set to contact hosts using email, text, phone, Slack or all of the above. This is especially helpful in the case of unexpected guests, like the flower delivery person sent to bring a surprise bouquet. They simply enter the name of the recipient into the system, and the person is contacted – wherever they are – that they have a delivery. One drawback of a digital receptionist is that it can be quite easy for a visitor to walk right past a kiosk
Perhaps the most fail-safe method of ensuring that guests and hosts get connected is to have a combination of a visitor check-in app supported by live staff for extenuating circumstances.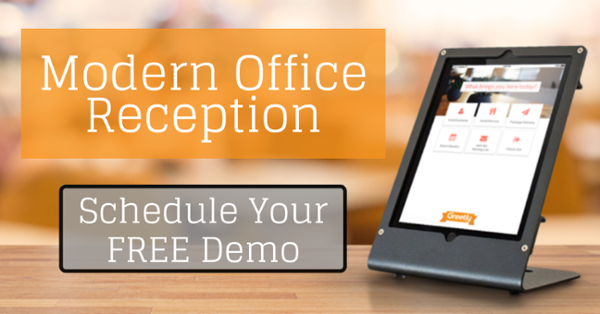 Conclusion – Get Them Together
Real-time reception notifications connecting visitors with the appropriate host is vital to getting business done. You want your visitors to feel welcomed, and to leave with the impression that your office has its act together. Contacting their host quickly and efficiently allows everyone to get on with the important job of accomplishing the purpose of their visit.