The Most Customizable Visitor Management Software
Your Reception Software Should Reflect Your Brand and Provide the Exact Check-in Workflows You Need
Your workplace is special. You do cool stuff and you host important guests. Your branding is so stimulating. So why would you accept a one-size-fits-all visitor management?
Greetly will look like it was developed and designed just for your organization. You can customize workflows based on the exact types of guests you received, including the names, icons, the questions you ask, whether you capture visitor photos, or print visitor badges, or require signatures on NDAs or other legal documents. Visitors can check in using a kiosk or they can go touchless. Each host employee can receive reception notifications by their choice of telephone, text, email, Microsoft Teams, Google Chat, Slack or any combination thereof. You can even send communications back to visitors like information about your company or a site map or safety information!
The customization doesn't stop there. Use your digital visitor logbook to search, sort, and filter visitors to get exactly the information you need. Run and save reports for easy data analysis and to maintain regulatory or internal compliance.
Greetly is the most flexible cloud-based visitor management software.
Visitor Management Built Just for You. And You. And You.
Curate the perfect reception experience. Your visitors will only see your branding. They will be given the exact sign-in workflows that meet your reception needs. All in service of making your front desk safe, fast, and efficient for visitors and hosts. All while creating an amazing first impression for your valued visitors.
Customize Workflows
Do you host a lot of interview candidates? Greetly can check them in, notify the interviewer, send them a link to complete their application, and even push their info into your Applicant Tracking System.
Do you need to protect your organization's intellectual property? Greetly can capture eSignatures on NDAs, waivers, or other documents.
Want visitor badges for some guests, but not others? We can do that too!
Want an electronic queue to show the next person that needs to be seen? Identify the right guest based on check-in timestamp, the reason for their visit, and more.
Want to keep your office safe from COVID with health questionnaires, touchless check-in, and temperature scanning? Yes, yes, yes!
Want to quickly handle food and package deliveries?
Want to send guests reminders to check out? Or exit surveys after the guest leaves?
Showcase Your Spectacular Brand
All those hours the marketing team put into choosing the perfect positioning statement and reviewing Pantone colors can come to life in your reception software. Whether you run a global enterprise or a nonprofit, you want to roll out the red carpet so visitors feel your mission the minute they walk through the front door.
That's why Greetly is 100% white-labeled. So visitors will only see your logo, your brand colors, and your brand imagery. While we love the work our marketing department did on the Greetly brand, that will be our little secret.
Your Employees Are Notified How Your Employees Want to Be Notified
Some people are at their desks all day and want to receive a phone call. Others live on their smartphone so text messages or IMs through Slack, Chat, and Teams are better. Sometimes multiple notifications need to be sent simultaneously. Other times an executive might have an assistant or admin receive their notifications. Each employee can pick their exact reception notification preferences.
Habla Espa

ñ

ol. Et Français. と日本語.
Make your lobby experience comfortable for all guests. Allow visitors to check in with the language of their choice. Greetly's multilingual front desk sign in software can be customized to display in whatever language you choose. And as many languages as you need.
Download Our Digital
Receptionist Checklist
Greetly provides an easy-to-use digital receptionist checklist. Besides visitor badges, what else should you look for in a visitor management system? Fill out the form below and you'll receive our checklist immediately.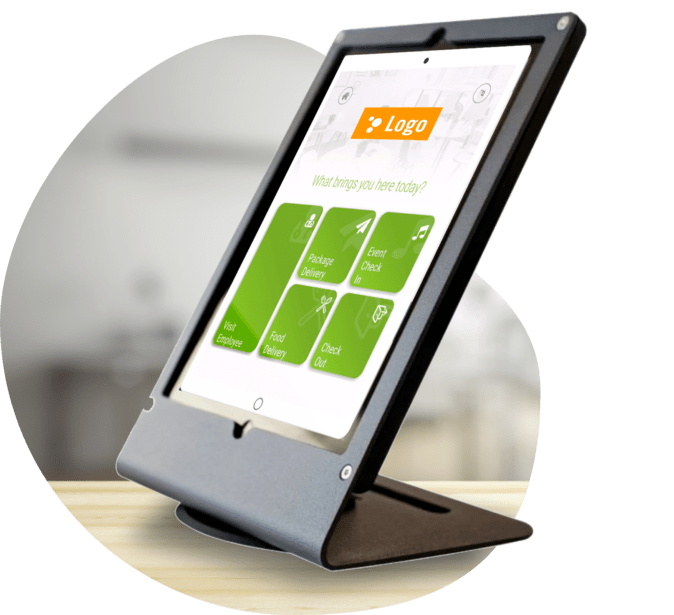 Your Visitor Management System
Configure your sign in software with the wording, images, workflows, and even languages that best suits your workplace!
Integrations automate adding employees to your user directory, send reception notifications to your preferred systems, connect to your CRM, and more!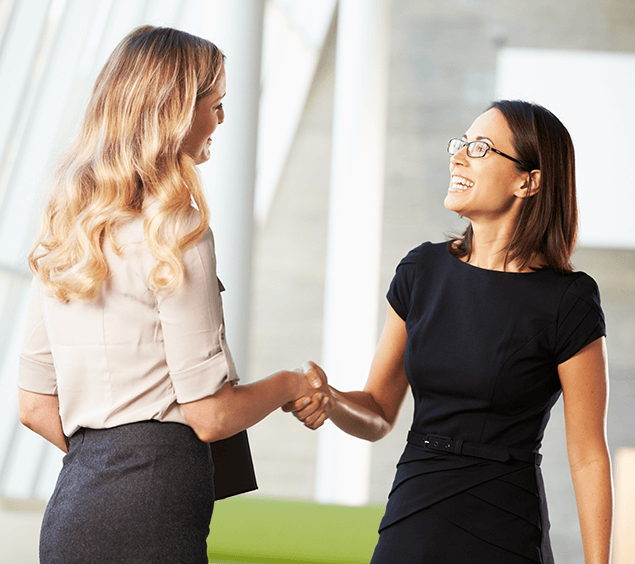 Meet Greetly, the Incredibly Customizable Visitor Management System
In times past, establishing a brand was just a matter of designing a logo, selecting a slogan, and putting them on business cards, stationery, and maybe some brochures. But in today's competitive business environment, branding requires a comprehensive approach. From the products and services they offer to the people they hire, companies want everything they do to reinforce their brand and core message.
Greetly is designed to do just that. Our award-winning visitor reception app is highly configurable, enabling your company to put its mark on every aspect of the way your guests are greeted. Don't just bring people to your the — immerse guests in your brand!
Make our visitor management solution fit your specific needs by tweaking the look, wording and even the language it uses to meet and greet guests. Associates can choose whether they're notified of visitor arrivals by telephone, text, email, Slack, Microsoft Teams, Google Chat, or a combination thereof.
Because Greetly visitor data is stowed on the web, it's available to authorized users at any time, day or night. Greetly integrates with other popular software, allowing you to ascertain which restaurants or couriers are most used by your staff or how long guests of a particular employee or department stay on site. And it can be set up to take guest photographs and produce visitor badges.
Greetly Integrates with Tools You Already Use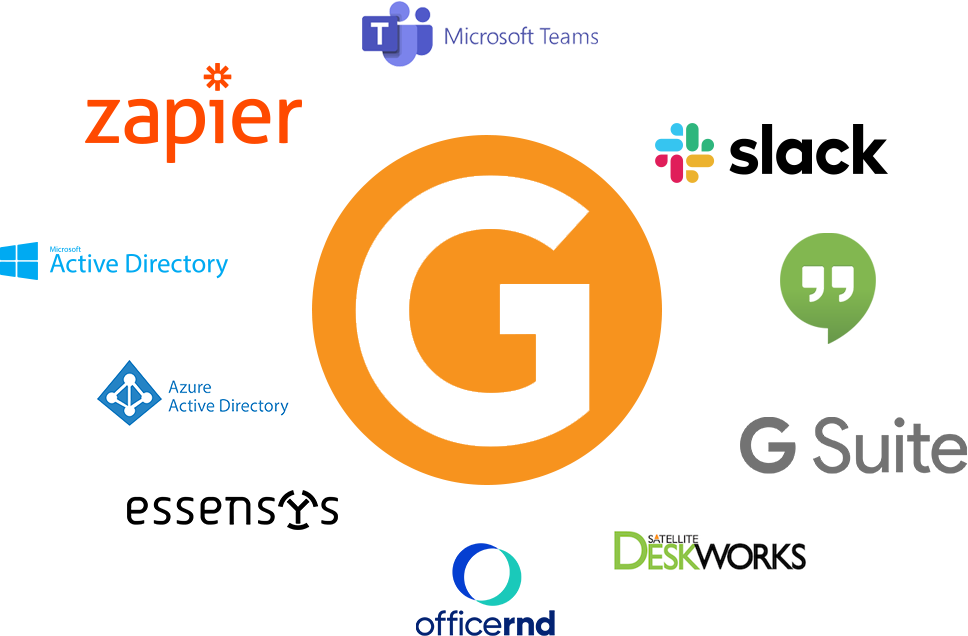 How can I customize Greetly?
In almost every way:
All of the branding. Greetly is 100% white-labeled.
Which workflows are available to visitors.
All of the wording in the app.
Fully multilingual -- you choose the languages visitors can use to sign in.
Each host can customize their reception notifications -- phone call, text message, email, or IM to Slack, Team, or Chat.
Integrations for syncing your user list.
Send messages to visitors.
The list is exhaustive. And exhausting.
Is it hard to customize Greetly?
Actually, it couldn't be easier. Everything is intuitive. Just drag-and-drop to make your reception software look and work exactly as you need it to.
Do you still want help? Your Account Manager will configure your software for you. Plus, all subscriptions come with 24/7/365 support by live chat, email, and phone. A friendly voice is just a call or keyboard stroke away.
We have members, not employees. And visitors who speak different languages.
Greetly speaks your language. Every word visitors see can be customized to fit your workplace.
And your visitors' preferred tongues. Our multilingual feature allows you to add as many languages as you need.
Will visitors see Greetly branding?
While we love our friendly orange color, we know that in your workplace, your branding is king. And queen.
Visitors will never see the Greetly name or brand. Only your logo, your brand colors, and your brand images.
During the check in process, we need visitors to sign a legal doc, take their temperature, and scan their driver's license. And then we need to send them safety information. And then...
Understood. You have exact reception workflows. Greetly can handle almost any visitor scenario. Schedule a demo today and an Account Manager will not only answer your questions, but configure your sign in software exactly as you need it to work.
Does Greetly work with our other systems?
Probably! We have tons of integrations from Microsoft and Google directory services, to Slack, Microsoft Teams, and Google Chat IMs, to Zapier, and even many top coworking software systems.
I want award-winning visitor management. How do I get started?
The best way to start is to schedule a live demo. During this free, no-obligation Greetly walk-through, an account manager will take the time to learn your visitor management needs and customize Greetly to work perfectly for you.
Experience the World's Most Customizable Visitor Management System
See what Greetly can do for you with free demo. One of our visitor management experts will make sure they understand your reception needs and show you how to customize Greetly to perfect achieve them.