Touchless Visitor Management
Keep Your Workplace Healthy and Productive
Greetly has always been focused on workplace automation to maximize productivity. That includes keeping visitors and employees healthy.
That's why we are proud to have launched the world's first no-touch visitor management system. Now visitor sign in can take place from their own smartphones with no apps to download. Only Greetly allows visitors to check themselves in without interacting with a receptionist, security guard, or third-party kiosks.
The entire functionality of Greetly check in software is available! Yes, touchless visitor management includes showcasing your brand, your custom workflows, capturing visitor photos, printing visitor badges, legal document eSignatures, and more! All without the risk of spreading COVID-19 and other diseases so your office can operate efficiently.
Linda S.
December 12th, 2022
"Simple check in solution, plus more!"

Pros: Greetly is easy to program and use. We use it for both checking people into our shared workspace but also for tracking snack charges in our community kitchen.

Cons: It would be great if it could automatically recognize someone and automatically populate their information versus them having to put it in every time they come. We have visitors who come weekly and each time they have to manually put in their info. even though it has a 'return visitor" button, it doesn't save them any time, they still need to manually add their name, phone #, email and other fields that we stipulate.

Overall: Over all it works great for both purposes, visitor management and tracking our snack bar charges.
Greetly has over 60 reviews with an average rating of 4.9/5 stars.
How Contactless Visitor Management Keeps You Productive
We all can't wait until COVID-19 is a distant memory. Even then the reverberations will live on. Employees and visitors are now more careful than ever about personal space, physical contact, and, especially, touching shared technology devices. Your receptionist software is no exception.
No-touch visitor management software solves this for all parties. Visitors can now sign in from their own devices. Nothing to touch and no unnecessary interactions. Your organization can comfortably welcome them into your workplace. Meanwhile, your employees are confident they can stay healthy and productive.
Combine touchless visitor management with thermal temperature scans for even greater workplace protection.
Keeps Employees and Visitors Healthy
No-touch visitor sign-in helps stop the spread of germs. This leads to fewer sick days and more productivity. Greetly's touchless visitor check-in literally keeps your workplace working. Want to know when visitors arrive with instant reception notifications to employees? Check! Need employees to check themselves in and out? Greetly does that too.
Improves Workplace Productivity
It has never been more important to keep your people, your physical assets, and your data safe. Our touchless visitor sign-in system can track everyone who enters and departs from your workplace. This robust software can captures names, photos, and even NDA eSignatures. Greetly prints visitors badges and maintains all of this information in your cloud-based visitor logbook.
Instant Reception Notifications
Keeping people healthy means clearing the reception area... fast. Greetly sends real-time notifications to hosts. And we'll reach them right on their smartphones or at their workstations since our reception notification options include voice calls, text messages, emails, or instant messages through Slack, Microsoft Teams, and Google Hangouts Chat. Each host employee can select their own visitor notification preferences.
Contact Tracing
Need to know when people come and go from your workplace? Want to know if visitors have been in contact with a coronavirus patient or have a fever? With Greetly's touchless visitor check-in system you will have detailed records for contact tracing.
Download Our Digital
Receptionist Checklist
Greetly provides an easy-to-use digital receptionist checklist to help you find what you need in a visitor management system. Fill out the form below and you'll receive our checklist immediately.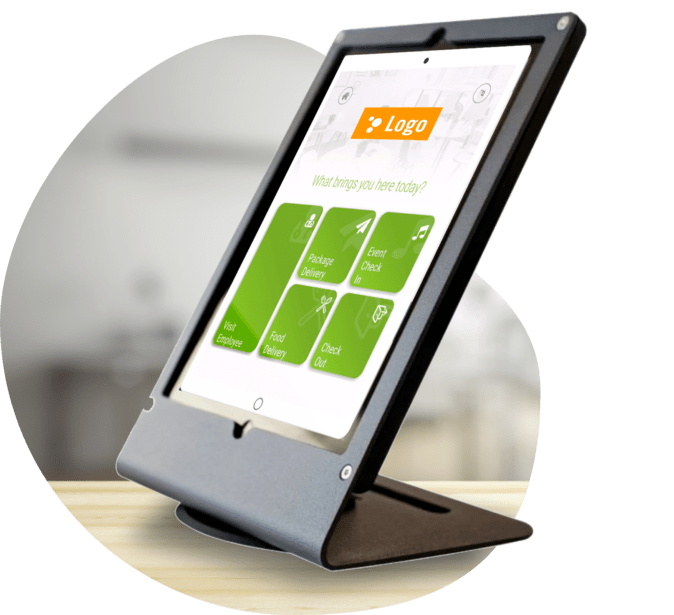 How Touchless Visitor Management Works

(No, It's Not Telepathy)
A Visitor Checks in When They Arrive
A kiosk displays a QR code or visitors can text a code to start the process. They then complete the entire check-in from their own smartphone. There is no app to download and Wifi is not required. Everything the kiosk can do, no-touch can do better!

Notifications are sent to the employees
While a message on the visitor's device confirms check-in was completed successfully, Greetly instantly notifies the hosts of the visitor's arrival. These can be received via text, email, phone call, Slack, Microsoft Teams, or Google Hangouts.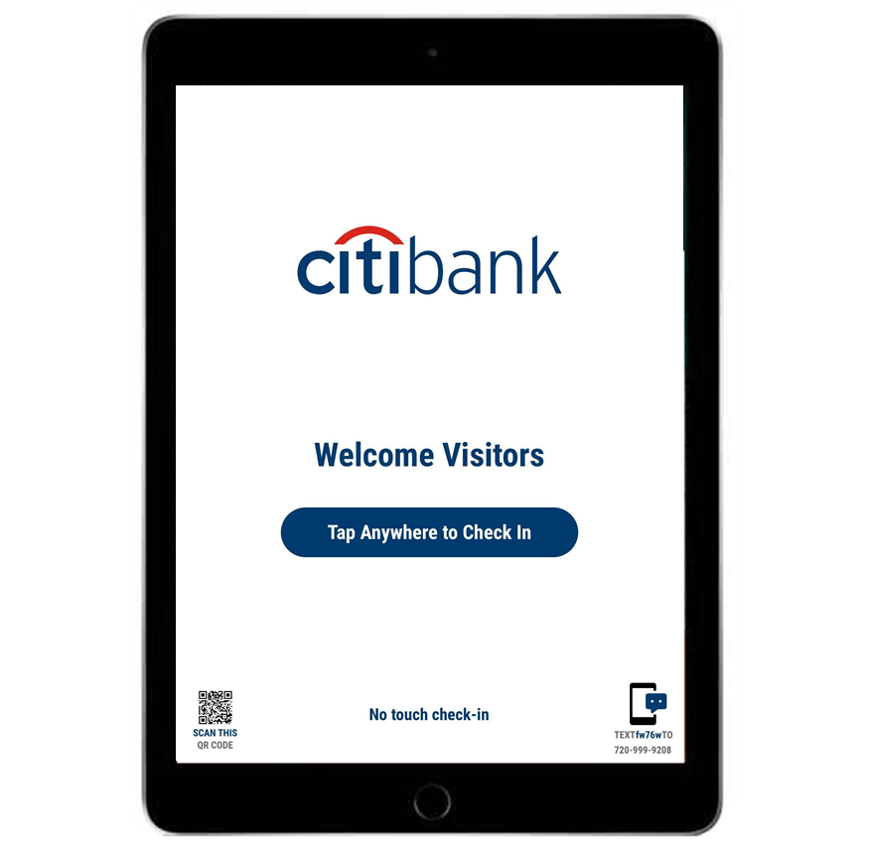 Meet Greetly, The Award-Winning Visitor Registration App!
In the old days, like last February, your visitor sign-in app might run off a kiosk. Or the visitor might speak to a receptionist or simply walk past the lobby. Today, that risks bringing a deadly disease into your workplace.
Greetly is the first cloud-based visitor management system to launch no-touch check-in! Our award-winning sign-in software now works right on your visitors' smartphones. There is nothing to download and the no-touch version has every feature you get on the kiosk.
You should expect Greetly to pioneer contactless visitor sign in. After all, Greetly was a leader in modern office, cloud-based visitor management software. We've always prided ourselves on offering an easy-to-use visitor self-help sign in app.
As the workplace evolves, whether it be hybrid and work-from-home, to new technologies, Greetly will be a leader and innovator in create a secure work environment while creating great first impressions.

Award-Winning Check-in App
Clients, visitors, and critics alike love Greetly for its robust feature set and ease of use. From simple check-ins to more complex needs like visitor badges and integrations, this software is spectacular.

We know some of your visitors are tech-savvy. Others, well, not so much. They will all be able to check themselves in with Greetly the first time as if they are a veteran.

Need to clear the premise? Greetly can send instant alert notifications to all employees and onsite visitors. Then, Greetly helps you track who is safe and who is not yet accounted for.

Comprehensive Customization
Every workplace is different. That is why Greetly is easy to customize. 100% white-labeled to showcase your brand. Edit or create new check-in workflows to suit your business needs. Greetly works for you.
An important part of any front desk, ID badges are instantly printed, featuring the visitor's details, photo, and any other relevant information.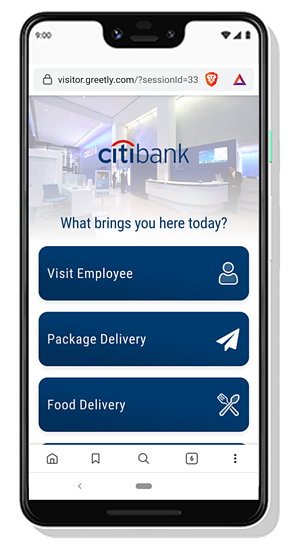 Safety & Security
Greetly is all about keeping your workplace operating efficiently. That includes keeping your people safe, and your data too.
Our innovative no-touch visitor management system minimizes exposure to COVID-19 to your visitors and employees alike. This gives workers confidence to focus on their tasks.
And our commitment to data security is second to none. Your data is safe both in transit and at rest. Our cloud storage is ISO 27001, SOC1 and SOC2 compliant -- and much more. Greetly complies with the principals of GDPR and is the only Privacy Shield certified visitor registration solution.
Your safety and confidence is a company-wide commitment.
How does touchless visitor management work?
Your visitor management systems should do much more than check-in and reception notifications.
The best visitor management systems:
Scan government-issued ID to authenticate visitors
Collect visitor photos
Print visitor badges
Capture legal document eSignatures
Take temperatures
Create a cloud-based visitor log.
With touchless visitor sign in software, your guest can sign in directly from their own smartphone. Using a preregistration link or QR code they can complete the entire visitor registration process on their own device.
Yes, touchless visitor management software can take photos, capture eSignatures, generate visitor badges and everything else your sign in solution can do -- without interacting with a live receptionist or shared kiosk.
What are the specifications for touchless visitor management
If your visitor has a smartphone with web browser they can complete the check in process. In order to prompt touchless sign in, you can have a visitor management kiosk, preregistration link you email to the visitor, or QR code you post in the lobby.
Can I combine touchless visitor management with taking temperatures?
Absolutely. If you use Greetly's thermal temperature scanning feature, the first step will be to take the visitor's temperature. They will then have the option of using the kiosk or their own smartphone, touchless, to continue the check in process.
Is it really touchless?
While it's true someone needs to touch something, the point if visitors due not need to use a shared kiosk. Instead they are interacting with their own smartphones.
Can touchless visitor management take visitor photos?
Greetly's touchless visitor management software offers all of the features of our kiosk-based solution. Visitors will take their own photos using their smartphone.
Do I need a kiosk to offer touchless visitor management?
The short answer is no. Visitors can initiate the check in process using a preregistration link they received by email or by scanning a QR code.
Most work environments due supplement their contactless system with visitor management hardware. They do this for a couple of reasons:
It anchors your reception area and guides the visitor on how to get started.
For visitors who don't want to use touchless, they can complete the check in process using the kiosk.
Visitor management hardware does not need to be expensive. Receptionist Hardware offers a variety of Greetly-compliant options.
Can I customize screening questions?
Yes. Greetly is the world's most customizable visitor management system.
You can customize the workflows and questions visitors answer to check into your workplace. This can include drop-down lists, date pickers, phone number and email fields, checkboxes, open text fields. Greetly can even scan driver's licenses and pull visitor information.
Greetly can handle whatever you can dream up to keep your workplace productive, safe, and compliant.
Is touchless the same as contactless and no-touch?
Yes, touchless, contactless, and no-touch can safely be used interchangeably.
Can touchless visitor management print visitor badges?
Yes. Everything included in Greetly's visitor management software can be done touchless. Once the guest completes their check in, through the magic of the cloud, Greetly will print a visitor badge.
Does touchless visitor management notify employees when they have a visitor?
Greetly offers a variety of reception notifications, whether the visitor signs in using a kiosk or their own smartphone.
Greetly can notify hosts via:
Voice call to landlines or mobile phones
Text message (SMS)
Email
Slack
Google Chat
Microsoft Teams
I want touchless visitor management. How do I get started?
Try The World's Most Customizable Visitor Management System
Try Greetly free with a no-obligation demo today. This fully featured trial comes with 24/7 support to get you up and running quickly. Our 14-day trial allows you to test Greetly and show it to your VIP visitors.