Cloud-Based Visitor Logbook
Stay Compliant and Analyze Your Data With Instant Visitor Management Reports
Greetly's reception software will usher your lobby into a streamlined and efficient future. Our flexible and robust digital visitor logbook will put any information you may need at your fingertips from any web-enabled device.
Up for a compliance or regulatory audit across one or more sites? Want to know how many visitors you get or to pinpoint a specific user? Need to access eSigned NDAs or other legal documents?
Searching through pages of hastily scrawled visitor names will be a thing of the past once our sign-in software transforms your guest register from a pen-and-paper logbook into a modern office data tool. Not only will Greetly notify your employees when guests have arrived but it can also track when they depart, their reason for their visit, and so much more. All of your data is organized, easy to access, legible, and can be easily sorted so you get exactly the data you need at any time.
Revolutionize Your Visitor Logbook
For visitors, Greetly creates a great visitor experience. It is easy to use on the sign in kiosk or touchless on the guest's own device.
Behind the scenes though, Greetly is a data analysis powerhouse. Gone are paper visitors logs. Gone is analog information. Gone are manual data entry processes.
With a cloud-based visitor log you can see your visitor information anytime, from any web browser. You can see data at one workplace or across your organization. Responding to compliance and audit requests can go from days to minutes; from engaging a team to a single individual. You can also conduct data analysis of how your workplace is used. You can even pinpoint individual security risks. Search, sort, filter your visitor log data and then download reports. Greetly's digital visitor logbook is as flexible as our visitor management system.
Digitally Capture Visitor Info
Greetly can be customized to collect pretty much any information you can imagine during the check-in process. Including visitor photos and eSigned NDAs, waivers, or other legal documents. And all of that information is instantly available for viewing and reporting in your cloud-based visitor logbook.
Run Reports
Want to know what happened at your office? At another office? At all of your offices? Depending on your admin permissions you can run pretty much any report you can imagine. From when time John Smith arrived, to when he departed, to how many people visit Kate Gordon, to how many people came from your most important customer. Incredibly customizable reports are just a few clicks away.
Who's Next?
Do you service clients? Users including the United States Air Force and staffing agency Randstad use Greetly to identify the next visitor in their queue. Service providers can identify the next guests, see their photos, understand the service they need, and more. No more trying to read hand-written logs. The next guest is in the visitor log right at the top of the queue.
Realtime Information on Who Is on the Premises
Need to know who is onsite right now? Greetly's visitor log provides this information at your fingertips. This information is available in a few clicks, or set it up as your default view. Need to locate a visitor? The visitor log will identify their host employee. And, if you use this option, a photo of the visitor so they are easy to identify. Greetly can also send emergency evacuation notifications to hosts and employees who are onsite.
Linda S.
December 12th, 2022
"Simple check in solution, plus more!"

Pros: Greetly is easy to program and use. We use it for both checking people into our shared workspace but also for tracking snack charges in our community kitchen.

Cons: It would be great if it could automatically recognize someone and automatically populate their information versus them having to put it in every time they come. We have visitors who come weekly and each time they have to manually put in their info. even though it has a 'return visitor" button, it doesn't save them any time, they still need to manually add their name, phone #, email and other fields that we stipulate.

Overall: Over all it works great for both purposes, visitor management and tracking our snack bar charges.
Greetly has over 60 reviews with an average rating of 4.9/5 stars.
Download Our Digital
Receptionist Checklist
Greetly provides an easy-to-use digital receptionist checklist. Besides visitor badges, what else should you look for in a visitor management system? Fill out the form below and you'll receive our checklist immediately.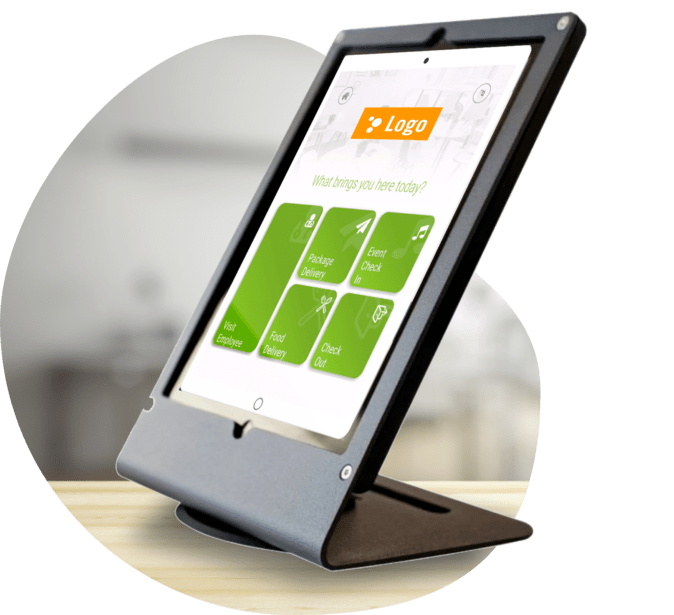 How Our Visitor Logbook Works

Available Anywhere, 24/7/365
Access your data anywhere, anytime. From your desktop, from your browser, Greetly's visitor log is ready to work for you.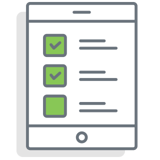 Avoid the noise and find exactly the information you need. You can customize on-screen reports to see only the exact visitor records you need.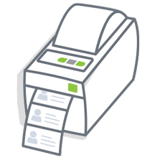 Once you have the data you need, you can download reports via CSV or PDF. You can even have reports automatically sent to you on a recurring basis.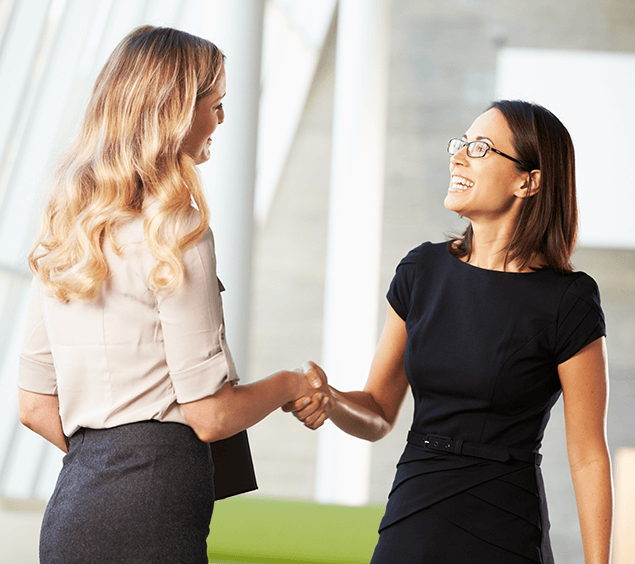 Meet Greetly, The Award-Winning Visitor Sign-In System!
Greetly is the modern office, cloud-based visitor management solution; an easy-to-use visitor self-help sign in app.
Our award-winning visitor check-in app works on iPad and Android tablets, and touchless on visitors' own smartphones, technology your visitors know and understand.
Greetly is incredibly customizable. Visitors will only see your logo and brand colors. The workflows can be customized to perfectly meet your reception needs.
Any data you collect from your visitors is available to you anytime you need it. Completely legible and completely organized. Review your visitor information, run reports, and analyze the data from any web-enabled browser.
Greetly Integrates with Tools You Already Use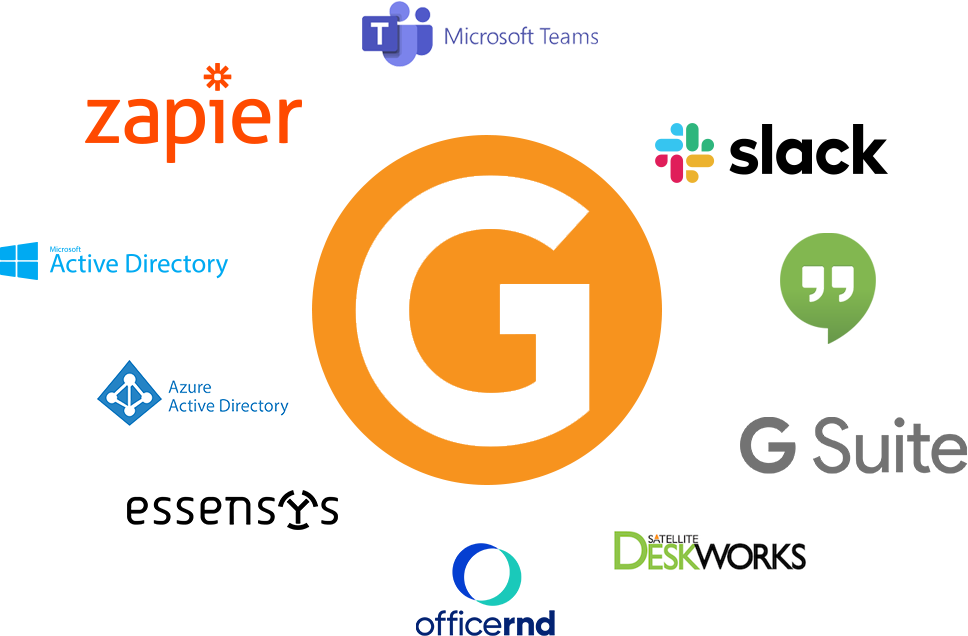 What is a visitor logbook?
We've all been there. We walk into an office, a manufacturing site, or a school and we're asked to sign in. With a pen on a piece of paper that no one will ever look at. It's "visitor management theater".
Let's get real. In a modern office, if it matters, it must be digitized so you can analyze it. That's why smart organizations are switching to digital logs that allow turns visitor information into visitor data.
Why do I need a cloud-based visitor logbook?
There are many reasons. First, it is more private than your traditional paper log. Visitors can scan pages to see who has entered before them. If you are meeting vendors for a key purchase or run a medical facility, you are exposing vital information. Visitor management digital records solve eliminate this risk.
Additionally, your cloud-based visible log organizes and digitizes everything. All information is legible so you are not trying to read hand-written names. You can also run reports based on any type of information you need to collect.
Most importantly, the information is available anywhere, anytime. Want to run a report on visitors from last month? From an office across the globe? From your smartphone? From home? All of this is only possible with a cloud-based visitor logbook.
Can I download or print reports?
Yes. Once you have the exact information you need - types of visitors, dates, offices - you can download reports as a CSV or PDF file.
Can I save my favorite reports?
Yes. First, search, sort, and filter your digital visitor log to get the information you need. You can then save the report as your default view. Now, you are always one click away from the data you need to run your business.
Can you automatically generate reports?
Yes. First, save a report. Then you can have them emailed to your inbox either weekly or monthly. Data analysis has never been easier.
What specifications are needed to use Greetly's visitor logbook?
Greetly can be accessed from any web browser. Whether a full desktop or smartphone, you can see your visitor log, run reports, download them, and analyze the information.
How do I start using Greetly's cloud-based visitor logbook?
Click "See It Live" to schedule a free, no-obligation visitor registration demo. A friendly (and good-looking!) account manager will take the time to learn your visitor management needs and customize Greetly to meet your branding and reception needs.
Try The World's Most Customizable Visitor Management System
Try Greetly free with a no-obligation demo today. This fully featured trial comes with 24/7 support to get you up and running quickly. Our 14-day trial allows you to test Greetly and show it to your VIP visitors.