How Staffing Agencies Thrive with

Visitor Management
Form strong client and candidate relationships. Digitize processes. And automate communications with future leaders.
As a busy staffing agency, you're challenged with forming relationships with hiring managers while also attracting an endless stream of top best candidates for current and future job openings. With Greetly, you can create great first impressions for everyone who enters your recruiting firm by offering a smooth and welcoming check-in experience. But our award-winning visitor management system does even more for your firm…
When guests enter a Greetly-hosted reception area, our touchless visitor management solution streamlines guest check-in, including acquiring contact information. Our highly customizable and multilingual software can have visitors complete their profiles or job applications directly in your ATS while they wait, take photos for a more complete picture, print visitor badges, capture electronic signatures on NDAs, receive health and safety questionnaires, plus so much more.
Your visitor management solution, entirely overlaid with your brand, welcomes them, and the ease of the check-in experience then strengthens your brand. From candidates seeking employment to delivery personnel and vendors – the strength of your brand holds importance – and first impressions are at the door of your business.
When check-in is complete, the assigned host is notified to include the visitor's photo so recruiters can greet people by name. Meanwhile, the visitor management software not only logs the visitor's entry but can also have candidates view open positions or complete their applications while they wait to meet with a recruiter. By the time the staffing consultant meets with candidates, the paperwork is complete, leading to more positive communication between parties.
Your recruiting firm further benefits from the ability to collect check-in data, allowing you to build a visitor database that can be used in several ways, including the cultivation of relationships that may generate more candidates placed into jobs. You can also automate follow-up communications, from exit surveys to newsletters, to ensure you don't lose important connections, reduce contact information errors that often result from paperwork, and analyze visitor trends, leading to strategic initiatives.
Greetly is a better way to greet visitors – and a better way to promote, conduct, and grow your staffing agency.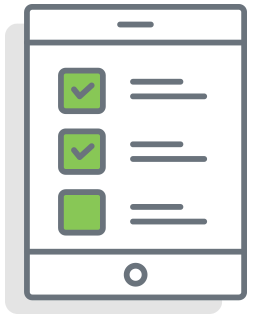 Why Staffing Agencies Implement Greetly's
Visitor Management System
With enthusiastic candidates arriving for interviews, and important clients discussing their most important hiring decisions, manning the front desk of a staffing agency is important but very hard work.
Not for Greetly! Our incredibly customizable visitor management system helps global recruiting firms handle visitors, immediately alert the right staff member, send candidates links to job openings and applications, handle food and package deliveries, push visitor information to your ATS, and more. Greetly has it all covered - and we never forget a name!
Schedule a free demo and see why the world's leading recruiting firms are powered by Greetly.
Friendly Visitor Greeting and Data Logging is the Greetly Advantage
Instant Host Alert Notifications
When a candidate or client (or delivery) arrives, recruiters will be instantly notified by their choice of text message, email, phone call, Slack, Microsoft Teams, or Google Hangout Chat.
Greetly can also send notifications to candidates, like links to open jobs, Wifi information, or exit surveys about their experience with your agency.
Sync Data with Your ATS
Avoid the challenges of systems that don't communicate. With Greetly you can automate by sending visitor information directly to many Applicant Tracking Systems.
What Are the Benefits of Using Visitor Management Systems for Staffing?
"Safety is always our top priority, not least in the current times with COVID-19. With the help of new technology,
we can now offer our visitors a safe and secure check-in and check-out, which has been an important investment for us at Randstad."
-- Mikael Estenthal, CIO at Randstad Sweden.
Here are some of the primary reasons recruiting offices around the globe are adopting digital visitor management:
Grow Your Reputation
Competition for talent is fierce. The same old processes won't help you place the best candidates.
Recruiting shops with cloud-based visitor management have a leg-up. Clients and candidates efficiently check themselves in, eliminating the potential for miscommunication and human error. The process is even faster for repeat visitors or guests who have preregistered themselves. They can just scan a QR code and they are automatically checked in.
And everything is branded exactly how you want it, with your logo and brand colors displayed throughout. You can even customize the language options based on the talent you meet.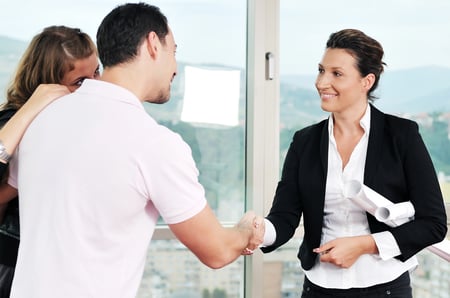 Logs Everything
Visitor management systems capture and securely log the visitor's information, ranging from their contact information, reason for visit, and timestamp. More advanced features include taking visitor photos and capturing electronic signatures on legal documents, like nondisclosure agreements (NDA) or waivers.
A digital visitor log allows agencies to quickly run reports. Review visitor information at a single office or across premises, search, sort, and filter the data, save custom reports, download them, or even have them automatically sent to your inbox on a timely basis.
We know recruiters live in their ATS. Depending on the software you use, Greetly can make all of the data it collects immediately visible to staff in your ATS via integration. If we don't support your ATS, contact us and we'll try to add it.
Ease-of-Use
Unlike most virtual management systems and digital receptionist software in the market, Greetly made its visitor check-in software to be convenient and user-friendly, empowering visitors and employees to take full advantage of its suite of features.
Accessible even to the least tech-savvy folk, our contactless virtual receptionist can be operated by everyone as if they have been using our service for a very long time.
Automated Messaging
Greetly offers unlimited instant host alert notifications. Reach staff by voice call to mobile or landline phone (including extensions), text message (SMS), email, Microsoft Teams, Google Hangouts Chat, and/or Slack.
You can also automate messages back to visitors like links to job applications directly within your ATS. Or, after they depart, automatically send candidates surveys about their experience with your recruiting agency. Greetly's automated notifications save your employees' time and eliminates accidentally leaving candidates waiting to be seen in the lobby area.
Contactless Visitor Check-In
Long before the onset of COVID-19, research showed a vast majority of people preferred self-help sign-in processes. Modern visitor check-in software allows visitors to sign into a staffing agency from their own cell phones. This reduces the risk of COVID-19 and other illnesses overwhelming visitors and staff.
Automate Visitor Queues and Other Processes
Visitor check-in systems automate the queue management process. When a guest checks themselves into your agency, they are automatically added to a queue for assistance. Staffing employees see a realtime log of who is next to be seen, potentially including a photo image of the visitor.
Visitor management systems can also automate processes like asking guests to complete an online profile, providing Wifi information, and sending a survey after they exit the premises. Package and food deliveries can also be handled by visitor management software.
Redeploy Staff
Traditional visitor management processes were very manual. One or more receptionists might greet visitors, notify staffing agents, ensure they had the proper paperwork, digitize job applications, coordinate conference room schedules, and more.
A cloud-based visitor management system for staffing can perform these fundamental tasks with fewer employees -- often zero dedicated reception staff. This allows you to focus staff on providing better service and increasing overall productivity.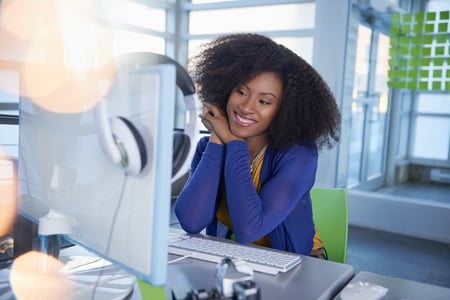 Digital Visitor Queue Management
Depending on your use cases, Greetly can automatically add visitors to a queue as soon as they check themselves in. Guests can be put into different queues depending on the reason they came to your office. This queue can be viewed in realtime by personnel making it easy to call the next person in line.
Emergency Evacuation Notifications and Logs
The feature we hope you never use. But what if you need to evacuate your premises? With Greetly you can notify all staffing employees and visitors in just a couple of clicks. Everyone will have the ability to indicate they are safe. Using a cloud-based evacuation log, Greetly admins can actively track who is safe and who might need assistance from first responders.
Some visitors, like inter-agency task members and contractors, may require access to the facility. Maybe it's the ability to get through the front door once, or several secure areas for several days. Greetly integrates with leading access control systems giving certain visitors the ability to enter certain areas like an employee could. Don't worry, you maintain complete control and the visitor's movements can be viewed in Greetly's cloud-based visitor log.
How Greetly Supports Your Agency's Growth
Staffing agencies like yours take security, efficiency, and growth very seriously. Greetly does too.
With a centralized and automated visitor management process, you will never miss meeting times, visitor check-ins, and check-outs, and eliminate the need for multiple touches in your workplace.
Digitize your visitor logbook and keep all security information digitally.
Save Staffing and Processing Costs
Greetly's virtual receptionist software will reduce your agency's need to hire more staff to accommodate customer concerns and manage employees, contractors, and guests. Furthermore, our software is designed to be easily scalable and customizable so you can spend your capital on things that your company truly needs.
With improved management of visitor data, your organization will now be able to generate real-time insights that can be used for both internal and external purposes.
This information is vital to facilitate the secure arrival and departure of data, products, and services in and around your workplace.
Impress your most important guests with our cloud-based visitor management solution. Send out branded invites, expedite check-ins and pre-registrations, and generate other customer-centric data accessible to your visitors, leaving an outstanding image of your agency.
A Visitor Check-in App Unlike Any Other

!

Schedule a free demo with Greetly today! We will take the time to get to know your business and share all of Greetly's simple-to-use features that guarantee an excellent experience for your customers and ensure your workplace's efficiency and productivity.

Our award-winning visitor check-in app works on iPad and Android tablets, and touchless on visitors' own smartphones, technology your customers know and understand. Greetly creates a great customer experience while keeping your workplace healthy and productive.
Try The World's Most Customizable Visitor Management System
Try Greetly free with a no-obligation demo today. You'll meet a friendly visitor management expert who will walk you through
Greetly's features and brand customization to see if it's the right tool to help you grow your firm.