Visitor Management System
Explore the Difference Greetly's Customization Platform Offers
Greetly offers an attractive and easy-to-use interface that leaves a positive and lasting impression on your visitors. Our approach is a technological innovation intended to streamline business efficiency with a highly customizable workflow to suit your brand and reception needs perfectly.
Greetly's Visitor Management System is a comprehensive solution to elicit a great visitor experience while following business policies, regardless of organization, facility type, geography, or industry. Our highly customizable interface and user-friendly software can do much more than collect names! Greetly's software is a revolutionary set of tools offering more effective physical and data security, internal and regulatory compliance maintenance, providing legal documentation, ID cards, badges, and keycards, in addition to basic visitor activity tracking.
Greetly's revolutionary software is the basis of today's best practices in Visitor Management. Our no-touch visitor check-in feature is still a game changer in the corporate world. And our numerous integration and compatibility options make us the first-choice solution for visitor management and provide vital information for strengthening your brand and making better decisions for your business.
In a Rush?
Download our eBook and read about Visitor Management on the go!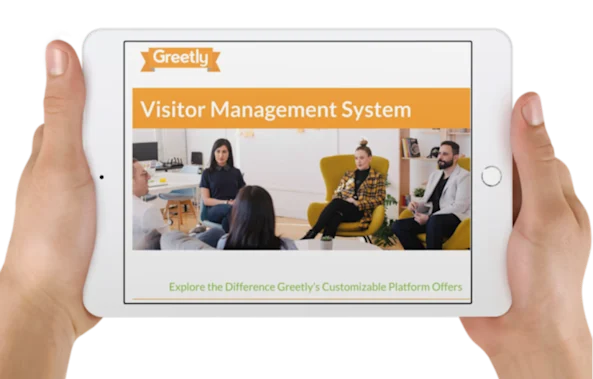 Hear What People Have to Say About Greetly
Linda S.
December 12th, 2022
"Simple check in solution, plus more!"

Pros: Greetly is easy to program and use. We use it for both checking people into our shared workspace but also for tracking snack charges in our community kitchen.

Cons: It would be great if it could automatically recognize someone and automatically populate their information versus them having to put it in every time they come. We have visitors who come weekly and each time they have to manually put in their info. even though it has a 'return visitor" button, it doesn't save them any time, they still need to manually add their name, phone #, email and other fields that we stipulate.

Overall: Over all it works great for both purposes, visitor management and tracking our snack bar charges.
Greetly has over 60 reviews with an average rating of 4.9/5 stars.
How Our Visitor Management System Makes Your Workplace Smarter
In addition to allowing initial access to the premises or building, visitor management applications provide a more comprehensive visitor access control system. This system governs the whole process in allowing or disallowing access to an individual, where they can go, and what they can do.
The sign in app is just one part of the entire visitor management procedure. For the system to be fully effective, it needs to be capable of focusing on the areas of security that are of high priority for the organization. The following are the most useful features offered by a comprehensive visitor management program:
Preregistration and Pre-Appointment Confirmations
A great visitor experience starts well before that person arrives at your workplace. Rather, as soon as a host decides to invite a guest, your visitor management system should get to work. Preregistering visitors should be fast and happen within the tools your employees are already using, like their Outlook or Google calendar. Guests can then receive a warm pre-appointment invitation, including the address of your workplace, driving and transit directions, and what to do upon arrival. Check-in should be one click away. Of course, tracking the visitor experience also starts the moment they are registered. When your reception software incorporates appointment confirmations, admin staff, security teams, and all employees will have additional information to use in order to quickly process each guest and give them a warm welcome.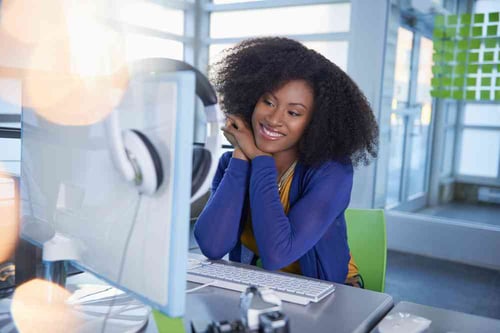 Nondisclosure Agreement Acknowledgment and Signatures
The NDA is another part of the entry process that many businesses use today. After all, your worksite houses people collaborating on future plans and IT equipment with your most important intellectual property. This type of agreement goes beyond the entry process and provides more specific restrictions on what the visitor can and cannot share once they have left the premises. A visitor management system should capture electronic signatures on NDAs and store them in the cloud or push them to your servers.
Visitor Handoff
Different organizations carry out this step in various ways, but visitors in larger premises are often escorted to the location of their host contact. This step provides an added layer of security not only for the facility but for the personnel within. Another approach is to ensure that the guest is knowledgeable of their assigned area by providing them with precise directions or a map.

Entry Process
This step normally involves a sign in app or registration that can include the use of a keycard, badge, or other access tokens. More advanced systems incorporate screening tools for facial recognition, personal identification or information, or other methods for identity validation.
Temporary Access Control
Some visitors may require access to secure locations while staying on the premises to complete various business tasks. Some organizations provide guests with temporary access control. Maybe it allows them to open one door once. Or a series of doors, with access to an elevator bank and the parking garage for the entirety of their stay. Access controls credentials can be turned off at a scheduled time or at a moment's notice.
How Our Visitor Management System Works
A Visitor Signs Themself In
Upon arrival, visitors check themselves in. They can use a kiosk or go touchless using their own smartphone. A visitor will provide the reason they are visiting, their name and other info your office wants to collect, take a picture, and eSign documents.
Instant Employee Notifications
Real-time notification alerts are sent to the host employee or user upon the visitor's check-in. With our highly customizable check in app, notifications can be sent through text, email, phone call, Microsoft Teams, Slack, or Google Hangouts. Or any combo.
Greetly, The Award-Winning Visitor Registration App!
Greetly is the modern office, cloud-based visitor management solution; an easy-to-use visitor self-help sign in app.
No expensive hardware. No inefficient use of human resources. No more distractions for "near the door" employees. Yes to great first impressions, increased productivity, and data-driven decisions.
Our award-winning visitor check-in app works on iPad and Android tablets, and touchless on visitors' own smartphones, technology your visitors know and understand. Greetly creates a great visitor experience while keeping your workplace healthy and productive.
Download Our Digital
Receptionist Checklist
Greetly provides an easy-to-use cloud-based digital receptionist checklist to help you find what you need in a visitor management system. Fill out the form below and you'll receive our checklist immediately.

Award-Winning Check-in App
Clients, visitors, and critics alike love Greetly for its robust feature set and ease of use. From simple check-ins to more complex needs like visitor badges and integrations, this software is spectacular.

We know some of your visitors are tech-savvy. Others, well, not so much. They will all be able to check themselves in with Greetly the first time as if they are a veteran.

Need to clear the premise? Greetly can send instant alert notifications to all employees and onsite visitors. Then, Greetly helps you track who is safe and who is not yet accounted for.

Comprehensive Customization
Every workplace is different. That is why Greetly is easy to customize. 100% white-labeled to showcase your brand. Edit or create new check-in workflows to suit your business needs. Greetly works for you.

An important part of any front desk, ID badges are instantly printed, featuring the visitor's details, photo, and any other relevant information.
Why Is Visitor Management Important?
The traditional, paper-based visitor management systems that were used in the past are no longer an effective means of keeping track of guests. Besides not being private, they were impersonal, required manual data entry to digitize, and generally were time-consuming and difficult to manage. What a waste.
Using a modern and comprehensive visitor management software, such as our solution at Greetly, can provide organizations with numerous benefits. Here are several major advantages why all businesses today should replace their legacy processes and use a digital sign in app.
It Reinforces Your Brand
Modern visitor management software applications provide organizations with a way to reinforce their branding from the moment a guest enters their reception area. Greetly will only show your brand logo, colors, and otherwise met your branding guidelines. In fact, all text can be customized to showcase your brand tone and personality.
Impress Your Visitors
Was it Albert Einstein who said you only get one chance to make a great first impression? Maybe he was too busy working on his theory of relativity, but it's still very accurate. And especially true for brands that aim to provide their guests with unique and memorable experiences. No matter the size of the organization, an ideal visitor management solution can provide them with the ability to make professional, lasting first impressions for everyone that enters their premises.
Improved Office Efficiency
Visitor management solutions such as our Greetly platform allow users to create and design unique workflows. With features such as custom visitor check-in process flows, lightning-fast host notifications, being able to create badges, maintaining compliance, capturing digital signed NDAs and other documents, and creating and pulling reports check-in times can be significantly reduced.
Preregistration forms may even be used and sent to third parties before their scheduled appointment to further streamline the whole check-in process. After completing the preregistration processes on their own time and devices, visitors that arrive on-site can skip the wait and only need to scan a QR code to complete their check-in.
Enhanced Data Security
To make sure that sensitive company information remains confidential and secure, visitor management system settings can be configured to limit data access visitor data. Forget the old paper logbook you would flip through to see who else was onsite, Greetly offers best-in-class user privacy, data security, and GDPR compliance. Not only can visitors not see who entered before them, but with different user roles, Greetly can restrict visitor information to certain staff members, like management, admin, and security personnel. This restriction of information can help you prevent potential breaches since only a few, trusted individuals can access personally identifiable information (PII).
Modern Reception
There is a huge difference between utilizing the outdated guest log and a comprehensive visitor management system. Not only is the latter more convenient and easy to use, but it's also more efficient and effective overall.
Reduced Waiting Times
The host notification feature of visitor management systems can effectively reduce the waiting times for organization visitors. These instant notifications are extremely useful in modern visitor management for both the hosts and visitors alike. With media options such as notifications through text and email, companies can stay updated with their visitors while providing them with several communication options. This allows your team to be notified even when they are away from their desk.
Better On-Site Transparency
With automated third-party interaction records as well as check-in data, organizations can develop insights that they can use internally and externally. For instance, authorized staff can create various reports according to the capabilities of the system and the information obtained.
Such reports can be beneficial in a situation where on-site arrival and departure from secure locations are necessary. On-site transparency can be improved particularly when each visitor can be scrutinized based on how many times they entered and left and whom they met within the premises.
Efficient Contractor Management
Managing contractors isn't always a walk in the park, especially where time-on-site and access levels are concerned. In most instances, traditional visitor management procedures simply trust contractors to stay within areas where they are authorized without any means to enforce it.
With a modern visitor management solution, businesses can easily configure their systems to cater not only to their staff and clients but also to third-party contractors. Authorized personnel is provided access to vital details within the system to ensure that all contractors are compliant with the organization's process to ensure greater physical security.
Who uses Greetly?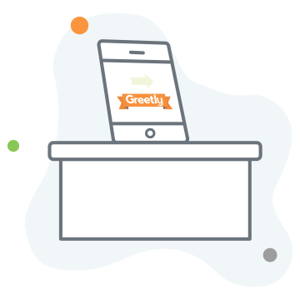 Due to our ease of use and mass customization, Greetly is beloved by work environments across industries. Greetly gets glowing reviews from clients including:
Technology innovators
Staffing agencies
Franchised and independent shared workspaces
Creative services firms
And federal, state, and local government agencies. In fact, Greetly is working with the United States Air Force to keep Airmen safe and focused on their missions.
Thanks to robust multilingual visitor registration, Greetly is used by clients around the world. At last count, our visitor management software is used in 24 countries across six continents.
Is a Sign In App another term for Visitor Management System?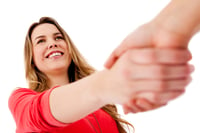 People do use the terms "Sign In App" and "Visitor Management System" interchangeably. A visitor management system is a broader term that includes every element of handling visitors, from checking them in, sending reception notifications, giving them access to the space, timing their departure, logging the visit and more. A sign in app can be an element of a visitor management system.
Whatever you want to call it, we prefer the name is Greetly!
What are the tools I can use to manage visitor access?
There are many tools to consider for providing visitor access while keeping your workplace productive and safe. The first step is a Visitor Management System like Greetly to manage Visitor Access. Not only does Greetly welcome your guests, send instant reception notifications, print visitor badges, and provide reporting, it is touchless and can take temperatures, keeping your employees healthy. Greetly can even notify security if an unwanted person attempts to enter your workplace.
Integrating visitor management software with an access control system allows you to give guests access to certain areas of your premises if you want.
Does Greetly offer reception notification alerts?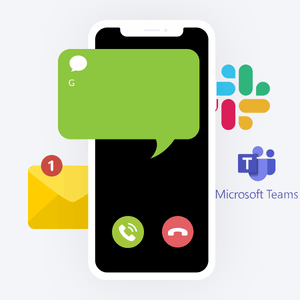 Yes. Greetly offers unlimited host notification alerts for the correct member - or members - of your team when a visitor or delivery has arrived for them. Greetly can even notify an executive assistant or backup team member.
Each host can choose their own notification preferences. They can choose one or more of the following options:
Phone calls to a landline phone, including extensions
Phone calls to a mobile phone
Text messages
Emails
Microsoft Teams messages
Greetly offers unlimited host notifications with any license. Yes, unlimited voice calls and text messages. You will never receive a surprise charge from Greetly. (Unless you are stuck in the movie Momento.)
Do visitor management systems offer physical security control?
Yes. It is possible for a visitor management system to offer physical security controls such as opening secure doors and providing access to elevator banks and parking garages as a part of their platforms. Greetly can also send emergency evacuation notifications and inform security personnel if an unwanted guest attempts to check into your workplace.
Ask the Greetly team about Physical Security Control options by requesting a demo.
Is Greetly a cloud-based visitor management solution?
Yes, Greetly's visitor management system is a cloud-based offering. Admins can manage their Greetly account, send emergency notifications, and view reports from any web-enabled device.
Can I customize visitor screening questions?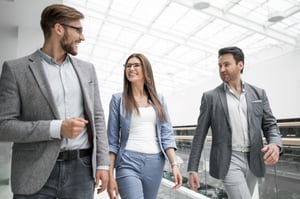 Yes. Greetly is the most customizable visitor management system. Visitors will only see your brand and the check-in options that suit your reception needs.
Even better, Greetly allows you to customize the screening questions you ask at check-in. This can include drop-down lists, date pickers, phone numbers, email fields, checkboxes, and open text fields. Greetly can even show visitors a safety video, have them complete a safety questionnaire, scan driver's licenses, and capture electronic signatures on legal documents like NDAs or waivers.
To keep your workplace compliant with internal or third-party regulations, Greetly can handle whatever you can dream up to keep your workplace productive, safe, and compliant.
Can I offer touchless visitor sign-in?
What's the best way to do visitor screening?
Many companies have found that an effective way to do visitor screening is by enabling a Digital Receptionist like Greetly to handle the tasks of information collection, screening, collecting NDA eSignatures, taking visitor temperatures, employee alerts, and creating a detailed digital visitor log.
Wow, that's a lot of work off your plate. You can rest easy knowing your "near the door" personnel can get more done while your office is safer and more compliant than ever.
Is Greetly a digital receptionist for iPad?
Well, some people have said that! Others call us a life-saver, but hey, we don't like to brag.
Greetly offers a Digital Receptionist application delivered by an iPad (or Android, PC, or mobile phone browser), part of the complete Visitor Management System. Request a demo to learn more (top of page).
What are some ways to improve the visitor experience?
One way is to make check in and screening more efficient. Many companies rely on Greetly's award-winning visitor management system to do just that. When visitor registration, check in, compliance and health screenings are automated, reception and security staff can focus on higher-level work.
Another way to improve the visitor experience is to offer touchless sign in software. Some people don't want to use a shared kiosk or talk to a receptionist through a glass. They prefer to use their own smartphone to connect with their host.
Here is a more detailed article on steps for a great visitor experience.
Does Greetly Integrate with Microsoft Teams?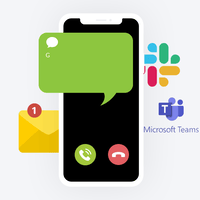 Yes, Greetly integrates with Microsoft Teams. Plus Azure AD. These integrations allow your team to receive notification alerts in Teams and automate your employee list in the Greetly check in app.
Looking for Slack? Or Google Hangouts? Anything else? The answer is probably yes either directly or through Zapier.
Schedule a free demo today and a friendly Greetly team member will share the options and even assist in setting up your Teams integration.
How do I get started with Greetly?
Try the World's Most Customizable Visitor Management Platform
See Greetly free with a no-obligation demo today. During this personal demo your Account Manager will take the time to understand your reception and security needs and show you how to customize your digital receptionist to perfectly achieve your goals.