Award-Winning Visitor Registration Software
Virtual Receptionist Automation App
Every workplace needs an efficient way to register visitors and inform workers that their guests are on site. But most businesses prefer to have employees focused on vital tasks instead of being tethered to a reception desk.
That's where Greetly comes in. Our award-winning visitor management system modernizes office reception. Greetly collects any visitor information you may needs and instantly sends host notifications using phone, text, email, Slack. Microsoft Teams, and Google Chat.
Greetly is packed with features, highly configurable, and the perfect solution for all types of visitor registration needs.
In a rush?
Download our eBook and read on the go!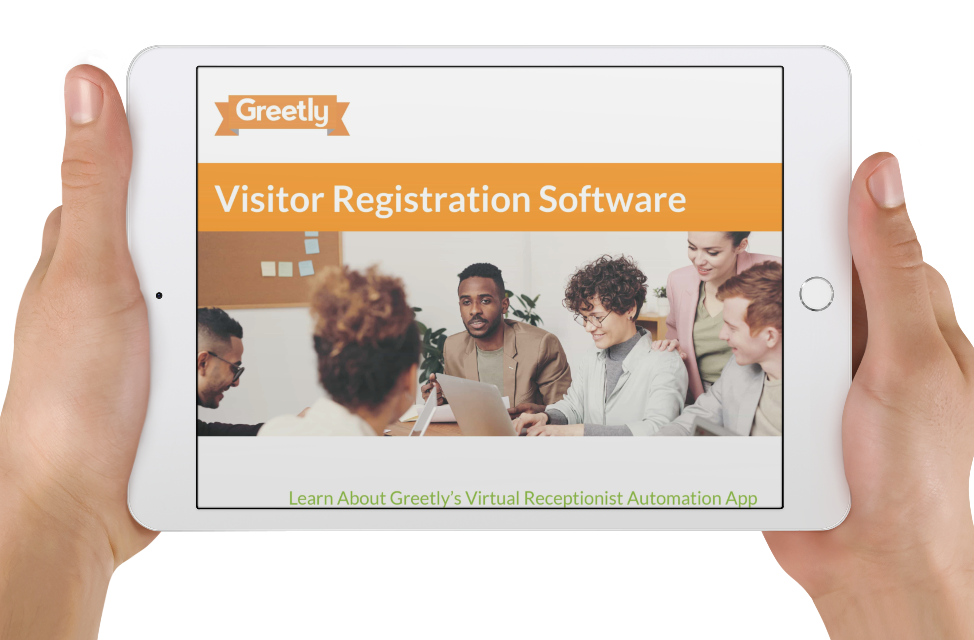 Linda S.
December 12th, 2022
"Simple check in solution, plus more!"

Pros: Greetly is easy to program and use. We use it for both checking people into our shared workspace but also for tracking snack charges in our community kitchen.

Cons: It would be great if it could automatically recognize someone and automatically populate their information versus them having to put it in every time they come. We have visitors who come weekly and each time they have to manually put in their info. even though it has a 'return visitor" button, it doesn't save them any time, they still need to manually add their name, phone #, email and other fields that we stipulate.

Overall: Over all it works great for both purposes, visitor management and tracking our snack bar charges.
Greetly has over 60 reviews with an average rating of 4.9/5 stars.
Digitize and Automate Your Visitor Registration
Capture Visitor Information
Greetly captures each guest's name, company affiliation, contact information, host, and reason for visiting. You can capture more advanced visitor information like birthdate, government-issued ID, temperature, and health screening questionnaire. Visitors will check themselves in on a self-service kiosk or using their own smartphone.
Notify Associates with Realtime Alert Notifications
Your team members can receive instant notifications of guest arrivals using phone, text, email, or one of our many integrations, such as Slack, MS Teams, or Google Chat, eliminating the need to waste precious admin hours waiting for guests in a lobby area.
Take and Retain Guest Photos and NDAs
Greetly's virtual receptionist software will take and retain visitor photos. If you're encountering someone for the first time or just need to refresh your memory about the person you're greeting, just call up a picture from Greetly's digital logbook. Greetly can do the same with NDAs and other legal document eSignatures.
Log visits and analyze data
Greetly's modernized office technology stores all of your visitor information so that it can be accessed from your cloud-based visitor logbook anytime. You will be able to automate CRM updates and analyze your organization's busiest departments for any given day or time.
About Our Powerful Visitor Registration System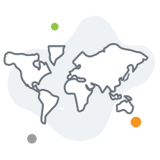 Cloud-based Visitor Registration Software
Greetly securely captures visitor information, including names, check-in timestamps, photos, document signatures, and more, and stores it in the cloud so it can be accessed at any time and from anywhere. Upgrade from paper sign-in sheets and modernize the way you greet and track your guests!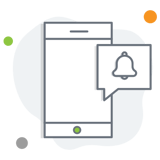 Integrated With Your Most Important Software Systems
Greetly integrates with hundreds of other software products like Active Directory, Azure AD, Google for Work, and Slack to make your workplace more productive. Automate syncing users, adding visitors to CRM lists, following up with clients, and analyzing your visitor data!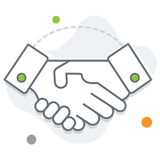 Greetly can be customized to make a perfect fit with your brand, office, industry, region, nation, and even the languages your visitors may wish to use for self-service check in. Only your brand will be seen and you can customize workflows to meet your unique needs. Put your company's distinctive mark on the way you greet visitors!
Download Our Digital
Receptionist Checklist
Greetly provides an easy-to-use cloud-based digital receptionist checklist to help you find what you need in a visitor management system. Fill out the form below and you'll receive our checklist immediately.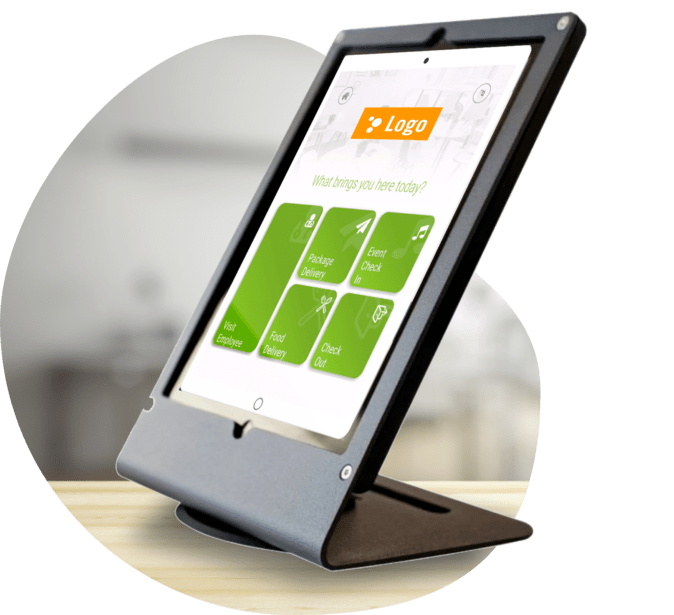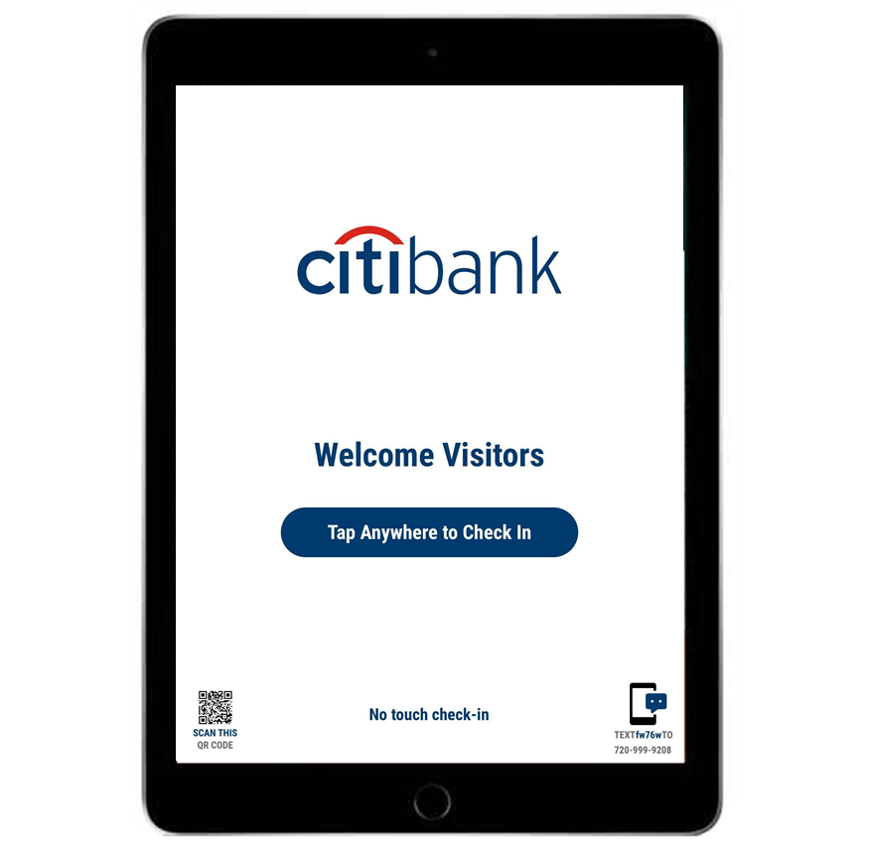 Greetly, The Award-Winning Visitor Registration App!
Greetly is the modern office, cloud-based visitor registration solution; an easy-to-use visitor self-service sign in application.
Whether you're looking for a simple way to capture visitor photos, record e-signatures for NDAs, check when a guest has signed out, handle packages and food deliveries, or register guests taking part in an event or tour, Greetly can do that!
Our award-winning visitor check-in app works on iPad and Android tablets, and touchless on visitors' own smartphones, technology your visitors know and understand. Greetly creates a great visitor experience while keeping your workplace healthy and productive.
Greetly Integrates with Tools You Already Use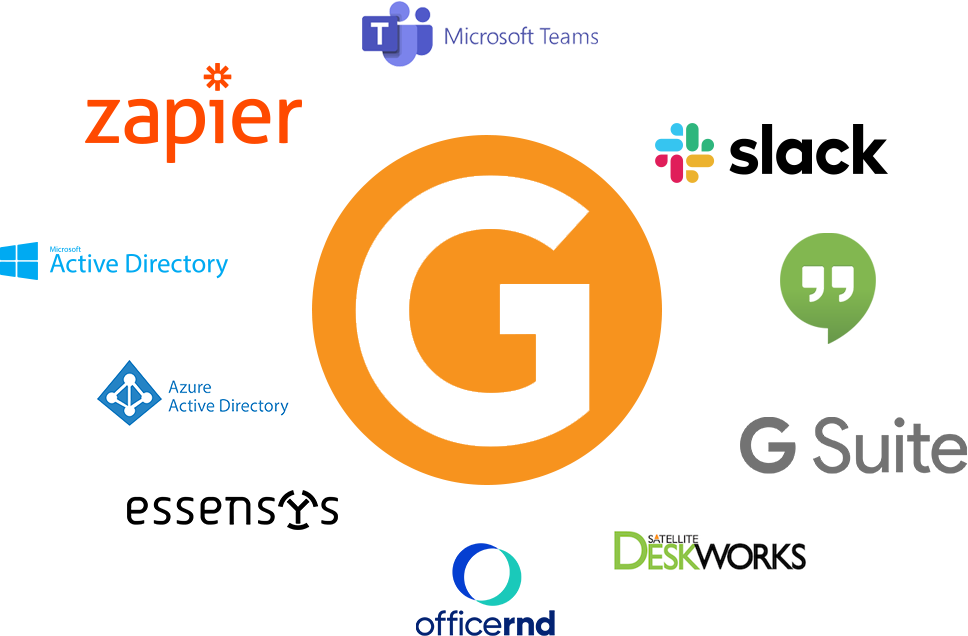 Is "Visitor Registration Software" another term for "Visitor Management System"?
People do use the terms "Visitor Registration Software" and "Visitor Management System" interchangeably. A visitor management system is a broader term that includes every element of handling visitors, from checking them in, sending reception notifications, giving them access to the space, timing their departure, logging the visit, and more. Visitor registration can be an element of a visitor management system.
Whatever you want to call it, we prefer the name is "Greetly"!
Does Greetly offer host notifications when a visitor arrives?
Yes. Greetly offers instant reception notifications when guests check into your work premises. Depending on how you customize your workflows, one or more hosts may be notified.
Each host can choose their own notification preferences. Here are the common options:
Phone calls to a landline phone
Phone calls to a mobile phone
Text messages
Emails
Slack messages
Microsoft Teams messages
Google Chat messages
Greetly offers unlimited host notifications with any license.
What are the benefits of cloud-based visitor registration?
There are several benefits of using cloud-based visitor management:
Free upgrades with regular product updates.
All of your information is available anytime, anywhere. You can view visitor reports from home or on your mobile phone. This is especially valuable should you ever need to use Greetly's evacuation feature.
No on-premise servers to maintain.
Implement your visitor registration software with off-the-shelf hardware.
How do I get started with Greetly?
Click "See It Live" to take Greetly for a spin by requesting a free, no-obligation visitor registration demo. An account manager will take the time to learn your visitor management needs and customize Greetly to meet your branding and reception needs.
Can I customize screening questions?
Yes. Greetly is the most customizable visitor management system. Visitors will only see your brand and the check-in options that suit your reception needs.
Even better, Greetly allows you to customize the screening questions you ask at check-in. This can include drop-down lists, date pickers, phone number and email fields, checkboxes, open text fields.
Greetly can handle whatever you can dream up to keep your workplace productive, safe, and compliant.
Can I offer touchless visitor registration?
Yes. Greetly offers visitors the option to scan a code or click a link to complete touchless visitor registration from their own mobile phone. In fact, Greetly offered the first contactless visitor management system and we haven't stopped innovating.
Is Greetly a visitor registration application for iPad?
Well, some people have said that! Others call us a life-saver, but hey, we don't like to brag.
Greetly offers a Digital Receptionist application delivered by an iPad (or Android, or PC, or mobile phone browser), part of the complete visitor management application.
Want to learn more? Click here to instantly schedule a demo of our award-winning software.
What are some ways to improve the visitor experience?
One way is to make check in and screening more efficient. Many companies rely on Greetly's award-winning visitor management system to do just that. When visitor registration, check in, compliance and health screenings are automated, reception and security staff can focus on higher-level work.
Another way to improve the visitor experience is to offer touchless sign in software. Some people don't want to use a shared kiosk or talk to a receptionist through a glass. They prefer to use their own smartphone to connect with their host.
Here is a more detailed article on steps for a great visitor experience.
Try The World's Most Customizable Visitor Management System
Try Greetly free with a no-obligation demo today. This fully featured trial comes with 24/7 support to get you up and running quickly. Our 14-day trial allows you to test Greetly and show it to your VIP visitors.