Digital

Receptionist

Software
Explore the Difference Greetly's Customization Platform Offers
A fast, frictionless, and efficient reception process is your first step towards a providing satisfying experience for customers visiting your business. While bringing in well-trained staff to handle intake can help ensure you meet these service standards, in todays interconnected digital ecosystem you should look to software solutions to reduce your staffing needs. An effective 'digital receptionist' can handle all the primary responsibilities of a real, live receptionist, while also integrating into your existing customer relations management (CRM) platforms and saving you money every step of the way.
Interested in digital receptionist software?
Greetly has developed an industry-leading digital receptionist app for Android devices, a digital receptionist iPad system, and software for desktops that allows your business or organization to streamline the visitor check-in process. If you're looking for a way to save money on staffing costs while still upholding high service standards, Greetly's digital receptionist software can help. With a proven track record for companies in manufacturing, service industries, technology, real estate, and more, we're certain we have a solution that works for you!
In a Rush?
Download our eBook and read about Digital Receptionist Software on the go!
Linda S.
December 12th, 2022
"Simple check in solution, plus more!"

Pros: Greetly is easy to program and use. We use it for both checking people into our shared workspace but also for tracking snack charges in our community kitchen.

Cons: It would be great if it could automatically recognize someone and automatically populate their information versus them having to put it in every time they come. We have visitors who come weekly and each time they have to manually put in their info. even though it has a 'return visitor" button, it doesn't save them any time, they still need to manually add their name, phone #, email and other fields that we stipulate.

Overall: Over all it works great for both purposes, visitor management and tracking our snack bar charges.
Greetly has over 60 reviews with an average rating of 4.9/5 stars.
What Are the Benefits of Digital Receptionist Software?
A digital receptionist can be a stand-alone software or app that works alongside your current business phone system and CRM platform. Here are some of the key services provided by digital receptionist software:
Capture visitor information with visitor management systems: guest intake is rapidly processed, walking users through completing registrations, waivers, photos, or any other forms and documents required for their visit.

Real-time integration with your communication channels: digital receptionists can automatically alert team members upon a guest's arrival and completion of check-in, minimizing time spent in a lobby or waiting area. Digital receptionists can work 24/7, which means you'll be ready to receive visitors at any time.

Logging visits and analyzing data: leveraging your gathered visitor information is crucial for continuing to improve your customer service. An effective digital receptionist works with your current digital communication channels, meaning they seamlessly integrate into your existing systems rather than replacing them or requiring additional resources.
Digital Receptionist vs. Virtual Receptionist – What's the Difference?
A digital receptionist is meant to supplement or replace a traditional front-desk reception experience. By using modern technology and hardware and built-in could integrations, visitors can complete the whole check-in process entirely on a dedicated tablet or desktop device. Rather than shuffle through physical paper forms attached to clipboards and have someone work a desk to then verify and manually input that information to a work server, a digital receptionist can tie all those steps together and automatically push the visitor info to an easily accessible cloud server.
A virtual receptionist is a person, company, or bot assistant that remotely handles phone call intake. Virtual receptionist software can integrate well for businesses that receive a high volume of callers. Virtual receptionists are useful for screening callers, providing them answers to common questions, and redirecting them to specific individuals they're trying to reach. More advanced bots may use interactive voice response (IVR) to give callers a more natural, conversational customer experience.
Why Choose

Greetly's

Digital Receptionist Software
Greetly is the leading digital receptionist software for small businesses. We're changing how business owners communicate with their customers by providing an easy-to-use, cloud-based solution that helps them deliver exceptional customer service.
We're in business communications, so we know how frustrating it can be to deal with an unresponsive or unreliable intake or reception process. We're a team of passionate people committed to helping businesses grow and succeed through our digital receptionist software.
Our mission is simple. We want to make it easy for customers to get in touch with companies when they need them most. We believe that by doing so, we can help build stronger relationships between brands and their customers.
Greetly provides all the tools you need for an exceptional level of customer service and customer communication. We're agile, easy-to-use, and simple for your team to learn, so they can focus on what really matters: providing excellent customer service.
How Our Digital Receptionist System Works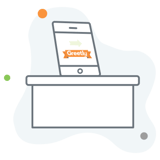 A Visitor Signs Themself In
Upon arrival, visitors check themselves in. They can use a kiosk or go touchless using their own smartphone. A visitor will provide the reason they are visiting, their name and other info your office wants to collect, take a picture, and eSign documents.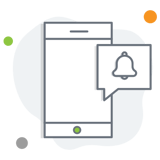 Instant Employee Notifications
Real-time notification alerts are sent to the host employee or user upon the visitor's check-in. With our highly customizable check in app, notifications can be sent through text, email, phone call, Microsoft Teams, Slack, or Google Hangouts. Or any combo.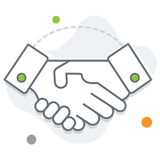 The check-in process is complete and the visitor and employee can get down the business. Since the entire process is digital, everything is stored in your cloud-based visitor management logbook, including entry and exit time, host, and all data you choose to collect.
Download Our Virtual
Receptionist Checklist
Greetly provides an easy-to-use cloud-based digital receptionist checklist to help you find what you need in your digital receptionist software. Fill out the form below and you'll receive our checklist immediately.
Greetly, The Award-Winning Digital Receptionist App!
Greetly is the modern office, cloud-based digital receptionist software solution; an easy-to-use visitor self-help sign in app.
No expensive hardware. No inefficient use of human resources. No more distractions for "near the door" employees. Yes to great first impressions, increased productivity, and data-driven decisions.
Our award-winning visitor check-in app works on iPad and Android tablets, and touchless on visitors' own smartphones, technology your visitors know and understand. Greetly creates a great visitor experience while keeping your workplace healthy and productive.

Award-Winning Check-in App
Clients, visitors, and critics alike love Greetly for its robust feature set and ease of use. From simple check-ins to more complex needs like visitor badges and integrations, this software is spectacular.

We know some of your visitors are tech-savvy. Others, well, not so much. They will all be able to check themselves in with Greetly the first time as if they are a veteran.

Comprehensive Customization
Every workplace is different. That is why Greetly is easy to customize. 100% white-labeled to showcase your brand. Edit or create new check-in workflows to suit your business needs. Greetly works for you.

An important part of any front desk, ID badges are instantly printed, featuring the visitor's details, photo, and any other relevant information.
Who Benefits

From

Digital

Receptionist Software?
The industries that will profit from Greetly's digital receptionist software are listed below:
Tech Companies and Startups:
Greetly can integrate with other apps your business uses to provide an all-in-one solution that will help you manage customer service. Simple software with a clean user interface, fast communication, and data collection make Greetly an ideal choice for technology-based companies.
Law Firms:
Our receptionist software is easy to use and understand, making it perfect for law firms because you won't need your IT team to set anything up or integrate with other apps. You can easily track customer service history in real-time for bookkeeping and accounting purposes. Easily track visitors if you're hosting meetings.
Manufacturers:
Manufacturing sites and offices are often visited by people with questions about products or services. Our software allows you to answer their queries and connect them quickly, improving customer service and the overall efficiency of your business.
It's critical that your greeting experience represents your brand image, and receptionist software will help you accomplish just that.
Greetly is a visitor management system that will help you streamline your visitor management process. Our digital receptionist solution works right out of the box, so all you need to do is log in and get started. Our software provides an enhanced user experience for visitors with self-service capabilities built into the system along with mobile access options across iOS & Android devices.
Coworking:
Our digital receptionist software is perfect for co-working spaces because you can manage customer service across all of your locations without having to log in to each site. It's easy to provide a great experience with software that will allow you to communicate quickly and easily with visitors, so they feel valued. For guests coming in to visit a member or use a meeting room, a quick check-in can help guarantee a pain-free experience.
Government:
Greetly's receptionist software is an excellent solution for government sites because the software helps you streamline visitor management, reporting features that will allow you to follow up with visitors and measure your results. When visitors check in, the right person is notified instantly, and our digital visitor log book provides you with complete documentation of all interactions so you can stay organized and on top of your data. With integrated ID verification and NDA forms, we also make it simple to manage security and privacy.
Staffing Agencies:
Staffing agencies are often in charge of coordinating visits for prospective employees with their clients. Greetly's receptionist software is a great way to make the process more efficient and effective because it will allow you to track all interactions, communicate quickly & easily with visitors, reduce wait times, and provide a better experience overall.
Finance industries:
Greetly's receptionist software is perfect for finance sites because you can use it to communicate with your visitors quickly, keep track of all interactions in real-time, and offer visitor engagement opportunities that will help give your company a great image.
Our welcoming interface is designed to accommodate a variety of users and scales well for businesses with multiple locations.
Creative Services:
Our receptionist software is perfect for creative services because it provides visitors with an easy, intuitive way to submit their inquiries. You can manage visitor details in real-time, so you know who is coming, and they can view the company's contact information easily on mobile devices.
Our platform has built-in security features that allow you to monitor activity in real-time, view visitor interactions by team members, and create custom workflows for any situation.
Let our receptionist software do all the scut work for you so you can focus on the core of your business.
Considerations Before Using a Digital Receptionist System
Workplace safety is critical so investing in digital receptionist software is a big decision.
A digital receptionist can be an excellent way to increase the number of customers you are able to serve, but it's important that your business has taken into consideration all of its implications before making a decision. You may need to consider the trustworthiness of the digital receptionist software provider, how it will impact your customer relationships, and whether you have enough resources to train staff on their new responsibilities.
Below are some of the important aspects to consider before deciding on a digital receptionist service, and Greetly's key features that address them.
Technology Compatibility and Functionality
Is the digital receptionist software you're interested in compatible with your current IT infrastructure? Can it be integrated into other systems such as CRM and sales platforms to enhance business processes, or does it simply add an extra layer of communication between customers and staff?
The good news is that Greetly's receptionist software is highly customizable, so you can configure it to match your requirements. It's also compatible with most email clients, office applications, and has an open API that allows you to integrate it with other software.
Expandability
Should your business expand in the future, you will need additional staff or new employees with specific skill sets. As your company grows, so will the number of visitors. If your digital receptionist software is not scalable, you may be in for a difficult few years if the company continues to grow.
Greetly's digital receptionist software is scalable and can easily handle any amount of incoming calls you may receive at a time. We also offer several add-ons — such as an automatic call distribution feature, which allows you to assign customer calls to specific employees based on their skillsets or availability.
Financial and Technical Costs
There is a cost to implementing and maintaining digital receptionist software. You need to consider the costs of purchasing hardware, training staff on using it, paying for support if necessary, and maintenance fees.
The initial investment can be high depending on what you're looking for in your system, but our pricing plans are affordable with unlimited users, check-ins, and notifications. There are no extra fees or hidden charges to pay down the line.
Ease of Use and Support
A digital receptionist software should be easy to set up, use, and maintain, so you need to ensure that the provider offers excellent customer support as well as a user-friendly interface. If your staff members don't have access to training sessions on how to use the new technology, there's a chance that it won't be used as often, and then you will have wasted your money.
We offer free personalized training sessions with our team of experts to ensure that everyone understands how to properly use the system. Our support department is available 24/7, so we can address any issues you may encounter at any time.
Customizable Features
Digital receptionist software is different for each business, so it's important that the system allows you to configure your preferences.
Our digital receptionist platform has several customizable features, including greetings messages, ringtone selection, and caller types. A tailor-fit approach to customers ensures that each call is handled with utmost efficiency. Customization helps you improve the way you manage your business and improve customer satisfaction.
Greetly Integrates with Tools You Already Use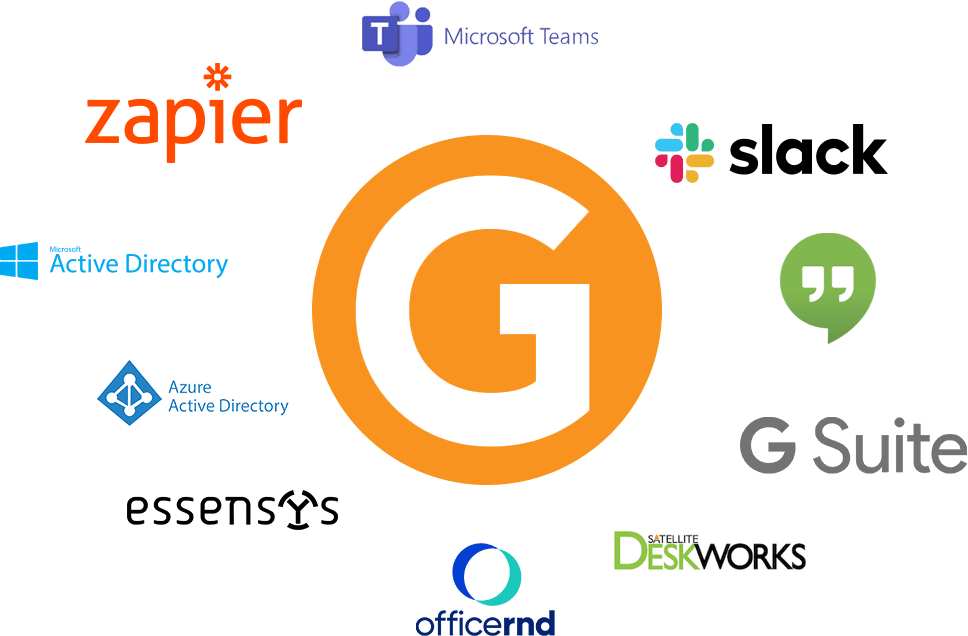 Who uses Greetly?
Due to our ease of use and mass customization, Greetly is beloved by work environments across industries. Greetly gets glowing reviews from clients including:
Financial services offices
Technology innovators
Staffing agencies
Franchised and independent shared workspaces
Creative services firms
And federal, state, and local government agencies. In fact, Greetly is working with the United States Air Force to keep Airmen safe and focused on their missions.
Thanks to robust multilingual visitor registration, Greetly is used by clients around the world. At last count, our visitor management software is used in 24 countries across six continents.
Is a sign in app another term for visitor management system?
People do use the terms "Sign In App" and "Visitor Management System" interchangeably. A visitor management system is a broader term that includes every element of handling visitors, from checking them in, sending reception notifications, giving them access to the space, timing their departure, logging the visit and more. A sign in app can be an element of a visitor management system.
Whatever you want to call it, we prefer the name is Greetly!
What are tools I can use to manage Visitor Access?
There are many tools to consider for providing visitor access while keeping your workplace productive and safe. The first step is a Visitor Management System like Greetly to manage Visitor Access. Not only does Greetly welcome your guests, send instant reception notifications, print visitor badges, and provide reporting, it is touchless and can take temperatures, keeping your employees healthy. Greetly can even notify security if an unwanted person attempts to enter your workplace.
Integrating visitor management software with an access control system allows you to give guests access to certain areas of your premises if you want.
Does Greetly offer notification alerts?
Yes. Greetly offers host notification alerts for the correct member - or members - of your team when a visitor has checked in using the Greetly app. Greetly can even notify an executive assist or backup team member.
Each host can choose their own notification preferences. They can choose one or more of the following options:
Phone calls to a landline phone
Phone calls to a mobile phone
Text messages
Emails
Microsoft Teams messages
Google Chat messages
Greetly offers unlimited host notifications with any license. Yes, unlimited voice calls and text messages. You will never receive a surprise charge from Greetly. (Unless you are stuck in the movie Momento.)
Do visitor management systems offer physical security control?
Yes. It is possible for a visitor management system to offer physical security access controls such as opening secure doors and providing access to elevator banks and parking garages as a part of their platforms. Greetly can also send emergency evacuation notifications and inform security personnel if an unwanted guest attempts to check into your workplace.
Ask the Greetly team about Physical Security Control options by requesting a demo.
Is Greetly a cloud-based visitor management solution?
Yes, Greetly's visitor management system is a cloud-based offering. Admins can manage their Greetly account, send emergency notifications, and view reports from any web-enabled device.
Can I customize screening questions?
Yes. Greetly is the most customizable visitor management system. Visitors will only see your brand and the check-in options that suit your reception needs.
Even better, Greetly allows you to customize the screening questions you ask at check-in. This can include drop-down lists, date pickers, phone number and email fields, checkboxes, open text fields.
Greetly can handle whatever you can dream up to keep your workplace productive, safe, and compliant.
Can I offer touchless signin?
Yes. Greetly offers visitors the option to scan a code or click a link to complete touchless sign-in from their own mobile phone. In fact, Greetly offered the first contactless visitor management system and we haven't stopped innovating.
What's the best way to do visitor screening?
Many companies have found that an effective way to do visitor screening is by enabling a Digital Receptionist like Greetly to handle the tasks of information collection, screening, collecting NDA eSignatures, taking visitor temperatures, employee alerts, and creating a detailed digital visitor log.
Wow, that's a lot of work off your office management plate. You can rest easy knowing your "near the door" personnel can get more done while your office is safer and more compliant than ever.
Is Greetly a digital receptionist for iPad?
Well, some people have said that! Others call us a life-saver, but hey, we don't like to brag.
Greetly offers a Digital Receptionist application delivered by an iPad (or Android, or PC, or mobile phone browser), part of the complete Visitor Management System. Request a demo to learn more (top of page).
What are some ways to improve the visitor experience?
One way is to make check in and screening more efficient. Many companies rely on Greetly's award-winning visitor management system to do just that. When visitor registration, check in, compliance and health screenings are automated, reception and security staff can focus on higher-level work.
Another way to improve the visitor experience is to offer touchless sign in software. Some people don't want to use a shared kiosk or talk to a receptionist through a glass. They prefer to use their own smartphone to connect with their host.
Here is a more detailed article on steps for a great visitor experience.
Does greetly integrate with Microsoft Teams?
Yes, Greetly integrates with Microsoft Teams. Plus Azure AD. These integrations allow your team to receive notification alerts in Teams and automate your employee list in the Greetly check in app.
Looking for Slack? Or Google Hangouts? Anything else? The answer is probably yes either directly or through Zapier.
Schedule a free demo today and a friendly Greetly team member will share the options and even assist in setting up your Teams integration.
How do I get started with Greetly?
Experience the World's Most Customizable Digital Receptionist
See Greetly free with a no-obligation demo today. Meet a friendly virtual reception account manager who will show you how to customize your digital receptionist to achieve reception success.