Compliance Made Easy With Visitor Management
Your digital receptionist eliminates audit anxiety and saves countless hours
If you are reading this you already know the compliance burden is greater than ever. Whether it's an internal or independent audit, whether for internal controls or in order to meet regulatory requirements, operations and IT leaders need to navigate ever-changing laws, requirements, standards, and policies. Failing an audit could be catastrophic for firms as they might be subject to penalties, fines, bad publicity, and increased insurance premiums. It can also impact careers. Traditionally passing an audit was time-consuming. Many team members might be involved in gathering relevant information, entering it, tabulating the data, and generating reports.
Greetly's visitor management system brings that burden down to near zero! Whether you oversee a small office or a global manufacturing enterprise, Greetly's cloud-based visitor logbook aggregates all visitor information and produces reports in a matter of moments. Your digital receptionist works around the clock to document your visitors and their host, timestamps their arrival and departure, captures visitor photos and electronic signatures on NDA, waivers, or other legal documents, handles COVID and safety questionnaires, and any other requirement you will need to pass an audit.
How Visitor Management Simplifies Audits and Compliance
Greetly's mission is to Save Your ADMINutes. We automate the tedious and manual tasks. Like gathering data for an internal or third-party audit or maintaining regulatory compliance.
Documents Your Visitors
Not only can Greetly log when visitors arrive and who they come to see. It can also ensure visitors meet compliance criteria. For example, visitor verification and tracking their country of citizenship by scanning government-issued ID, ensuring they have viewed a safety video and passed a test, are not a risk of bringing COVID into the workplace. As the world's most customizable visitor management system, Greetly allows you to customize check-in workflows based on visitor type or whether they have been there before.
Ensures Visitors Sign Legal Documents
Is confidential information discussed and data stored within your workplace? Of there is. What about valuable and possibly dangerous equipment? Surely.
Greetly's virtual receptionist can collect electronic signatures on one or more nondisclosure agreements (NDAs), waivers, or other legal documents during the visitor check-in process. As the world's most customizable visitor management system, documents can be electronically signed directly on the visitor self-service kiosk, touchless on their own smartphone, or during the preregistration process. You can have different types of visitors electronically sign different legal documents, or none at all.
Documents with eSignatures are immediately converted into PDFs, stamped with the signature date, time, and location, and securely stored in your cloud-based visitor log. You can also automate pushing signed forms into the cloud-based storage of your choice.
Prints Visitor Badges
Are some visitors only allowed in common areas where others might have access to secure facilities like research labs or data rooms? Do some guests require an escort at all times?
Our award-winning visitor sign-in system has options to take visitor photos and instantly print visitor badges upon successful completion of the check-in process. Using our drag-and-drop editor, Greetly makes customizing visitor badges by type of guest easy. We even offer badges that visually expire over time.
With the visitors' name, photo, host, and more, employees can identify a security or compliance risk at a glance.
Keeps Bad Actors Out
Visitor sign-in doesn't just connect guests with hosts, it also prevents the wrong people from entering your workplace. Greetly's watchlist feature will ensure only wanted visitors are allowed to enter. Combine this with driver's license scanning to verify visitors identities.
Confirms When Visitors Arrive and Leave Your Workplace
Documenting your visitors and knowing when they arrive is valuable. But only partial information if you do not also know exactly when they department. It's easy to checkout with Greetly at the kiosk, contactless, or from the Greetly admin portal.
But what if a visitor does not check out. Our full-cycle reception management system has you covered with several options. If you need an exact timestamp, Greetly can contact visitors or hosts to verify exactly when guests depart the premises. Or, we can check gusts out at midnight every day.
Data Analytics and Reporting
Pen-and-paper logbooks are so last century. They expose personal information which can subject your organization to California Consumer Privacy Act (CCPA) and the European Union's General Data Protection Regulation (GDPR) violations. They are also a pain to manage as data needs to be digitized or manually reviewed in order to comply with audit requirements.
Visitor management solutions like Greetly maintain privacy and store all data in an electronic guest book. Even better, with just a few clicks you can search, sort, and filter data to show exactly the information you need. You can save your preferred reports, download them, or even have them emailed on a regular schedule. Depending on a user's role they can see visitor information for just themselves, for their workplace, or across a global organization.
The entire process of responding to an audit just went from hundreds of manhours to minutes.
Evacuation Logging
It's wise to be prepared for emergency situations and natural disasters. This is especially true of course if your workplace needs to comply with regulations like OSHA or local evacuation procedures. All Greetly digital reception software subscriptions include our robust emergency evacuation feature and log.
While we hope you never use it, should an evacuation be required, our visitor management system software can instantly send text and email notifications to all employees and visitors that are on the premises when the evacuation is triggered. Individuals can mark themselves as safe right from the evacuation notification. Simultaneously, Greetly admins can also mark employees and visitors safe from their smartphones using our cloud-based evacuation logbook. This running list of who is safe and who is unaccounted for will reduce risk and save valuable time for emergency responders who arrive on the scene.
Download Our Digital
Receptionist Checklist
More than just mailroom automation software, Greetly provides the world's most customizable visitor management system.
These tools together make a cost-effective business system to handle both mail and visitor check-in, combined with instant employee notifications. Want to see the features of the best visitor management software? This digital receptionist checklist is an easy-to-use way to find what you need in a virtual receptionist.
Fill out the form below and you'll receive our checklist immediately.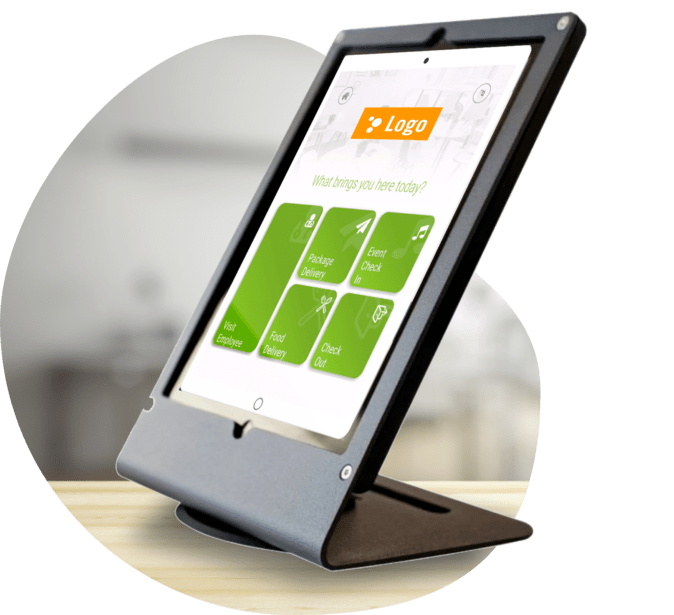 How Visitor Management System Software Helps You Maintain Compliance
Electronic Visitor Sign In
Visitors check themselves in. They can use a visitor registration kiosk or go contactless using their own smartphone. Workflows can be completely customized to capture the exact info you need. Greetly sends host alert notifications and logs all of the check-in data it collects.
Greetly's visitor management software will capture exactly the information you need to stay compliant and pass audits. This includes answers to health or safety questions, electronic signatures on NDAs, or other legal documents. Print visitor badges to ensure guests are in the right part of the premises.
Summary: Compliance Is Easy With a Digital Visitor Management Process
At first glance, Greetly's Visitor Management System (VMS), is a tool to automate your reception function, create a pleasant user sign-in experience, keep your workplace secure, and prevent COVID and other illnesses from entering the workplace.
Responding to an internal or third-party audit used to require a team, a project plan, meetings, gathering data, compiling it, and generating reports. The best visitor management software allows you to automate the entire data gathering process. Reports can be generated in minutes, by one person.
Greetly is so much more than a virtual receptionist, it's your best tool for achieving regulatory compliance and passing audits.
What is a visitor management system?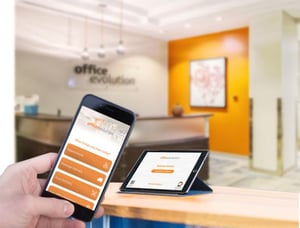 The most basic definition of a visitor management system is any strategy and standard system for handling all the guests who visit your organization.
The modern visitor management process is cloud-based sign-in software that automates:
Visitor check-ins.
Host alert notifications.
Visitor checkout.
Visitor logging.
Reporting.
The best visitor management software includes many additional features.
Who uses Greetly's virtual receptionist for compliance?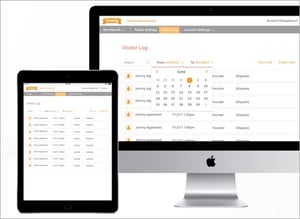 Our award-winning check-in system is used by global leaders on six continents. Greetly is beloved by:
Financial services firms.
Staffing agencies.
Logistics leaders.
Ad agencies.
Greetly is also used by government agencies including the United States Air Force, the National Science Foundation, the provinces of Ontario, Canada and Gauteng, South Africa, New York City, plus many more.
How do I get started with Greetly?
We like your style.
Click here to instantly schedule a live software demonstration. During this free demo, a Greetly account manager will take the time to understand your needs and showcase how easy it is to automate your mailroom. How Greetly Digital Mailroom makes it lightnight fast to receive mail and send realtime employee notifications.
What specifications are needed to use the Greetly visitor logbook?
Greetly's visitor sign-in app runs on iOS, Android, and in any web browser.
Designated Greetly admins can view the visitor logbook to run reports for compliance purposes from any web-enabled device. Whether a full desktop or smartphone, you can see your visitor log, search, sort, and filter data, run and save reports, and download them as an Excel file or PDF.
Reports can also be sent to admins and coworkers on an automated basis. They will be sent by email on a daily, weekly, or monthly basis.
Experience Great Visitor Reception
Want to see what Greetly can do for you? Schedule a free demo today. During this personal video meeting your dedicated virtual reception expert will learn about your reception goals and showcase Greetly's abundant features.