Executive summary
A visitor management system is an invaluable tool for keeping any workplace healthy and productive
Depending the visitor workflows you need to keep your organization focused you should look for different visitor registration app features
Any visitor check-in app should be easy to use, only display your branding and allow for customization to suit your needs
---
Whenever you look to make a purchase or procure new technology for your business, it is important to start by understanding the desired outcomes. Identify the needs of various stakeholders who will be impacted. Then consider the available features and determine which are most important for your organization. Next, consider whether the options that match your checklist fit your budget. Ensure the vendor that is the best fit is known to provide excellent customer support. And in an era of constant news of digital theft, will they secure your data like it's their own?
This guidance especially applies when selecting a visitor management system. Keep in mind your most important visitors will interact with this system. As many people are not tech savvy, you need to make sure everyone can easily use it. (At Greetly, we ask our moms to test every aspect of the app before releasing them!)
Here are the most important features in a visitor sign-in app:
Ease of Use
Notifications that Match Receivers' Preferences
Preregistration and Repeat Visitor Features
Visitor Photo Capture
Visitor Badge Printing
Legal Document eSignature Capture
Cloud-Based Visitor Logbook
Secured Data
Software Integrations
Works with Common Hardware Options
Unlimited Usage Capacity
No Dedicated or Specialized Personnel is Required
For more information about each of these All-Star features, continue reading.

The basics - a visitor management app must...
The core of any sign-in app is to quickly and efficiently checking in visitors, capturing key information and letter host employees know of their arrival. Thus, before considering an app, make sure it meets your organization's needs in terms of:
Ease of use
The user interface should have a clear display, without a lot of text and icon clutter. Even first-time visitors should be able to navigate the sign-in process - without assistance - like a tech-savvy veteran. Also, consider is the app's design, known as the user interface. What does it say about your organization and brand? Does the vendor add their logo?
Notifications that match each recipients' preferences
Your visitor sign-in app should offer many different visitor reception notification options. Different employees have different works tools and preferences. Some people focus on their work for extended periods of time and do not check their emails often, they need a phone call. Some people don't like their phone ringing all the time and would prefer email notifications instead. Some rely on Slack corporate instant messaging for most of their communications, so they'd prefer that notifications arrive there. Be sure your service will provide a wide variety of options for guest arrival notifications.
Ultimately, you'll want to reach most employee on their smartphones. Make sure your selected software offers unlimited text notifications.
Preregistration and repeat visitor features
You want the check-in process to be fast so everyone can get down to business. Look for visitor management software that allows guests to be preregistered ahead of their arrival. Most offer the ability to preregister an associate via the admin portal. Most advanced visitor management apps allow you to preregister visitors directly from your calendar app, whether you use Microsoft Outlook, Google or just about any other digital calendar.
And once a visitor has been onsite once, their details are stored in your cloud-based visitor logbook. Select check-in software that allows that person to sign in as a "repeat visitor" the next time they visit and skip several steps in the already quick check-in process.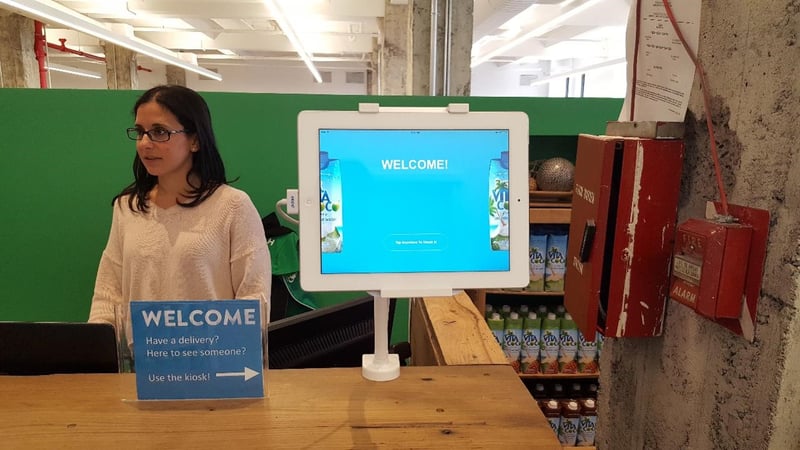 Advanced features for a more secure workplace
Obviously, when using a system that is letting people into your work home, security should be a key concern for everyone. The goal is to protect the physical and data of employees and visitors alike.
The hope is that security measures never have to come into play. But in the event that something happens, whether the wrong person is let in, or an unfortunate accident or emergency, where all people in the building need to be accounted for, these measures are incredibly helpful. In order to provide security for the person who is receiving the visitor, as well as the security of the visitor's data, these are the features to look for:
Visitor photo capture
Capturing the image of the visitor allows the receiving party to know at a glance who is visiting them. If photos are included in email or Slack notifications, hosts can easily recognize guests even if they have not met previously. Visitor photos are also stored in case of emergency or if something goes missing.
Visitor badges
Another use for taking digital photos is they can be printed on visitor badges. This will help everyone know, at a glance, that the guest is welcome in the facility. If anything remains in doubt, the visitor label will indicate when the person checked-in and who their host is so they can clarify the situation.
Legal document eSignature capture
Does your workplace discuss confidential information? Or do you host events that might require attendees to sign a legal waiver? A visitor check-in app that can capture electronic signatures on legal documents streamlines the process.
eSignature capture has many advantages of asking visitors to sign paper documents. First, it avoids a very awkward moment for your employees. Plus, it's safer and incredibly convenient. The security of an electronic signature is in the fact that there is traceable information associated with the signature. The signature will hold information on who signed in, when they signed and where they signed. With nothing to file these digitally, documents are easily retrieved when needed.
Cloud-based visitor logbook
The purpose of any logbook is to maintain a record of every guest who checks in and leaves. A digital visitor logbook has countless advantages over the traditional paper version. First, it's available from any web-enabled device. In case of an emergency, like an evacuation, multiple employees can access it from their phones or tablet computers. It will store the reason for visit, host employee, visitor photos, eSigned documents, time in, time out and more. And it maintains privacy.
Secured data (in Europe, GDPR compliance)
By its very nature, a visitor management system has key information about your employees and guests. So it is necessary to assure all stakeholders that their names, contact information, signatures, image, etc. will all be kept secure. Make sure to understand the data security practices of your selected sign-in app.
In 2018, the European Union introduced the General Data Protection Regulation, commonly referred to as GDPR. If your organization has offices in Europe, or even if you are located elsewhere, if you see a lot of Europeans visitors, make sure your selected visitor registration software is GDPR compliant.
Deluxe features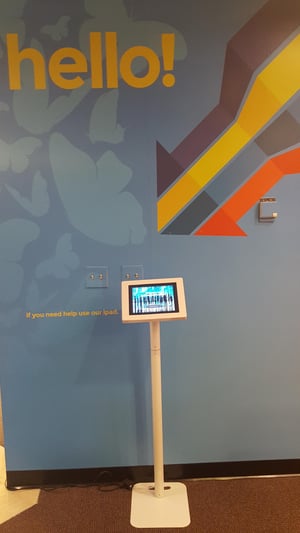 Once you have the basics down, there are other features you will want to consider. You want to be sure the system is easy to administer so it saves your staff time, instead of wasting it. Also, you'll want it to integrate with other software you use to, yup, save time. Other considerations are the ability to customize preferences for your individual employees or coworking community members and the usage capacity and constraints.
Software integrations
To be a productivity app, it must save you time. Integrations automate data into and out of your visitor check-in app.
Directory services integrations are key. This will automatically ensure the correct members are available to be notified. So ensure your selected app plays well with Active Directory, Azure AD and Google's G Suite? Or, for coworking spaces, looks for the ability to sync with member databases like essensys Operate, OfficeRnD, Cobot and Satellite Deskworks?
Will it integrate with Zapier, and provide almost unlimited functionality? Will the system provide any version of notification used by employees or community members: voice call, text message, email, Microsoft Teams, Google Hangouts Chat and Slack notifications? If you have systems already in place, you don't want to have to change your systems to accommodate your software. The selected software solution should accommodate your existing system, not the other way around.
Smart hardware options
There are three cost components to a visitor management system.
Software
Hardware
The personnel cost of running the system. (See "Management of System" below).
Unless you have specific needs that dictate otherwise, seek a sign-in app that works well with popular, low-cost hardware. There are few reasons you should break your budget with high cost, high tech hardware and gadgets. For example, an iPad receptionist app allows your organization to use low-cost hardware found at any electronics and computer or office supply store. Avoid systems with proprietary hardware requirements, which are hard to find or expensive to replace.
Unlimited usage capacity
Does it provide unlimited usage with unlimited text messages? You can't have your system stop working because it reached a limit. And you don't want to have to try to figure out how much capacity you will need over a period of time, so be sure you get unlimited for a fixed price.
Management of system
The system should be of such quality that there would be no need for a special IT person on staff or have its management assigned to someone to care for it. It should be helping you, not taking time away from you or anyone else for extra attention.
Conclusion
Today's modern office should implement a visitor management app. Selecting the right one is important.
There is no reason to settle. Select a check-in app one with top-notch security, that works well with services, apps and programs that you have in place, including the preferred "announcement" or alert system for each of your employees or coworking community members. The system should work well with low cost, easy to find hardware, that can be quickly picked up at your local computer or office supply store (just in case). It should have unlimited capacity and no need for someone to be maintaining it. You should be able to get all of this for just a few dollars per day.