Research
Features of the Best Visitor Management Systems | Digital Receptionist
All of the features and considerations to help you choose the right visitor management system for your workplace.
---
Executive Summary
A visitor management system is an invaluable tool for keeping any workplace

healthy

and productive.

Depending on the visitor workflows you need to keep your organization focused you should look for different visitor registration app features.

Any visitor check-in app should be easy to use, only display your branding and allow for customization to suit your needs.
---
It is vital to understand the desired outcomes whenever you want to purchase new technology for your business. The best way to start is to identify the needs of various stakeholders who will be using it.
Next, consider the features of top offerings and determine the most important ones for your organization. After settling on the tech with all the required features, check if it fits your budget.
If people in your professional network use similar technology, ask them about their experience both purchasing and implementing the tools. Go through user reviews sites like Capterra and G2 (not to brag, but they recently named Greetly Best ROI) to verify that the tech's vendor provides excellent support. Always keep in mind with reviews that other organizations may have had different needs, budgets, and stakeholders in mind when buying and using technology.
Next, in an era of constant news of data theft, make sure the selected product will secure your information like it's their own?
This procedure especially applies when selecting a visitor management system. Keep in mind your most important visitors will interact with this system.
As many people are not tech-savvy, you need to make sure everyone can easily use it. (At Greetly, we ask our moms to test every aspect of the app before releasing them!)
Here are the essential features in a visitor sign-in app:
Ease of Use
For more information about each of these All-Star features, continue reading.

The Basics - A Visitor Management App Must...
The core of any sign-in app is to quickly and efficiently check in visitors, capture critical information, and let the host employees know of their arrival. Thus, before considering an app, make sure it meets your organization's needs, such as:
Ease of Use
Perhaps the primary factor to consider is how visitors and employees interact with the app, known as the user interface. Is the app easy to use even for guests? Do users find it responsive, familiar, efficient, and forgiving to use?
Stop at nothing to get a user interface with a clear and responsive display without text and icon clutter. Even first-time visitors should navigate the sign-in process like a tech-savvy veteran–without assistance.
Host Alert Notifications That Match Each Recipients' Preferences
Your visitor sign-in app should offer different visitor reception notification options. That's because employees have different preferences.
Some focus on their work for extended periods and do not check their emails often, so phone calls are appropriate for contacting them. Others don't like their phones ringing all the time and would prefer email notifications instead.
Further, some rely on Slack, Microsoft Teams, or Google Chat corporate instant messaging for most of their communications, so they'd prefer that notifications arrive there. Be sure your service provides a wide variety of options for guest arrival notifications.
Ultimately, you'll want to reach most employees on their smartphones. Make sure your selected software offers unlimited text notifications.
Preregistration and Repeat Visitor Features
You want the check-in process to be fast so everyone can get down to business. Look for visitor management software that can preregister guests ahead of their arrival. Most offer the ability to preregister an associate via the admin portal.
Some advanced visitor management apps allow you to preregister visitors directly from your calendar app, be it Microsoft's Outlook Calendar, Google Calendar, or just about any other digital calendar.
And once a visitor has been on site once, it will store their details in your cloud-based visitor logbook. Select check-in software that allows that person to sign in as a "repeat visitor" the next time they visit and skip several steps in the already quick check-in process.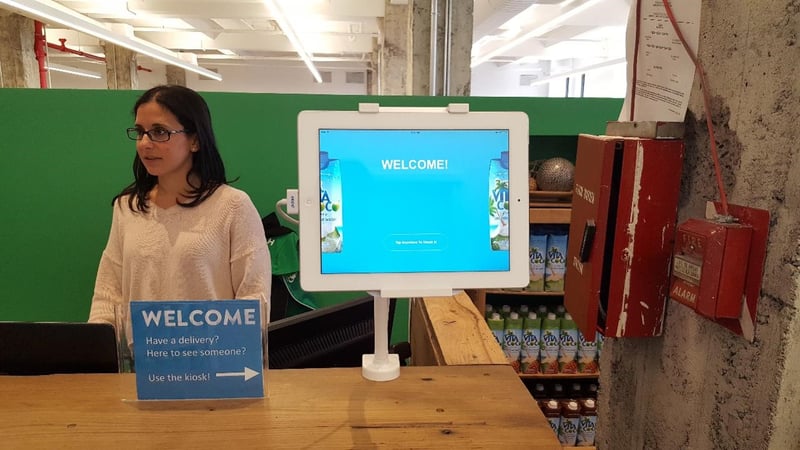 Advanced Features for a More Secure Workplace
When using a system letting people into your work home, security should be a key concern for everyone. The goal is to secure the data and physically protect visitors and employees alike.
The hope is that security measures never have to come into play. But in the unfortunate event that a breach happens, visitor management systems have security protocols baked into the software.
To provide security to workers, as well as secure visitor's data, these are the features to look for:
Visitor Photo Capture
Capturing the guest images allows you to place a face on a visitor. If you include photos in the email or Teams, Slack, or Chat notifications, hosts can easily recognize guests even if they have not met previously.
The stored photos also come in handy if someone forges credentials to access the premises.
Visitor Badges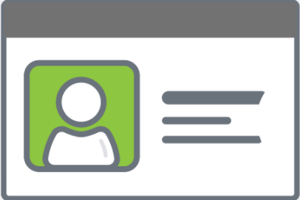 Another use for digital photos is printing them on the accompanying visitor badges. This will help everyone know, at a glance, that the guest is welcome in the facility.
If there is any doubt, the visitor label will indicate when the person checked in and their host to clarify the situation.
Legal Document Electronic Signature Capture
Does your workplace discuss confidential information? Or do you host events that might require attendees to sign a legal waiver? A visitor check-in app that captures electronic signatures on legal documents might streamline the process.
eSignature capture can capture the symbol, sound, or process unique and traceable to a guest, thereby verifying that only they could have signed that document. It's safer and incredibly convenient. The eSignature will hold information on who signed in, when, and where they signed.
Cloud-Based Visitor Logbook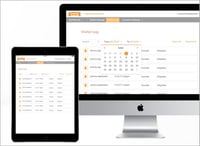 The purpose of any logbook is to maintain a record of every guest who checks in and leaves. A digital visitor logbook has countless advantages over the traditional paper version.
First, it's available from any web-enabled device. In an emergency, like an evacuation, multiple employees can access it from their phones or tablet computers.
It will store the reason for visit, host employee, visitor photos, eSigned documents, time in, time out, and more. And it maintains privacy since only those with authorization can access this information.
Secured Data (in Europe, GDPR compliance)
By its very nature, a visitor management system has key information about employees and guests. Make sure to understand the data security practices of your selected sign-in app.
It is vital to assure all stakeholders that their names, contact information, images, and other personal information are securely stored.
In 2018, the European Union introduced the General Data Protection Regulation, commonly referred to as GDPR.
If your organization has offices in Europe, or even if your office is elsewhere, but you receive a lot of European visitors, make sure your selected visitor registration software is GDPR compliant.
Touchless Visitor Check-In
Protect employees and visitors with contactless check-in. With COVID in mind, the most innovative visitor management software providers now allow users to check in using a QR code on their mobile phones. The code prompts them to fill in personal details, after which the system issues them with an e-pass.
The pass grants them access to the facility. In addition, a touchless system eliminates queues and the physical handling of paper documents.
Take Temperatures
Keep COVID and other illnesses out of your workplace by using a visitor management system with temperature screening, face mask detection, and facial recognition. These features will alert you whenever a staff or guest visits the premises with a high fever.
Anyone not wearing a mask violates medical protocols and won't gain access to the building. Likewise, taking temperatures helps protect healthy visitors and employees.
Access Control
Integrating access control with a visitor management system allows you to control visitor movement. The check-in software only grants access to specific areas in the facility.
This integration is essential when you don't have enough workers to escort visitors to specific areas in your facility. That way, you can allow contractors to access only one location on the premises, even when you're out of the office.
ID Scanning
A guest reception system using ID scanning makes visitor identification and verification even more effortless. All a guest has to do is whip out their driver's license or other government-issued identification, and the scanner will extract their identification details.
The feature supports accurate data capture and automated notification for guest arrival, ensuring only verified personnel access your facility.
Watchlist
This feature guarantees improved threat protection and increased threat visibility. The watchlist feature also permits swift threat removal prompted by security alerts. You can also create a custom watchlist for specific visitor types.
You also get detailed visitor reports at the end of the day. That aspect of the software lets you share data with law enforcement agencies like the FBI watchlist or Interpol.
Deluxe Features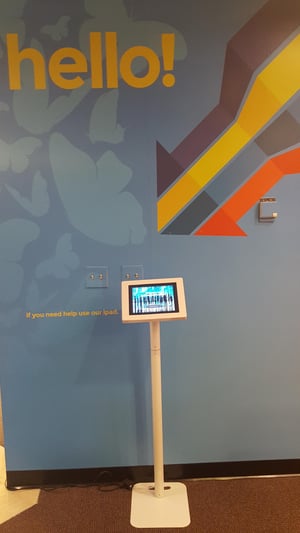 Once you have the basics down, there are other features you will want to consider. Ensure the system is easy to administer, so it saves your staff time instead of wasting it. Moreover, you'll want to integrate it with other software you are already using to, yup, save time.
Other considerations are usage capacity and the ability to customize preferences for your individual employees or coworking community members.
Software Integrations
Since it is a productivity app, it must save you time. Integrations automate data into and out of your visitor check-in app.
Directory services integrations are key. These will automatically ensure the correct members get notifications. Ensure your selected app plays nicely with Active Directory, Azure AD, and Google's G Suite.
For coworking spaces, look for the ability to sync with member databases like essensys Operate, OfficeRnD, Cobot, and Satellite Deskworks.
Next, ask yourself: will it integrate with Zapier and provide almost unlimited functionality?
Will the system provide any kind of notification used by employees or community members: voice call, text message, email, Microsoft Teams, Google Hangouts Chat, and Slack notifications?
If you have systems already in place, you don't want to change your systems to accommodate the new software. It should fit in seamlessly with your existing system, not the other way around.
Smart Hardware Options
There are three cost components to a visitor management system.
Software
Hardware
The personnel cost of running the system. (see "System Management" below).
Unless you have specific needs that dictate otherwise, seek a sign-in app that works well with popular, low-cost hardware. There's little justification for purchasing costly, high-tech hardware and gadgets that you probably won't utilize all the features.
For example, an iPad receptionist app allows your organization to use low-cost hardware found at any electronics and computer or office supply store.
Avoid systems with proprietary hardware requirements, which are hard to find and expensive to replace.
Unlimited Usage Capacity
Does it provide unlimited usage with unlimited text messages? You can't have your system stop working because it reached a limit. And you don't want to have to try to figure out how much capacity you will need over some time, so be sure you get unlimited for a fixed price.

System Management
The system should be easy to manage so that there would be no need for an IT specialist on staff. It should be helping you at all times, not taking time away at the first sign of a minor issue.
Conclusion
Today's modern office should implement a visitor management app. Selecting the right one is vital to ensure guest reception efficiency.
Select a check-in app with top-notch security, works well with other services, apps, and programs you already have in place, and includes a preferred notification or announcement system for each of your employees or coworking community members.
The system should work well, be priced reasonably, easy to find hardware that you can pick up at your local computer or office supply store (just in case). It should have unlimited capacity and not require a specialist to maintain it.