How Government Agencies are Protected with

Visitor Management
A secure workplace for staff. A streamlined check-in for visitors. A better way to protect government interests.
As a government agency, your mission is to serve constituents. And with offices open to the public, fulfilling that goal while maintaining the safety of your staff and data property is paramount to efficient government operations. With the Greetly virtual receptionist registering your visitors, you can safeguard your workplace while also offering a smooth and welcoming check-in experience. 
But an effective visitor management system does even more for your government organization… When guests enter a government office that uses Greetly, our multilingual visitor check-in kiosk streamlines queue management, ID scanning, NDA electronic signature capture, badge creation, and more. Why is this valuable? Because when visitors move through a check-in experience with speed, accuracy, and privacy, their first impression is that they're entering an organization that's run with efficiency and security. Your visitor management solution, entirely overlaid with your agency's brand, welcomes them, and the ease of the check-in experience then strengthens constituent perceptions. From an official or member of the public attending a meeting to a candidate seeking employment, from a vendor interested in a partnership to an auditor evaluating your agency – the strength of your brand holds importance – and first impressions are at the door of your agency.
When check-in is complete, the appropriate agency service provider is notified with both visitor name and photo, and able to welcome the guest with assurance because of the safety measures inherent in the Greetly process. The visitor management software not only logs the visitor's entry but can also check a visitor's name against watchlists and verify visitor clearance through government IDs. Giving your staff that peace of mind allows them to confidently interact with guests, leading to more positive communication between parties.
Your organization further benefits from the ability to collect check-in data, allowing you to build a cloud-based visitor logbook that can be used in several ways, including the cultivation of relationships that may benefit your agency. You can quickly run or automate reports to improve operations and to respond to audits. As well as deploy automated follow-up communications, like exit surveys, to ensure you get valuable feedback, reduce contact information errors that often result from paperwork, and analyze visitor trends, leading to strategic initiatives.
Greetly is a better way to greet visitors – and a better way to adhere to government protocols, conduct government business, and protect your vital interests.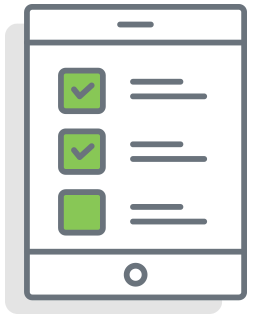 Why Government Agencies Implement Greetly's
Visitor Management System
A visitor management system for government agencies tracks the operations of federal, state, and local government buildings or departments. Ultimately, the goal is to capture vital information about each visitor and to record every guest's entry and departure. This is vital to keep personnel and data safe, and to also easily comply with audits.
Many government agencies provide constituent services, for example, DMVs, medical services, permitting offices, and more. These government offices use visitor management software to manage queues. Visitors check in by service type, answer any necessary information, and are automatically added to the proper queue. Personnel who provide services know who is next to be seen. These system also provide tools for data analysis.
What Are the Benefits of Using Visitor Management Systems for Government?
"Quick to set up and install. Easy user interface. Flexible and easy to make changes. Low-cost entry for a large payoff."
-Sam Klein, Administrative Director, Marin County, California
Offer Seamless, Self-Help Visitor Check-In
Research shows that most people prefer to use technology to help themselves and ensure accuracy. By utilizing visitor management technology constituents and vendors can check themselves into your agency or office. The best visitor management systems can be customized to capture exactly the information you need for every type of visitor.
The check-in process is fast and it eliminates miscommunication and human error. And even faster for repeat visitors or guests who have preregistered themselves. They can just scan a QR code and they are automatically checked in.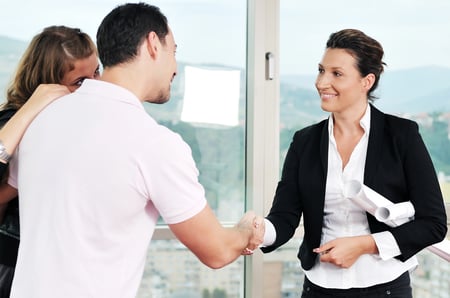 Logs Everything
Visitor management systems capture and securely log the visitor's information, ranging from per their contact information, reason for visit, and timestamp. More advanced features include taking visitor photos, capturing electronic signatures on legal documents, like nondisclosure agreements (NDA) or waivers.
A digital visitor log allows agencies to quickly run reports. Review visitor information at a single office or across premises, search, sort and filter the data, save custom reports, download them, or even have them automatically sent to your inbox on a timely basis.
Visitor management systems allow governments to respond to audits and management information requests in seconds versus hours or days with more manual processes.
Ease-of-Use
Unlike most virtual management systems and digital receptionist software in the market, Greetly made its VMS and Digital Receptionist Software to be convenient and user-friendly, empowering visitors and employees to take full advantage of its suite of features.
Accessible even to the least tech-savvy folk, our VMS and Digital Receptionist Software can be operated by everyone as if they have been using our service for a very long time.
Automated Messaging
Greetly offers unlimited host alert notifications. Reach staff by voice call to mobile or landline phone (including extensions), text message (SMS), email, Microsoft Teams, Google Hangouts Chat, and/or Slack.
You can also automate messages back to visitors (e.g., Wifi info or exit surveys). This saves your employees time, and eliminates room for communication error.
Contactless Visitor Check-In
Long before the onset of COVID-19, researched showed a vast majority of people preferred a self-help sign-in processes. Today, visitors demand touchless check-in. People prefer to minimize close-up human contact if possible.
Modern visitor check-in software allows visitors to sign-into a government office from their own cell phones. This includes entering their information, electronically signing document, and even scanning their government-issued ID. All of this reduces the risk of COVID-19 and other illnesses overwhelming staffing and making constituents sick.
Automate Visitor Queues and Other Processes
Visitor check-in systems automate the queue management process. When a guest checks themselves into your agency, they are automatically added to a queue for assistance. Government personnel see a realtime log of who is next to be seen, potentially including a photo image of the visitor.
Visitor management systems can also automate processes like asking guests to complete an online profile, providing Wifi information, and sending a survey after they exit the premises. Package and food deliveries can also be handled by visitor management software.
Redeploy Staff
With traditional visitor management processes, every visitor touchpoint required interacting with an employee.
For example, someone has to collect IDs and oversee manual logins. Another employee should confirm the purpose of a guest's visit. Plus, an additional someone has to ensure everyone observes floor restrictions. Later, the agency might require data entry to digitize all of the information they collected and tracked.
A cloud-based visitor management system for government can perform these fundamental tasks with fewer employees required. This allows you to focus staff on more providing better service and increasing overall productivity.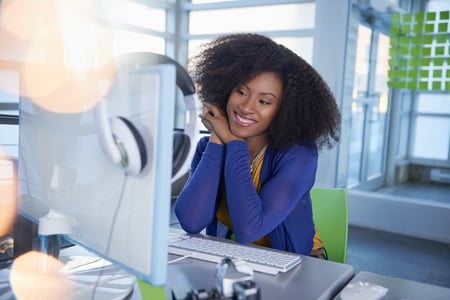 Friendly Visitor Greeting and Data Logging is the Greetly Advantage
There are various government visitor management services available on the market, but none can top what Greetly offers: unmatched savings of time and money.
The company aims to eliminate tedious and irrelevant administrative tasks that take a toll on otherwise productive days. Additionally, it focuses on providing it's users with these benefits in an easy-to-use platform.
Here's what clients can expect from Greetly's government visitor management system: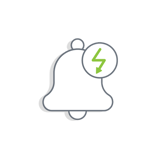 Instant Host Alert Notifications
Each employee can choose how they want to be notified. They can pick one or more from text message, instant message (Slack, Google Chat, MS Teams), email, and/or phone call notifications sent out to hosts. Instantly, as in the moment a visitor or delivery is checked-in.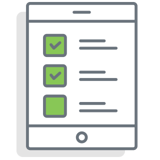 Highly Customizable Visitor Management
You need your front desk to represent your business - Greetly wants that too! With a full range of customizable branding and check-in workflows for each type of visitor you receive, and showing your organization's brand imagery, Greetly will work exactly the way you want it to.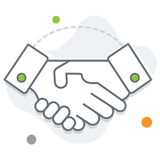 Communicate with Constituents
With Greetly, communication is a 2-way street. Do you want visitors to complete their profile while they wait? Or to view safety information? Or do you want to send a survey the next day asking about their experience? Greetly automates these tasks and more. And this can be customized based on the check-in workflow.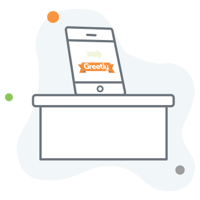 Digital Visitor Queue Management
Depending on your use cases, Greetly can automatically add visitors to a queue as soon as they check themselves in. Guests can be put into different queues depending on the reason they came to your office. This queue can be viewed in realtime by personnel making it easy to call the next person in line.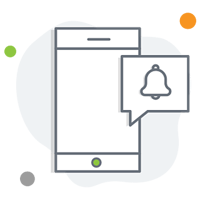 Emergency Evacuation Notifications and Logs
The feature we hope you never use. But what if you need to evacuate your premises? With Greetly you can notify all government personnel and visitors in just a couple of clicks. Everyone will have the ability to indicate they are safe. Using a cloud-based evacuation log, Greetly admins can actively track who is safe and who might need assistance from first responders.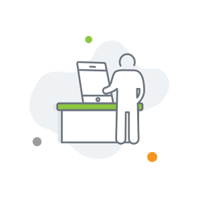 Some visitors, like inter-agency task members and contractors, may require access to the facility. Maybe it's the ability to get through the front door once, or several secure areas for several days. Greetly integrates with leading access control systems giving certain visitors the ability to enter certain areas like an employee could. Don't worry, you maintain complete control and the visitor's movements can be viewed in Greetly's cloud-based visitor log.
How Greetly Supports Your Agency's Growth
Government organizations like yours take security, efficiency, and growth very seriously. Greetly does too.
With a centralized and automated visitor management process, you will never miss meeting times, visitor check-ins, and check-outs, and eliminate the need for multiple touches in your workplace.
Digitize your visitor logbook and keep all security information digitally.
Save Staffing and Processing Costs
Greetly's VMS and Digital Receptionist Software will reduce your agency's need to hire more staff to accommodate customer concerns and manage employees, contractors, and guests. Furthermore, our software is designed to be easily scalable and customizable so you can spend your capital on things that your company truly needs.
With improved management of visitor data, your organization will now be able to generate real-time insights that can be used for both internal and external purposes.
This information is vital to facilitate the secure arrival and departure of data, products, and services in and around your workplace.
Impress your guests with our VMS and Digital Receptionist Software. Send out branded invites, expedite check-ins and pre-registrations, and generate other customer-centric data accessible to your visitors, leaving an outstanding image of your agency.
Download Our Digital
Receptionist Checklist
Greetly provides an easy-to-use cloud-based digital receptionist checklist to help you find what you need in a visitor management system. Fill out the form below and you'll receive our checklist immediately.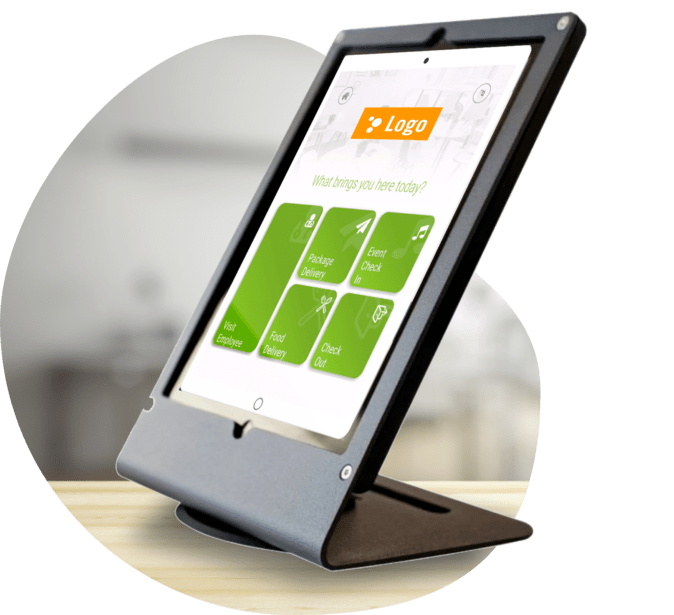 A Visitor Check-in App Unlike Any Other

!

Schedule a free demo with Greetly today! We will take the time to get to know your business and share all of Greetly's simple-to-use features that guarantee an excellent experience for your customers and ensure your workplace's efficiency and productivity.

Our award-winning visitor check-in app works on iPad and Android tablets, and touchless on visitors' own smartphones, technology your customers know and understand. Greetly creates a great customer experience while keeping your workplace healthy and productive.
Try The World's Most Customizable Visitor Management System
Try Greetly free with a no-obligation demo today. This fully featured trial comes with 24/7 support to get you up and running quickly. Our 14-day trial allows you to test Greetly and show it to your VIP visitors.