Technology Companies and Startups Thrive With

Visitor Management
Award-Winning Customer Check-in Technology
As a technology company, the safety of your staff and intellectual property is paramount to your success. With Greetly handling visitors, you can safeguard your workspace while also offering a smooth and welcoming check-in experience for visitors. But an effective visitor management system does even more for your business…
When guests enter a Greetly-hosted reception area, we streamline check-in which can include ID scanning, NDA electronic signature capture, badge creation, and more. Why is this valuable? Because when visitors move through a check-in experience with speed, accuracy, and privacy, their first impression is that they're entering an organization that's run with efficiency and security. Your visitor system, entirely overlaid with your brand, welcomes them, and the ease of the check-in experience then strengthens your brand. From a client considering a sale to a candidate choosing employment, from a vendor interested in a partnership to a VC firm analyzing your company for funding – the strength of your brand holds importance – and first impressions are at the door of your business.
When check-in is complete, your host is notified and can welcome your visitor with assurance because of the safety measures inherent in the Greetly process. The system not only logs the visitor's entry but can also check a visitor's name against a watchlist and verify visitors through government IDs. Giving your staff that peace of mind allows them to confidently interact with visitors, leading to more positive communication between parties.
Your company further benefits from the ability to collect check-in data, allowing you to build a visitor database that can be used in several ways, including the cultivation of relationships that may lead to business growth. You can also automate follow-up communications to ensure you don't lose important connections, reduce contact information errors that often result from paperwork, and analyze visitor trends, leading to strategic initiatives.
Greetly is a better way to greet visitors – and a better way to promote, conduct, and grow your business.
Enjoy These Benefits With Greetly's Visitor Management System and
Digital Receptionist Software
Build Your Reputation
As a guest enters your workplace, your visitor management software and digital receptionist will undoubtedly make a good first and lasting impression. Greetly display all your branding guidelines such as logo, colors, and texts.
Greetly understands that brand and reputation matter to tech companies. Hence, its services are designed to maximize a great customer impression from the moment they enter your workplace until they finish their visit. They will know that your company pays significant consideration to their security protocols by establishing trust and confidence.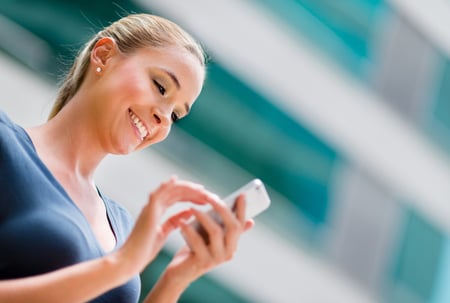 Cloud-Based Solution
Say goodbye to endless paperwork and the frustration of losing records of visitors. With Greetly, you are able to securely transfer and sync customer data over the cloud and conveniently access their information through our search, filter, and sort capability.
Most tech companies require all visitors to sign a non-disclosure agreement. With Greetly, visitors can electronically sign NDAs and other legal documents. This keeps your IP safe with documents securely stored in the cloud for instant retrieval whenever you may need them.
This also means before and after-hour virtual reception support for your tech company. By automating notifications you further improve staff efficiency and the overall customer experience.
Ease-of-Use
Greetly's virtual reception product team is obsessed with building the most user-friendly check-in software. Greetly's goal is to empower visitors and employees to take full advantage of its deep suite of features and customization.
Accessible even to the least tech-savvy folk, our visitor management solution can be operated by everyone as if they have been using our service for a very long time.
Automated Messaging
Greetly offers unlimited host alert notifications. Reach staff by voice call to mobile or landline phone (including extensions), text message (SMS), email, Microsoft Teams, Google Hangouts Chat, and/or Slack.
You can also automate messagess back to visitors (e.g., Wifi info or exit surveys). This saves your employees time, and eliminates room for communication error.
Easily Integrate With Your Current Systems
We have designed Greetly's visitor management system to easily integrate with the technology industry's most popular existing platforms which make for a smoother transition with very minimal disruption in operations. Our digital receptionist software can be integrated with:
Microsoft Active Directory

Microsoft Azure Active Directory

Microsoft Teams

Zapier

Slack

Google for Work

Google Chat

Rippling
With its versatility and high compatibility with most industry-standard software, Greetly provides hassle-free installation and integration with your company's existing processes.
Endless Customization
Greetly understands that a cloud-based visitor check-in app can't be one-size-fits-all software. Hence, our resources are rich with customizable features such as ringtones and caller types. These tailored features are great in helping you improve your company's efficiency and increase customer satisfaction.
The endless configuration possibilities enable you to edit your workflows to suit the needs of your company. If it happens in your reception area, Greetly can handle it.
Secure Your Workplace
With our visitor management system, your company's security will improve. You will gain real-time statistics on your company's health and safety with features like temperature checks, touchless check-in, capturing photos, printing visitor badges, and maintaining a cloud-based visitor log with detailed reporting. You can design your virtual receptionist to facilitate different levels of entry and data permissions for the following:
Global admins

Individual location admins

Employees

Contractors

Security

Visitors
The security offered by our Visitor Management System boasts high levels of customizability such as allowing cameras to monitor reception areas or access data on who is currently on-site and outside the premises.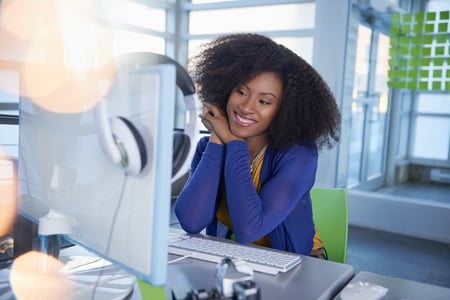 Friendly Visitor Greeting and Data Logging
Instant Notifications
Each employee can choose how they want to be notified. They can pick one or more from text message, instant message (Slack, Google Chat, MS Teams), email, and/or phone call notifications sent out to hosts. Instantly, as in the moment a visitor or delivery is checked-in.
Comprehensive Customization
You need your front desk to represent your business - Greetly wants that too! With a full range of customizable branding and check-in workflows for each type of visitor you receive, and showing your organization's brand imagery, Greetly will work exactly the way you want it to.
How Greetly Supports Your Tech Company's Growth
Tech companies like your take security, efficiency, and growth very seriously. Greetly does too.
With a centralized and automated visitor management process, you will never miss meeting times, visitor check-ins, and check-outs, and eliminate the need for multiple touches in your workplace. Digitize your visitor logbook and keep all security information digitally.
Save Staffing and Processing Costs
Greetly's visitor management solution will reduce your company's need to hire more staff to accommodate customer concerns and manage employees, contractors, and guests. Furthermore, our software is designed to be easily scalable and customizable so you can spend your capital on things that your company truly needs.
With improved management of visitor data, your company will now be able to generate real-time insights that can be used for both internal and external purposes.
This information is vital to facilitate the secure arrival and departure of data, products, and services in and around your workplace.
Impress your guests with our award-winning visitor management system. Send out branded invites, expedite check-ins and pre-registrations, and generate other customer-centric data accessible to your visitors, leaving an outstanding image of your company.
Greetly Is Already Welcoming Visitors for Top Companies!
A Customer Check-in App Unlike Any Other

!

Schedule a free demo with Greetly today! We will take the time to get to know your business and share all of Greetly's simple-to-use features that guarantee an excellent experience for your customers and ensure your workplace's efficiency and productivity.

Our award-winning visitor check-in app works on iPad and Android tablets, and touchless on visitors' own smartphones, technology your customers know and understand. Greetly creates a great customer experience while keeping your workplace healthy and productive.
Try The World's Most Customizable Visitor Management System
Try Greetly free with a no-obligation demo today. This fully featured trial comes with 24/7 support to get you up and running quickly. Our 14-day trial allows you to test Greetly and show it to your VIP visitors.