Visitor Management with Keyscan Aurora Access Control Integration
Opening Doors For Visitors
Greetly is the incredibly customizable visitor management system designed to make your (work) life better. That's why we partnered with dormakaba's Keyscan Aurora, a high-performance access control platform.
By integrating access control with visitor management you are in control of which visitors have one-time or temporary access to your premises, saving time for your team, and who needs to be escorted by an employee. The Greetly and Keyscan Aurora integration allows credentialed visitors to open the main door after they complete the visitor registration process.
Download Our Digital
Receptionist Checklist
Greetly provides an easy-to-use digital receptionist checklist to help you find what you need in a visitor management system. Fill out the form below and you'll receive our checklist immediately.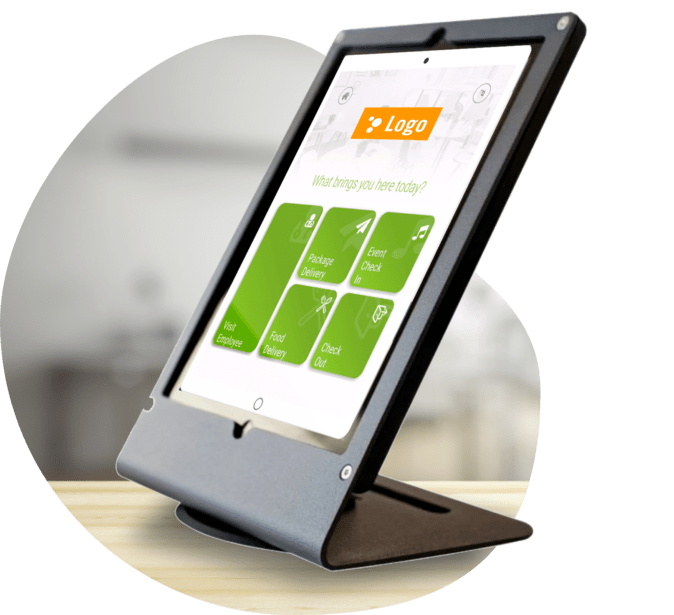 Visitor Management Automations Made Easy
Highly Customizable Visitor Check-In
Clients, visitors, and critics alike love Greetly for its robust feature set and ease of use. Customize the branding and visitor workflows to fit your lobby tracking needs, including health and safety questionnaires, scanning driver's licenses, printing visitor badges, and capturing signatures on NDAs.
dormakaba's Keyscan Aurora is just one of Greetly's many integrations. Sync your employee list with directory services like Microsoft Active Directory, Google Workspace, or Rippling, send notifications through Teams, Slack, or Chat, and do almost anything you can imagine through Zapier.
Visitor Photos and Print Visitor Badges
During the check-in process, you have the option of capturing a photo of your visitors. You can also customize and print visitor badges. Temporary visitor badges can be customized with your logo and the information you need. They can also be set to visually expire after 24 hours.
Need to clear the premise quickly? Greetly can send instant alerts to all employees and onsite visitors via text message and email. Then, Greetly helps you track who is safe and who is not yet accounted for.
Data in, data out. Need to run reports to respond to an audit? Search, sort, filter, and download visitor information from any web browser using the cloud-based visitor management logbook.
Why Is Visitor Management Important?
The traditional, paper-based visitor management systems that were used in the past are no longer an effective means of keeping track of guests. Besides not being private, they were impersonal, required manual data entry to digitize, and generally were time-consuming and difficult to manage. What a waste.
Modern and comprehensive virtual receptionist software, such as our solution at Greetly, can provide your facilities and entire organization with numerous benefits. Here are several major advantages why all businesses today should replace their legacy processes and use a digital sign in app.
It Reinforces Your Brand
Modern visitor management software applications provide organizations with a way to reinforce their branding from the moment a guest enters their reception area. Greetly will only show your brand logo, colors, and otherwise met your branding guidelines. In fact, all text can be customized to showcase your brand tone and personality.
Impress Your Visitors
Was it Albert Einstein who said you only get one chance to make a great first impression? Maybe he was too busy working on his theory of relativity, but it's still very accurate. And especially true for brands that aim to provide their guests with unique and memorable experiences. No matter the size of the organization, an ideal visitor management solution can provide them with the ability to make professional, lasting first impressions for everyone that enters their premises.
Improved Office Efficiency
Visitor management solutions such as our Greetly platform allow users to create and design unique workflows. With features such as custom visitor check-in process flows, lightning-fast host notifications, being able to create badges, maintaining compliance, capturing digital signed NDAs and other documents, and creating and pulling reports check-in times can be significantly reduced.
Preregistration forms may even be used and sent to third parties before their scheduled appointment to further streamline the whole check-in process. After completing the preregistration processes on their own time and devices, visitors that arrive on-site can skip the wait and only need to scan a QR code to complete their check-in.
Enhanced Data Security
To make sure that sensitive company information remains confidential and secure, visitor management system settings can be configured to limit data access visitor data. Forget the old paper logbook you would flip through to see who else was onsite, Greetly offers best-in-class user privacy, data security, and GDPR compliance. Not only can visitors not see who entered before them, but with different user roles, Greetly can restrict visitor information to certain staff members, like management, admin, and security personnel. This restriction of information can help you prevent potential breaches since only a few, trusted individuals can access personally identifiable information (PII).
Modern Reception
There is a huge difference between utilizing the outdated guest log and a comprehensive visitor management system. Not only is the latter more convenient and easy to use, but it's also more efficient and effective overall.
Reduced Waiting Times
The host notification feature of visitor management systems can effectively reduce the waiting times for organization visitors. These instant notifications are extremely useful in modern visitor management for both the hosts and visitors alike. With media options such as notifications through text and email, companies can stay updated with their visitors while providing them with several communication options. This allows your team to be notified even when they are away from their desk.
Better On-Site Transparency
With automated third-party interaction records as well as check-in data, organizations can develop insights that they can use internally and externally. For instance, authorized staff can create various reports according to the capabilities of the system and the information obtained.
Such reports can be beneficial in a situation where on-site arrival and departure from secure locations are necessary. On-site transparency can be improved particularly when each visitor can be scrutinized based on how many times they entered and left and whom they met within the premises.
Efficient Contractor Management
Managing contractors isn't always a walk in the park, especially where time-on-site and access levels are concerned. In most instances, traditional visitor management procedures simply trust contractors to stay within areas where they are authorized without any means to enforce it.
With a modern visitor management solution, businesses can easily configure their systems to cater not only to their staff and clients but also to third-party contractors. Authorized personnel is provided access to vital details within the system to ensure that all contractors are compliant with the organization's process to ensure greater physical security.
Experience the World's Most Customizable Visitor Management Solution
See Greetly free with a no-obligation demo today. During this personal demo your Account Manager will take the time to understand your reception needs and to customize your digital receptionist to perfectly fit them.