Executive summary
Workplaces are rapidly adopting visitor sign-in apps for efficiency, data accuracy and to secure their people and intellectual property.
Visitor management systems must be easy-to-use as many visitors will be using your for the first time.
Front desk sign-in apps should be customizable to your brand and your unique workflow needs.
Make sure to select an app the meets your organization's data security needs.
Total cost of ownership is another key consideration.
---
Self-service visitor check-in kiosks are a part of everyday life. You may not have thought too much about them, but it is likely you've used one at the airport, at a large office building, maybe even at a hotel, museum or car rental location. Fewer businesses are staffing their front desks with traditional, dedicated receptionists . Instead, they are replacing or reinforcing their existing personnel with automated touch screens containing visitor management systems.
These user-friendly systems, also known as visitor registration systems or sign-in apps, are incredibly useful for businesses and visitors alike.
What is a sign-in app?
Front desk sign-in apps are electronic alternatives to traditional sign-in sheets, paper visitor logbooks, or traditional receptionists who request and record visitor information. When using a sign-in app, visitors simply check in using an iPad receptionist, tablet or laptop located in the lobby area.
These visitor registration apps gather and record information every time a visitor enters the building. If necessary, visitor photos can be taken, badges can be printed and eSignatures can be obtained, all right within the app itself.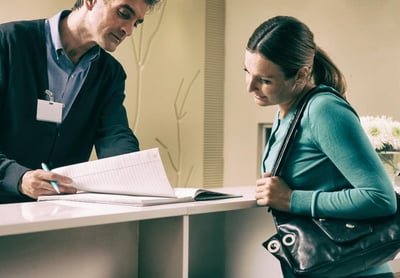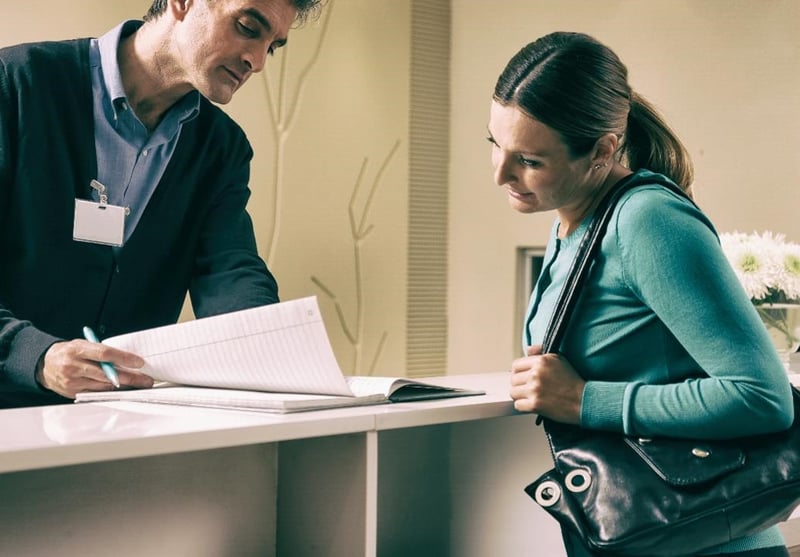 Why use a sign-in app?
There are multiple reasons why a business might choose to use a sign-in application.
Cost: Traditional receptionists can cost more than $38,000 each year. Many small businesses can't afford to pay reception staff. Even if they can, both small and large organizations often realize they can put their employees to more productive use while saving overhead.
Efficiency: Sign-in apps can do tasks in a shorter amount of time than a Mad Men era receptionist could ever accomplish, while simultaneously freeing up employees to take care of other business better suited to human beings. For example, a digital application can call, text, email and send a Slack notification to a guest's host in a matter of seconds. This would take a receptionist several minutes, which they can instead use to assist the guest with locating a restroom and getting coffee.
Accuracy: Nothing beats a computer for enforcing data collection rules! If a computer form requires first and last name, email address, and mobile phone number, the application will not move forward until that information is supplied. A paper logbook, on the other hand, has no way to ensure its fields aren't left blank – or even that the information given is legible.
Security: The reception area remains the most important workplace security point in many buildings. It is also where first impressions are made. Leaving the reception area completely unattended is not a smart option. Even with personnel in place, a digital database can recognize past troublemakers in a way a person cannot always recall. It also provides detailed, easily accessible records in case the information needs to be provided to law enforcement.
Front desk sign-in apps offer these advantages to organizations of any size at a fraction of the cost of hiring more staff. This frees your existing staff – and existing funds – to be utilized in the best way possible to increase business productivity.
What features should I look for in a sign-in app?
Once you've decided to a visitor sign-in application is the right way to greet guests to your workplace, there is no reason to be daunted determining which option is best for your organization. A few key features can help you choose and should be carefully considered during your selection process.
Ease of use
The goal of a sign-in app is to make your business more efficient. The last thing you want is something cumbersome to set up or to use on a daily basis. A great sign-in app will:
Be easy to set up: Look for a sign-in app that can be setup in ten minutes or less. This likely means there is no specialized equipment to purchase, which would add to both the cost and the complication of setup. A simple download to an existing tablet or laptop should suffice.
User-friendly experience: An app with an easy-to-follow user interface (UI) will help enhance the visitor experience and ensure that your business makes a great first impression.
Guest identification: The very best applications will remember a past visitor once they type in a few key identifiers (e.g. name, phone number) and be able to fill in the remaining information automatically. This saves time for the guest and feels friendlier.
Customization
Great sign-in apps will go beyond being user-friendly; they will be workplace and brand-friendly, meaning that you can easily customize the app to make sure it accomplishes exactly what your business wants and needs it to. Your business is unique, and your sign-in app should be able to reflect that. Really great registration apps allow you to customize their appearance with your logo and branding to set the tone for your guests, leaving a memorable professional impact on your visitors.
Customization can take a few different forms, but here are some features to look for.
Branding capabilities: The app should give you the ability to customize its appearance by adding logos, your brand colors and more. It should be an extension of your business for users to experience.
Support white-labeling: White-labeling is one step better than general appearance customization. White label software doesn't show its own brand on your screens, making for a more seamless experience. (You don't necessarily want your guests to know your visitor app is powered by a company other than yours.)
Customizable check-in process: There will be more detail on this in the next section, but the check-in process itself should be changeable to accommodate your business needs and those of your guests.
Be easy to customize: Customization of your app should not take hours and hours of your IT personnel's time. Adding things like logos and check-in scenarios should be simple, with straightforward instructions.
Custom check-in processes
Your organization undoubtedly hosts more than one type of visitor, and each of those visitor types has different needs. The app should support a variety of check-in scenarios such as visitors for special events like job fairs or social events, meeting participants, vendors, interview candidates, and delivery personnel for packages and food deliveries.
Imagine if the first screen had selections like this which would allow guests to route themselves more easily:
I'm making a delivery.
I'm meeting an employee whose name I know.
I'm here for a special event.
I need assistance finding who I need to see.
Based on what the guest selects, the person would be routed via the app to screens that requested different information.
If the person is a delivering something, they may be asked who they are delivering to, what company they represent, and their name.
A person meeting an employee may be asked for additional contact information.
A person registering for special event may start with a drop-down menu of events to select, and then add their contact information.
A person needing assistance is directed to a short series of questions, including contact information. If all else fails, the system contacts a support person to meet this person and assist them.
In addition to accommodating different check-in scenarios, great apps can do customized processes as necessary for each scenario. Guests attending a special event may be automatically added to your organization's CRM. The system might require vendors or prospective employees to electronically sign a non-disclosure agreement or other official documents.
A little programming and advance planning can go a long way to making the check-in process easy for guests and incredibly useful and robust for organizations.
Notifications via multiple channels
Reception notifications must be fast to be effective, and if there is one thing that has changed in the workplace in the last 10-15 years, it is how we communicate. Where the desk phone used to be the primary mode of contacting an employee to tell them a visitor had arrived, this is absolutely no longer the case. With employees in meetings, or working from laptops in the courtyard, making a phone call or escorting a guest is often a slow process.
When considering visitor registration apps, you will want to choose one that can notify your employees via multiple channels, such as:
Phone call to either desk or mobile phones
Text message
Email
Corporate instant messaging tools like Slack, Google Hangouts and Microsoft Teams
In addition, such an application should give individual employees the ability to customize their notification preferences. If an employee knows they see texts the fastest, but never check email, they can adjust their profile preferences accordingly.
The very best applications will integrate with your company's LDAP/directory services, totally automating the admin process. The app can access your directory of employees with your existing LDAP like Active Directory and Azure AD to retrieve their information and contact them as quickly as possible.
Security
Inadequate security can leave your business vulnerable to violence, terrorism, and industrial espionage. Additionally, as many businesses undergo digital transformations, they become vulnerable to security issues such as data breaches. Small businesses account for 71% of data breaches.
Purchasing an app with the following features can enhance your office's security and protect your employees, inventory and intellectual property.
Visitor badges: Visitor badges include the visitor's name, photo, destination and the time and date they visited your business. This lets you quickly identify the visitor and determine that they are an authorized visitor. Badges identifying visitors are also helpful to visitors; employees can see the badge and assist them if they look lost.
Visitor photos: Capturing a photo of each visitor allows you to quickly and accurately identify each visitor. When it comes to investigating a problem or breach, employees may be more likely to identify a person by a photograph than by a name.
Visitor logbook: A logbook keeps a record of your visitors, including important information such as the date and time of arrival and possibly also departure. If an issue arises during a particular time frame, these records can be invaluable to determining who was onsite at the time of the problem. The best systems are cloud-based so this information can be accessed and reviewed on any device.
GDPR compliance: The European Union's General Data Protection Regulation (commonly referred to as simply GDPR) compliant apps ensures that your visitors' information is protected from exploitation and misuse. At the same time, it protects your business from expensive fines, costly interruptions and embarrassment if you are found to be non-compliant.
Another consideration for European workplaces is where their data is stored. If outside Europe, look for a partner that is Privacy Shield certified to ensure you meet strict EU data protections.
Data protection: Regardless of whether you are subject to GDPR or not, you should find a provider the follows best-in-class data transmission protocols like Privacy Shield whose standards are determined by

the

International Trade Administration.
eSignatures for legal documents: Collecting an electronic signature for documents like non-disclosure agreements, waivers and other legal documents can be integrated in some of the best apps. This ensures that every visitor signs required forms before gaining entry and that the forms are stored in an easily accessible way.
Cost effective
(Not to brag but G2 recently named Greetly "Best ROI" in the visitor management category.)
There are a lot of sign-in apps to choose from on the market today, and choosing one with a fair price tag can be a challenge. Pricing can vary widely depending on the type of equipment required, plan capacities, app capabilities and more. The best apps will be efficient and cost-effective. Some things to look for when pricing applications:
Free trial: A free trial allows you to test out the software before you buy it. This will help you to be sure that the app you purchase is right for your business.
Unlimited usage: Look for an app that offers unlimited usage (i.e. no limit on the number of guests who sign in) and has no hidden fees.
Right-sizing: Make sure the license you choose can support the number of devices you plan to use.
Features: Some apps require plan upgrades for different levels of features. Make sure you are looking at the plan that is right for you when comparing plans.
Pay-as-you-go: Plans vary, from monthly payments to annual payments. Many applications are Software as a Service (SaaS). Be wary of vendors that require locking you into long-term contracts.
Minimum hardware requirements: Visitor management software generally runs on standalone hardware. Therefore this should be factored into the total cost of operations. (While you should also deduct the labor cost of manning legacy approaches to greeting guests and notifying employees.) Modern software runs on readily available, low cost equipment like Apple iPads or similarly inexpensive tablet computers.
Conclusion - Worker smarter with a visitor sign-in app
Smart organizations understand the value of using technology to supplement and support their personnel. Technology can do the drudge work of collecting information and contacting hosts while employees can focus on other important work. At the same time, this software can add extra layers of security to your check-in process by requiring important information, taking photos, keeping searchable records, and flagging problematic guests.
Visitor check-in software automates visitor registration and is very affordable in comparison to the traditional dedicated receptionist. Your visitor sign-in software should cost just a few dollars a day with no surprises or hidden costs. Whatever money you spend can be a worthy investment to streamline your check-in process, free up your employees and make your guests feel welcome.