Thermal Temperature Scanning Keeps Your Workplace Safe and Productive
We all can't wait for the COVID-19 pandemic to be a distant memory. And you can help make that happen.
Keep COVID-19 and other illnesses from entering your workplace. Greetly has always been focused on automation to maximize productivity. That includes keeping employees healthy and working.
Introducing the world's visitor management system with integrated temperature scanning. Only Greetly can verify employee and visitor temperatures, touchless, send check-in notifications, print visitor badges and maintain a cloud-based visitor logbook. Touchless visitor management keeps everyone healthy.
How Automated Temperature Screening Helps You
Keeps Employees and Visitors Healthy
They say the best ability is availability. By taking thermal temperatures scans of every employee and visitor that enters your workplace, you keep viruses and bacteria away from healthy employees. With Greetly's visitor management system, there is no need to touch anything, everything is done automatically by touchless visitor sign-in software.
Improves Workplace Productivity
Healthy employees are able to work. Healthy employees don't infect other employees, vendors, or customers. As important, visitors aren't distracted wondering of the person in the elevator, or across the table, might get them sick.
Integrated Visitor Management
Taking temperatures is just the beginning. Greetly is the incredibly customizable visitor management system. You can customize Greetly to execute any visitor sign-in workflows you can imagine. We ask COVID screening questions and have visitors eSign a legal document confirming their health or vaccination status. Greetly sends employees reception notifications when visitors pass the temperature screen and complete their check-ins. Visitor photos, visitor badges, and so much more.
Contact Tracing
Want to know if visitors have been in contact with a coronavirus patient or have a fever? Our cloud-based visitor logbook provides detailed records for contact tracing.
How Combining Visitor Management With Temperature Screening Works
First, We Take the Temperature
You can require everyone who enters or just visitors to take their temperature. Everything is touchless; users can stand as far as 39 inches away from the kiosk. Temperatures are precisely measured at +/-0.5 degrees Celcius. If the temperature does not pass the process terminates.
Visitor Complete the Sign-In Process
Visitors select the reason for visit, their host employee, and any information you require, like name, company, contact information, and more. Greetly can take visitor photos, print badges, and capture NDA eSignatures. Greetly even speaks many, in fact, all languages.
All Information Is Logged
If a visitor fails the temperature screening you can notify security personnel or other pre-determined employees. Greetly captures as much or as little information you need, including the guest's temperature. You can run reports from any computer or smartphone keeping your workplace compliant.

Meet Greetly, the Visitor Management System Focused on Your Health and Productivity
In the old days, like last year, your visitor sign-in software might run off a kiosk touched by everyone. Or the visitor might speak to a receptionist or simply walk past the lobby. So passé. Today, those activities risk bringing a harmful disease into your workplace.
Greetly is the first cloud-based visitor management system to launch touchless visitor sign-in! Our award-winning sign-in app now works in the visitor's mobile web browser. There is nothing to download and the no-touch version has every feature you get on the kiosk.
The can be combined with temperature screening to further keep your workplace healthy so you can maximize productivity.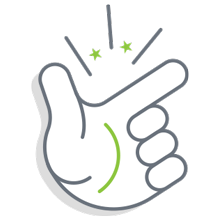 Industry Leading Check-In App
Clients, visitors, and critics alike love Greetly for its robust feature set and visually compelling design. From the fast check-in process to more complex needs like visitor badges, eSignatures, and integrations, this software helps you thrive. Plus touchless visitor sign in to keep you safe.

We know some of your visitors are tech-savvy. Others, well, not so much. Some want to use the kiosk and others will go touchless. They will all find Greetly to be a breeze.

Unlimited Text Notifications
Greetly's simple pricing includes unlimited employee, and visitor sign-ins. Please all the text messages, voice calls, emails, Microsoft Teams, Google Hangouts Chat, and Slack notifications you need. We can even send communications back to visitors like safety documents or post-visit surveys.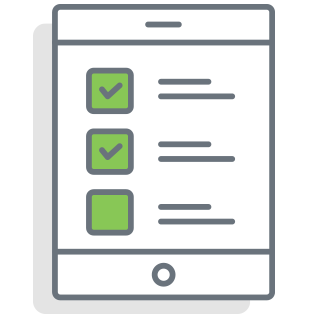 Comprehensive Customization
Every workplace is different. Greetly will look like it was designed just for you. It's 100% white-labeled to showcase your brand imagery and colors. Edit or create new check-in workflows to suit your needs.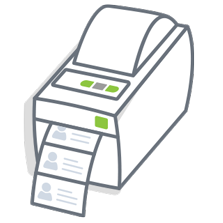 Want to instantly recognize visitors and know their host employee? After a visitor passes the temperature screen Greetly can print visitor badges.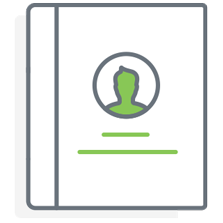 Cloud-Based Visitor Logbook
Keep track of your visitors with Greetly. Search, sort, filter and download visitor information to a CSV or PDF file.
Safety and Security
Greetly is all about keeping your workplace operating efficiently. That includes keeping your people safe, and your data too.
Our innovative temperature screening visitor management system minimizes exposure to COVID-19 to your visitors and employees alike. This gives workers the confidence to focus on their tasks.
And our commitment to data security is second to none. Your data is safe both in transit and at rest. Our cloud storage is ISO 27001, SOC1 and SOC2 compliant -- and much more. Greetly complies with the principles of GDPR and is the only Privacy Shield certified visitor registration solution.
Your safety and confidence is a company-wide commitment.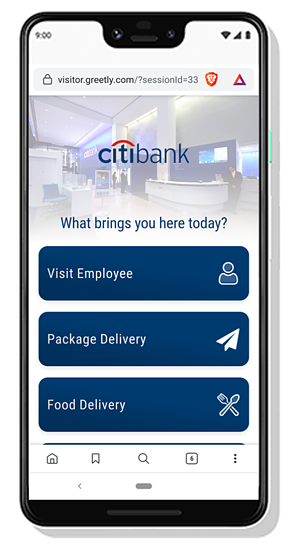 Visitor Management Designed to Keep You Safe and Productive
Schedule a no-obligation demo today! Your dedicated visitor management expert will take the time to understand your needs and configure an account custom to you.
I want to keep my team healthy and productive. How do I implement visitor management with temperature screening?
Click "See It Live" to take Greetly for a spin by requesting a free, no-obligation visitor registration demo. An account manager will walk you through all of Greetly's features, including how to take visitor temperatures and hardware options.
How accurate is the temperature?
Our hardware partner has done extensive testing. Thermal temperatures will be accurate within 0.5 degrees Celcius, which is 0.9 degrees Fahrenheit.
Do visitors need to touch anything to have their temperatures taken?
No! The self-service temperature scanning kiosk detects motion. Once the visitor (or employee) is fully in the frame it will take their temperature.
The rest of the visitor registration process can also be using touchless visitor check in.
What hardware is required to integrate taking temperatures into my visitor management system?
You can locate Greetly-compliant hardware.
The best way to start though is by scheduling a live, personalized demo. A Greetly rep will walk you through the software and, yes, answer any hardware questions you may have.