Productivity Tips
Modern Corporate Office Design Trends | Greetly Visitor Registration
Millennials, flexible workspaces and technology are impacting modern office design. Buildings are focusing on flexibility and amenities to attract tenants.
---
Greetly recently sponsored the Office Evolution conference in Brooklyn, New York. This event was a partnership between NAIOP, the Commercial Real Estate Development Association, and the Global Workspace Association (GWA). What did we learn? Like Brooklyn itself, the workplace is going through some major changes. Having spoken and worked with countless industry experts, we are proud to share Greetly's guide to office design trends.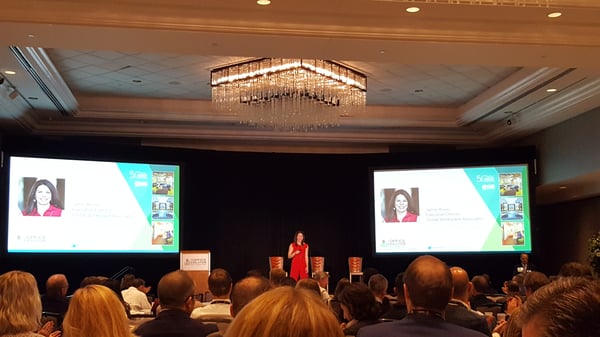 The Sharing Economy Comes to the Workplace
If the 20th century was about ownership - my house, my car - in many walks of life, we are starting to see the rise of the sharing economy, driven by Airbnb, Lyft, TaskRabbit (now owned by IKEA), and others. While many people think of the sharing economy as peer-to-peer services, it also means on-demand and right-sized products and services.
Given the high cost of real estate, it makes sense to increase flexibility to maximize space utilization and revenue potential. Hotels have evolved how they build guest rooms, hospitality areas, and event venues to generate more money from their fixed assets.
Modern office design is less focused on "my office" - your company's name in the reception area and rows of individual offices with doors. The shift is towards shared and flexible space. Large private offices are being replaced by purposeful lounges, community tables, and hideouts preferred by millennial employees. These spaces promote ad hoc meetings and productive collaboration sessions.
These workspaces are more dynamic as well. Flexible layouts allow a workspace to comfortably accommodate a large team meeting in the morning, one-on-one sessions throughout the day, and a client happy hour in the evening. Modular furniture that moves and stacks easily allows employees to make the space fit their needs on the fly.
Tenant Flexibility
As employees wish to move around to make themselves comfortable, tenants want flexibility too. Corporate office design trends show larger enterprises are quickly adopting these benefits shared workspaces. Kane Willmott of IQ Office Suites says WeWork has been so successful because they untethered companies from the traditional, long-term office lease. No longer need to be a balance sheet liability, office space can grow or decrease alongside personnel changes.
Office trends show property managers acting more like hospitality companies to retain tenants. In a panel, Jeffrey Langdon of Adaptive Office Resources, Mike Fransen from Parkway, and Ryan Simonetti, founder of Convene, shared the services they are deploying:
Buildings have deployed onboarding processes for new tenants and their employees, personalized greetings, and more proactive tenant outreach.
Workspaces have added more amenities historically reserved for Silicon Valley unicorns. These range from fitness centers, laundry, vehicle repair, brake, and entertainment rooms, pet care, and more.
Taking after coworking spaces, buildings have cross-companies breakfasts and happy hours so tenants can get to know fellow companies and build a local community.
Shared conference rooms are available to all tenants. This might generate revenue for the building owner but also gives organizations flexibility in their space.

Greater Use of Technology
Coworking software is helping shared workspaces operate more efficiently. Visitor management systems, conference room management, door entry, billing, CRM and more allow lean staff to focus on community building.
Corporate office design is following suit. This enables workers to hold meetings around the campus while staying in touch with their colleagues. Office automation technologies allow the workspace to minimize distractions and boost productivity. And the shrinking size of technology, and bring-your-own-device culture, means less hardware for buildings. Instead, buildings must connect devices and adapt as technology changes.
This benefits asset owners too. They are able to capture and analyze data about what happens within their building. If a coffee kiosk or conference room isn't being used, they can find another use that is more valuable for inhabitants.
Themed Spaces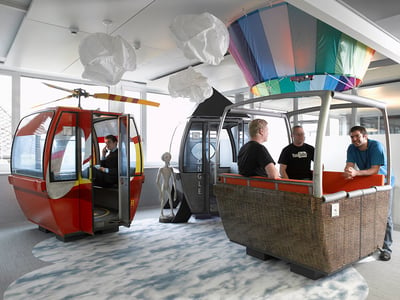 More than ever, office design matches a company's brand image. Space layouts, colors, furniture conference room names, decor, and even dining options reinforce an organization's mission to employees and visitors alike. One great example is Verk Space, a shared workplace in Toronto. Based on the Danish concept of hygge, Verk Space features Scandinavian design, modern office furniture, collaborative nooks, and high-end coffee.
A related office design trend is art in the workplace. Recent studies by CanvasPop and LinkedIn showed art makes employees more productive, happy, inspired, creative, and relaxed. Office art, whether it takes the form of brand icons, a grand staircase, or traditional pieces, can also impress visitors.
Green – Inside and Out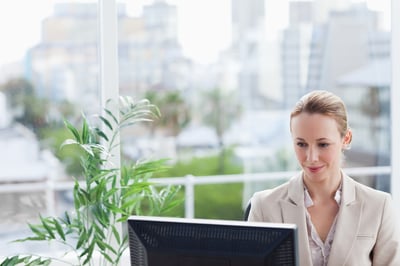 Millennial employees want their company and office to reflect their values. That often means environmentally friendly buildings. Finding efficient office solutions can also benefit asset owners through energy savings. This can mean anything from LEED certification to smaller steps like green cleaning supplies and automatic lights.
Denver voters recently passed a green roof ballot initiative. Despite being significantly outspent by the competition, Denver joins San Francisco, New York, Paris, and London. In those cities, buildings over certain square footage must line the roof with solar panels or greenery. Winning the popular vote shows residents want to work in and be surrounded by, more environmentally friendly architecture.
Office design trends also show an increase in greenery inside the building. Since workers spend so much time indoors, biophysically designed offices help employees achieve their desire to connect with nature. A ScienceDirect study showed having plants in your office will increase employee productivity. Moving plants and green walls can also be used as part of the office trend of modularity.
Office Design Trends Summary
Millennials, smaller firms, the sharing economy, and remote work are all having a major impact on modern office design. Trends points towards buildings and workspaces becoming more flexible in how space is used. Tenants, employees, and asset owners will all benefit as space is designed to fit ever-changing utilization and needs.
We want to hear from you. What changes are you seeing in your market?