Just a generation ago, people went to work, they sat at their desk until the workday was done, and then they got in their cars and drove home. The lines of demarcation between work and home were distinct. As were the parameters of the office: a front desk for receptionists, cubicles for junior employees and private offices for management.
Today, businesses run quite differently. Organizations are less hierarchical. Employees have become jacks of all trades. Efficiency and productivity are at all time highs. Contract work and freelancing are on the rise. Work is increasingly collaborative. And working remotely, allowing employees to work from anywhere in the world, is more feasible than ever.
There are still many benefits to having employees work together in the office. To keep pace, companies are racing to implement high touch technologies and smart office features that make their people happy and more productive. However they often neglect a key element. The space where you work needs to match your dynamics, in order to maximize potential. In the modern office, the right furniture is essential to the perpetual flow of your business.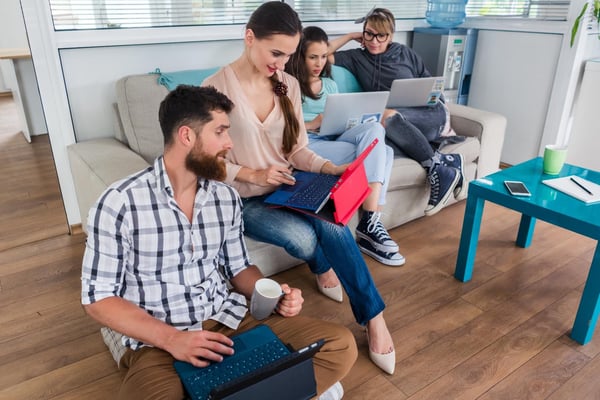 The Benefits of Modern Office Furniture
Here are four ways updating your office furniture and equipment can improve the results for your organization.
Versatility and Functionality
Traditional offices and cubicles serve a purpose. But today's employees work differently. They come and go. Sometimes they need quiet, other times they need larger spaces for meetings or brainstorming. It is important to have a variety of work environments, and areas that can quickly be converted from serving one purpose to another. To allow employees to mix up their environment, explore single person workstations that include desks that convert to sitting or standing. Collaborative workspace furniture should feature comfortable chairs, larger tables and white boards to jot down ideas and next steps. And, of course, consistently fast Wifi from anywhere on the property.
Great Visitor Impressions
When hosting clients, vendors, interview candidates or even employees' personal connections, your office space speaks to who you are. Regardless of your office automation technology, company culture or how well you pay, if you offer your guest a tired brown chair at a chipped, old wooden table, they will assume you're organization is staid. Modern office furniture suggests you are on the cutting edge.
Employee Productivity
Who doesn't benefit from a change of scenery every once in awhile, especially when at work? Today's modern office environments often include an area for taking a break, another that emulates a coffee shop, plus a social area. Even better, design an adaptable collaboration space that transitions throughout the day for more efficient space management. Make sure there is comfortable space outside too so employees do not feel trapped inside on beautiful days.
This will liven up your space and reinvigorate creativity and excitement. When employees are more comfortable, and their furniture is more usable, the outcome is greater productivity.
Health and Wellness
A sedentary lifestyle has been linked to depression, cancer, sleeplessness, heart disease and countless other ailments - yikes! Modern office furniture will create a natural impetus for movement in the office. From chairs that burn calories, to treadmill desks, the options are remarkably endless.
Summary
When keeping your company on trend and current, don't forget about the space where you work. If your office furniture is outdated, people will notice, and your productivity will suffer. Modern office furniture will impress your clients, invigorate your employees and maximize your potential.