Technology is always evolving and changing the way things are done. The modern office needs to keep pace, grow and evolve along with all these technological advancements. Integrating new tools and accessories streamlines processes and simplifies work. Here are the 7 must have tech tools for the modern office to maximize efficiency.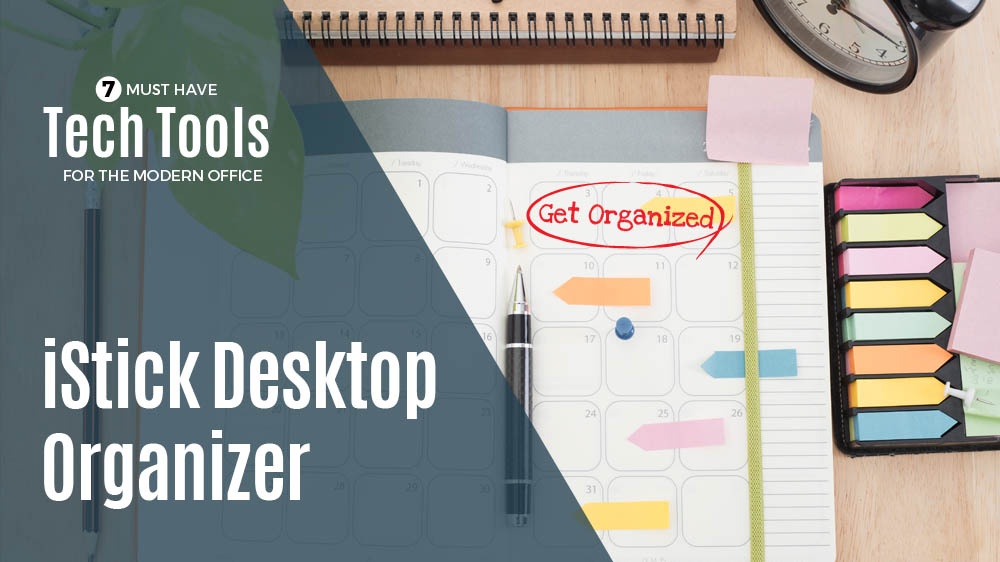 1. iStick Desktop Organizer
Desktop organizers are nothing new, but the iStick desktop organizer merges handy technology with a functional workspace. Messy and cluttered desktops slow down productivity. The iStick organizer creates a place for everything in a neat and systematic fashion, while keeping everything close at hand.
Why To Love It: There's a Place for Everything
The compact stand fits in front of a computer monitor and features dedicated storage compartments for pens, a letter opener, business cards, notes and other desktop essentials. This organizer is also outfitted with a multi-card reader which supports Micro SD, SD/MMC, XD, MS/MS PRO DUO formats, as well as a 3-port USB hub. A dedicated space to set your smartphone keeps the screen in view and makes charging effortless.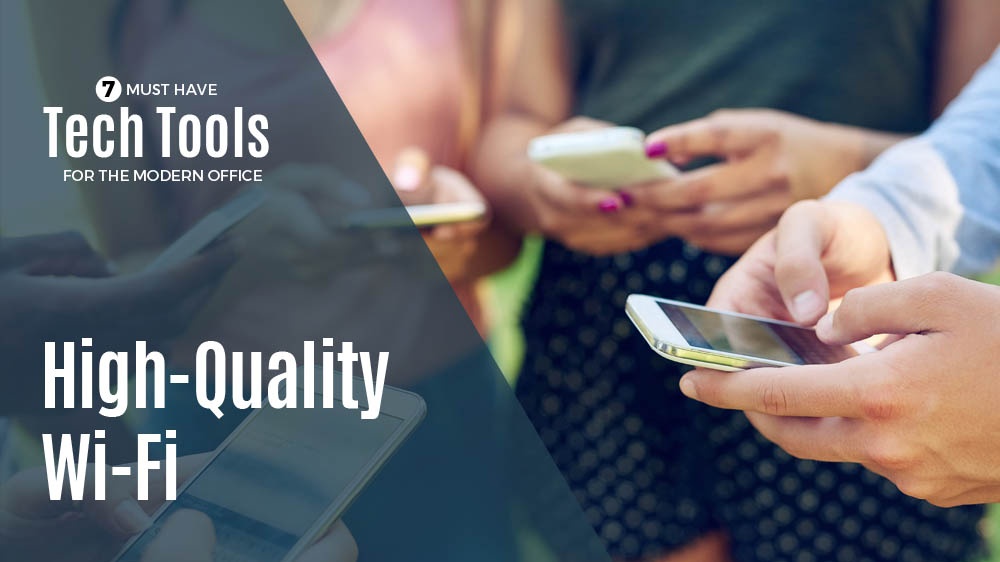 2. High-Quality Wi-Fi
The Internet drives business forward and people need to be connected to the Internet to take care of business. With more people using laptops, tablets and their phones to log in, dependable and fast Wi-Fi has become mandatory. Employees today expect a fast and strong Wi-Fi network that allows staff to take care of issues in real time, across devices, even as they move about the office.
Why To Love It: Increase Office Productivity
High quality Wi-Fi is a must in the office world today. With everything being online and digitally focused it's always a good thing to have fast Wifi at your fingertips to get everything moving without delay.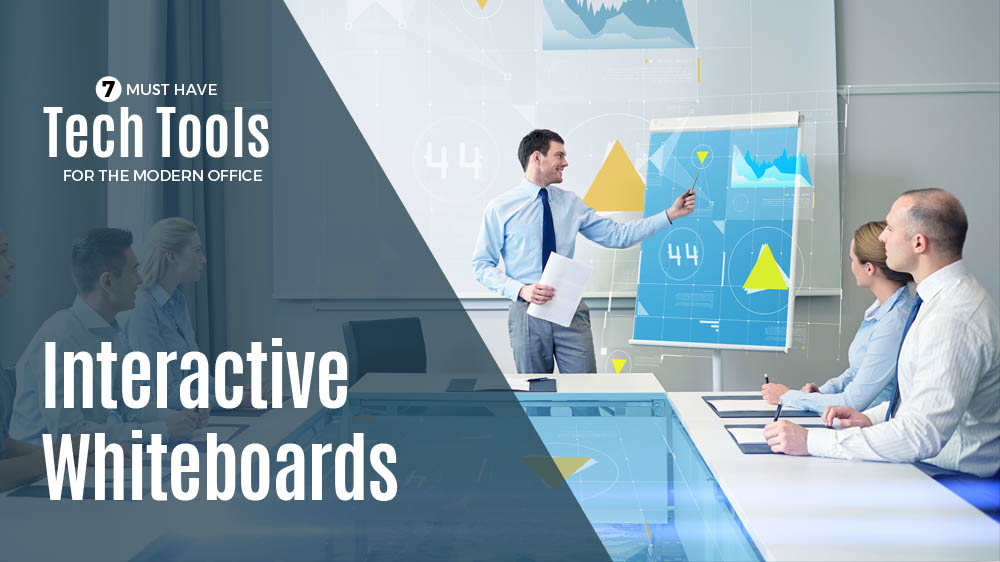 3. Interactive Whiteboards
Give your brainstorming a digital edge with an interactive whiteboard. Such a device can be an all-in-one touch screen computer or simply a touchscreen that links to a separate computer. Whatever the setup, an interactive whiteboard delivers the same results.
Why To Love It: It's Digital Brainstorming
The Jamboard from Google lets users sketch, share and research in a collaborative manner. Team members can review data, make notes, log into the necessary tools and programs or access the Internet during a group session. Users can also upload a presentation and flip through slides and charts to review information with the team.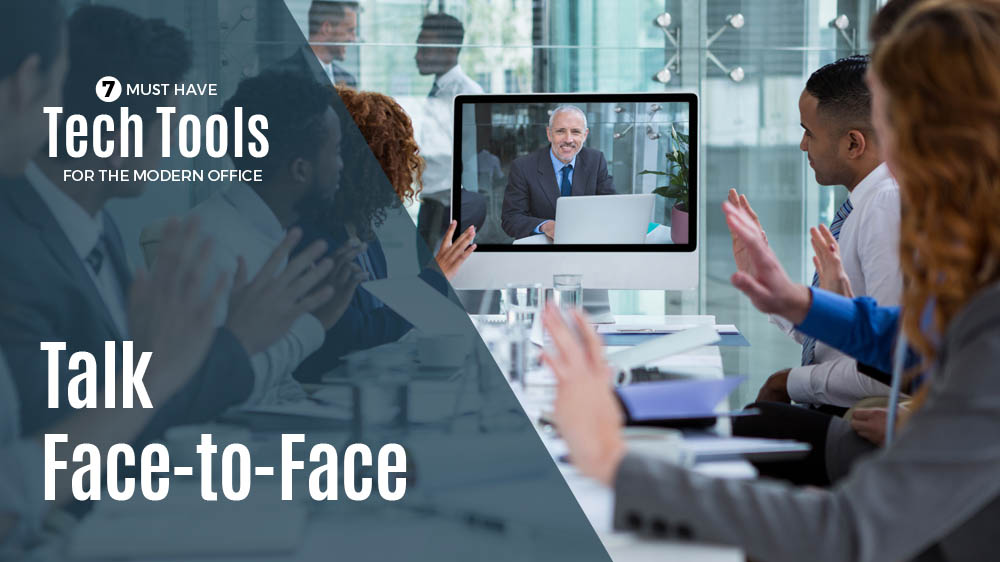 4. Talk Face-to-Face
Face-to-face communication with colleagues promotes creativity and a more free exchange of ideas. Stay connected with telecommuting coworkers or collaborators from afar with a quality video conferencing setup. If using systems like Skype or Zoom invest in quality microphones for a clear and crisp conversation. If your work space and budget allows consider a video phone system. Speaking with coworkers, vendors or customers face-to-face provides a more effective and engaging conversation experience.
Why To Love It: More Effective Way To Communicate
When speaking to a colleague or customer through email, phone, or even text these days it can be extremely easy to misinterpret things. That's why talking face to face is so awesome! You're able to gauge what the person is actually meaning and never have a misunderstanding again.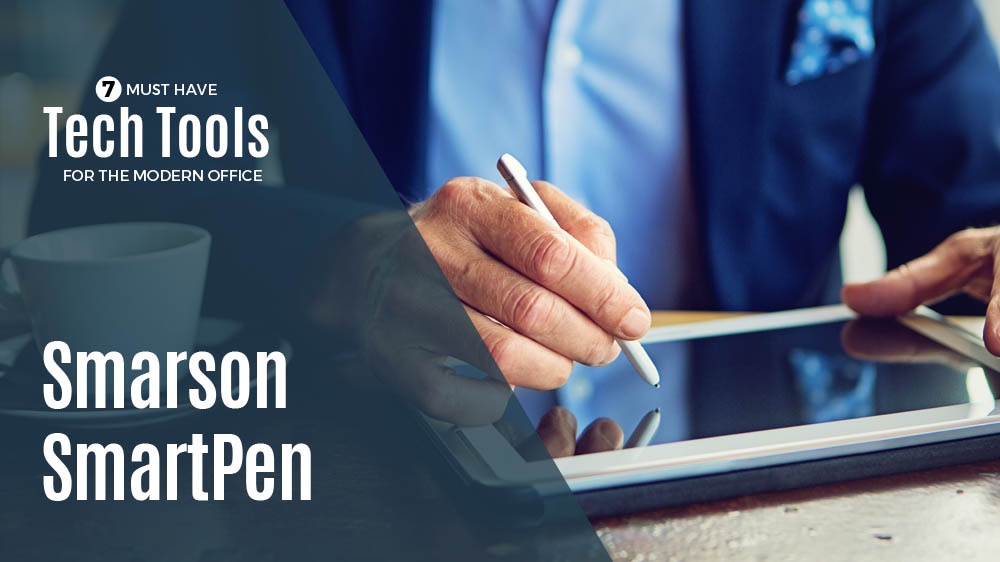 5. Smarson SmartPen
Taking notes by hand may be a matter of preference or necessity, but going through your handwritten notes later to find a specific comment can be time consuming. The SmartPen from Smarson transforms handwritten notes into digital files. The digital files can be searched and shared for convenience.
Why To Love It: It's Easy to Use
To use the SmartPen simply clip the Bluetooth receiver to the top of the page. A Bluetooth transmitter embedded in the pen detects writing movement and relays this to the receiver, which in turn converts the pen movements into digital files.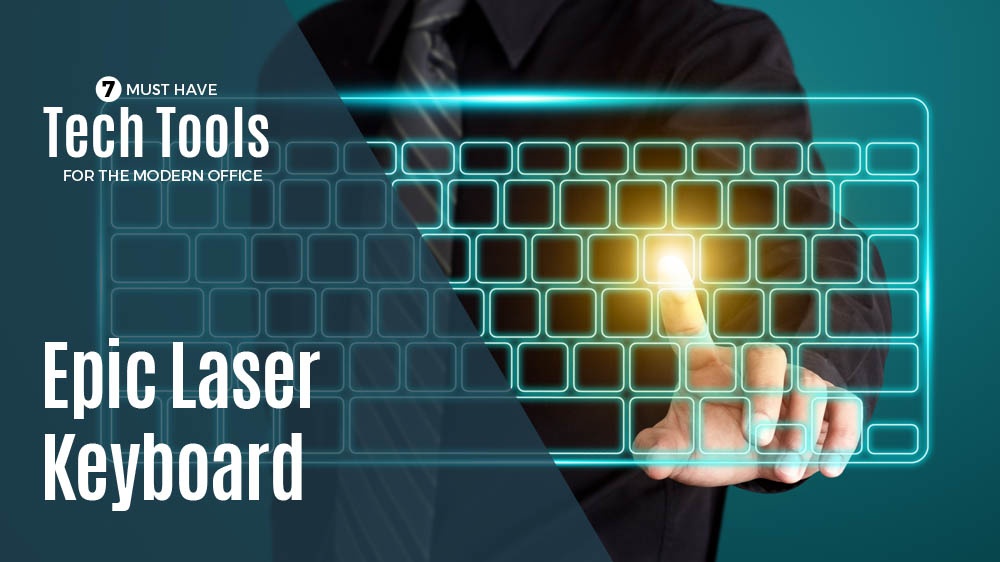 6. Epic Laser Keyboard
Enjoy a full QWERTY keyboard on any flat surface with the Epic Laser Keyboard. This compact device projects a standard keyboard onto a table top or similar surface. Bluetooth capability and wide-ranging compatibility enables quick and easy pairing with phone or tablet. The laser keyboard detects typing motion and translates those movements and keystrokes to the paired device. The Epic Laser Keyboard makes it easy to take notes at meetings or on to go without lugging around a cumbersome laptop.
Why To Love It: Turn Any Flat Surface Into A Keyboard
With this laser keyboard you can literally turn any flat surface into a desk area and get to work in a fun new interactive way. Where you go the desk goes!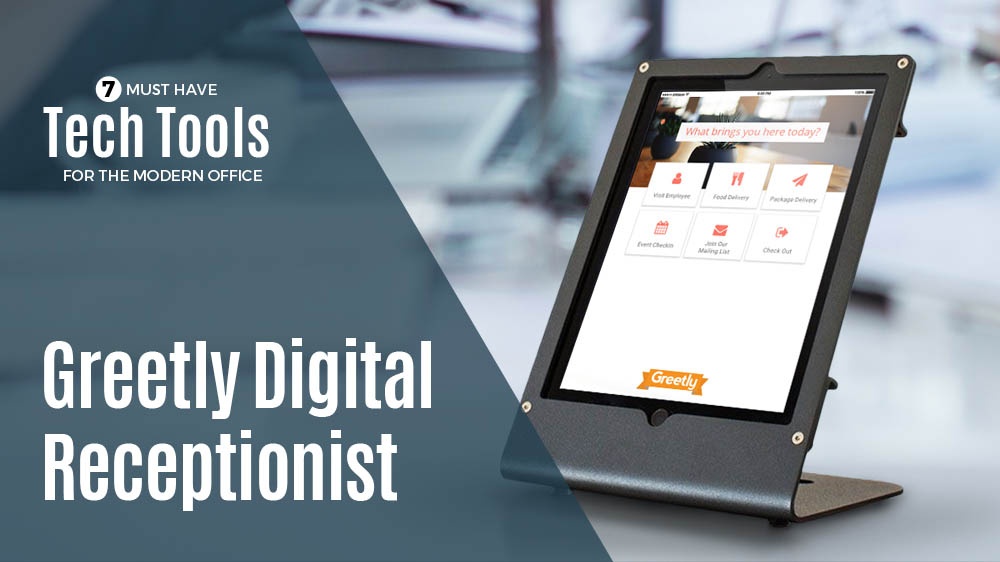 7. Greetly Digital Receptionist
Easily take care of visitor management with Greetly Digital Receptionist. A dedicated receptionist who is always at the front door might not be a feasible - or logical - reality for many businesses. This iPad or Android visitor check-in app can act as a 24/7/365 receptionist, or as backup if an employee steps away or is unavailable.
Why To Love It: Save Your AdminUTES
Office visitors can check themselves in and Greetly will instantly notify their host of the arrival. A digital visitor log that even includes a photo of the guest, makes it easy to track who stopped by and when. The automated receptionist ensures all visitors are promptly and efficiently taken care of in a professional manner. This device keeps the entire office smoothly operating while ensuring visitors receive prompt and excellent customer service while freeing up your other employees to take care of other important tasks.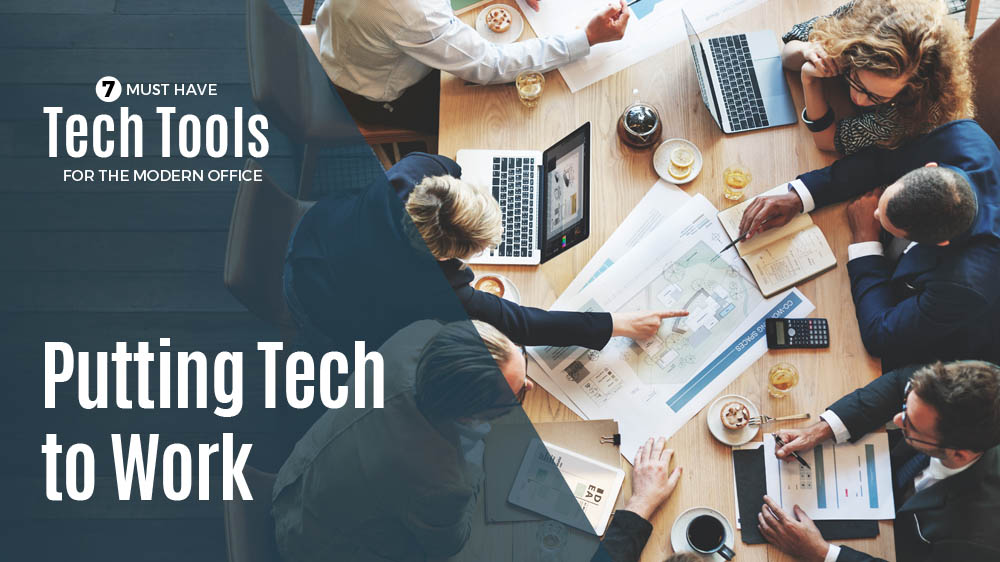 Conclusion: Putting Tech to Work
From staying organized to efficient collaboration to streamlining guests checking in there are so many ways technology can benefit from modern office design and tech tools. Integrating these must have tech tools simplifies and streamlines processes to keep individuals and entire departments optimally operating. These improvements can save time, money and create a more relaxed and productive work environment. If you're interested in learning more about Greetly or must have tech tools for the modern office then give us a call or message us today!