Coworking
Interesting Coworking Spaces Around the World | Greetly
Grab your passport. This post explores 11 of the most interesting coworking and shared workspaces around the world.
---
Shared workspaces are everywhere! Ever since the term "coworking" was coined by Bernard DeKoven in 1999, the concept has steadily increased in popularity around the globe. As of last year, 13,800 coworking spaces existed worldwide. The increased popularity of the serviced office is great for remote workers who love to travel. Instead of cramped hotel rooms, you can cowork from a modern office. You can get work done while networking with local businesses.
Whether you are a globetrotter, a wanna' be or if you manage a shared workspace, here is some inspiration for you. Below are examples of some of the most interesting coworking spaces in the world.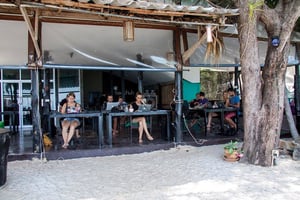 Beach Hub, Thailand
Marc Anthony said, "if you love what you do, you'll never work a day in your life." If you're looking for work-life integration, you should spend some time at this beachfront shared workspace. Beach Hub is a fully digital office, suited to those who want to mingle work, and play. People have the opportunity to go surfing over their lunch break and talk about great happy hours. Some prime workstations are located on a deck that offers a view of the ocean. Why leave? Beach Hub also offers bungalow-style accommodations. Beach Hub is expanding soon to locations that might be closer to you - Hawaii, Bali, Mexico, and Costa Rica.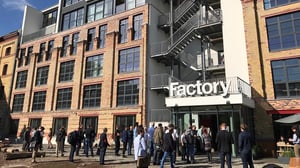 Factory Berlin, Berlin
This space markets itself as a business club geared towards businesses in the technology industry. Factory emphasizes opportunities for members to work with - not just near - others from their industry. If the opportunity to interact with established tech companies, like Google and Soundcloud, isn't enough, they host over 300 networking events per year.

Hubud, Bali
Hubud is trying to create a true community. They are "co-everything"... Coworking, coliving, colearning, and cogiving. Hubud can take care of your every need from the minute you land through your ICO. Start your day with locally grown coffee, then use their fully decked-out digital office to get work done. Enjoy lunch in the organic garden, and then take an afternoon break by the pool or expeditions exploring volcanoes.

Dojo, Bali
Just because you left Hubud doesn't mean you need to leave Bali to get work done. This serviced office space is located in Canggu, a mere one minute walk from the popular Echo Beach. Due to its location, people are able to get work done and have fun on the beach. Dojo is geared towards digital nomads. Features include a smoothie shack and one of the fastest Wifi networks in Indonesia.

Open, Johannesburg
Open has three South African workspaces. Their newest spot is right across the street from Nelson Mandela Square in Johannesburg. It includes a large outdoor cafe plus an indoor amphitheater to fit every possible event. They also feature a professional indoor putting green. You can watch Johannesburg revitalize around you while you work.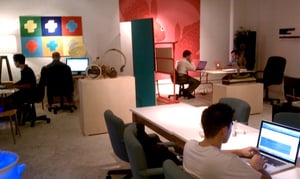 The Box Jelly, Honolulu
Started in 2011, this space is located in Kakaako, Honolulu. Sure, being located in Hawaii is pretty special, but what truly makes The Box Jelly special is that it houses HI Capacity, a makerspace. That means a 3D printer, in addition to the standard business center perks.

Patchwork, Paris
Some shared workspaces are focused on a niche. Others serve all industries. Patchwork has taken a middle ground - they are focused on tech firms, but also architects and interior designers. They have two locations in central Paris and boast perfect cell coverage literally anywhere within their sites. Oh, and when you walk out the door, you're in the city of lights.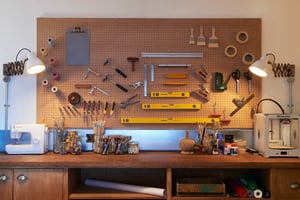 SoHo Works, London
SoHo Works has two locations, the Shoreditch neighborhood of London and Los Angeles. Their London office is 16,000 square feet and is housed Shoreditch's famed Tea Building. The space - and the staff - are available 24/7. Other features include fancy furniture, photo studios, screening rooms, workshops, 3D printing and a library filled with paper books and journals. You'll also get access to the SoHo House London, a members-only club with a rooftop terrace, bar, and pool (although London isn't exactly known for its great weather.)

Duke Studios, Leeds
This business center is located in the heart of Leeds, England. With the motto of "people first, business second", Duke Studios caters primarily to individuals in creative fields such as software developers, bloggers, graphic designers, and travel writers. Bring your creative vision to life with their laser and vinyl service. Or use their design and build a studio.

The Work Project, Hong Kong
This Hong Kong shared workspace feels more like a resort than a corporate office space. Located just minutes from the Causeway Bay, at The Work Project you can enjoy custom-blended teas, their own music selection, and handcrafted daily meals. Every inch of this award-winning, 30,000 square foot workspace was designed to be "beautiful in form and high-performance in function." Their philosophy is that beautiful spaces inspire greatness.

NeueHouse Hollywood
Looking to add some culture to your workday? Spend a day working in Hollywood, specifically at the second NeueHouse location (the original, located in the Big Apple, is uniquely special too). Opened in October 2015 and is located in LA's old 1938 CBS Radio Building. This shared workspace is geared towards artists in various fields such as movies, music, fashion, and architecture. Forget the Wifi and coffee, this space's amenities include a broadcast studio, screening room, and performance stage. Sorry though digital roamers, NeueHouse is a private business center open only to members; and membership is by application only.
Summary
With the widespread availability of amazing office spaces to work in around the world, and high-touch technologies to stay in touch with your coworkers back home, traveling has never been better. Greetly is proud to provide award-winning coworking software to support the world's best-shared workspaces and the global nomads who use them.