"Sooner or later, everything old is new again" -- Stephen King, The Colorado Kid
When we think of today's coworking boom, we should consider the industry's predecessor - the serviced office. Also known as executive suites and business centers, this was a booming industry in the 1980s and 1990s. Serviced offices continue to alongside coworking. In fact, the two shared workspace segments are beginning to merge giving entrepreneur more office options than ever before.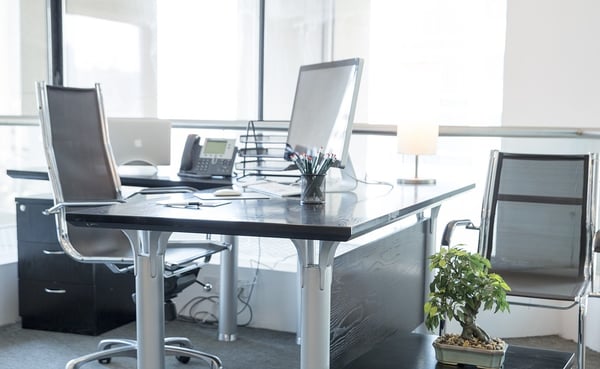 What Is A Serviced Office?
A serviced office is either a single office space or a building of offices available for lease fully equipped and are managed by a third-party. Versus leasing your own office, a business center is work-ready when you arrive. Spaces commonly offer these services:
Standard office furniture, including desks and chairs
High speed Internet
Phones
Equipment like printers, scanners and (back in the day) fax machines
A live receptionist, visitor registration app or both
Meeting rooms
A virtual mailbox and package reception, often with a prestigious address
A common kitchen area, coffee and tea
Cleaning and trash removal
The History of the Serviced Office
OmniOffices
OmniOffices, established in 1962, was one of the industry pioneers. They eventually grew to 28 locations and 325 employees (a whooping 11.6 FTEs per suite) before going through a series of roll-ups and acquisitions, and went under the Regus umbrella in 2004.
Fegen Suites
That was soon followed by Fegen Suites, founded in 1966. This became the industry's firm mega firm. At its peak there were 200 locations in 26 states. Impressive when you consider that WeWork was valued at $20 billion with 163 locations.
Fegen Suites was also innovative in their niche focus. The firm catered primarily to lawyers. Amenities included a full law library. Fegen attributed his success, in part, in facilitating the entrepreneurial spirit, giving lawyers the tools, community and cost efficiency to work for themselves. Amazingly, the industry today still reflects most of the services, add-ons and benefits Fegen brought to mark.
The firm ran into financial problems in the early 1980s. The 1982 real estate collapse left Fegen Suites with too much vacancy. The company was sold and eventually became Barrister Executive Suites. Paul Fegen himself fell on some hard times. The legacy of Fegen Suites is strongly reflected in today's cowork industry.

Regus
Across the pond, English entrepreneur Mark Dixon ran into a problem. On a business trip to Brussels, he was struck by the lack of office space available on a short-term basis. He asked around and saw others shared his frustration of being forced to work from their hotel rooms.
The first Regus location opened in Brussels in 1989. The company grew quickly. By 1994 that had locations in South America and Asia. Regus went public in 2000 via IPO on the London Stock Exchange. A year later, Regus reached the US market when it acquired Stratis Business Centers, a franchise concept with 12 centers.
The firm filed for bankruptcy in the US. After that though, the firm went on an acquisition spree, including Fegen Suites. Today, Regus is by far the world's largest largest shared workspace operator. They claim over 3,000 locations in 900 cities and 120 countries. Reorganized as IWG PLC, Regus continues to grow. And they remain focused on outfitting their spaces with the latest gadgets and world class service to make business people comfortable, no matter whether at their home office or on the road.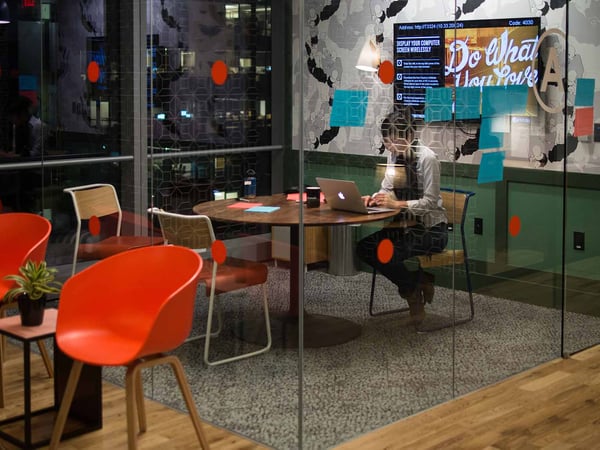 Transition to Coworking... And Back Again?
Few entrepreneurs today consider moving their startup into a serviced office. Instead they look to coworking. Ultimately though, the benefits they are seeking are the same:
Really though, the serviced office and cowork concepts are merging. Traditional business centers are adding community areas to reflect the coworking trend. And coworking spaces are adding more private offices, in place of communal desks. Demand for private offices is rising quickly.
While today he earns a living as a magician, Paul Fegen must be proud of the multi-billion dollar shared workspaces industry he helped form.