Productivity Tips
15 Modern Office Furniture Pieces You Need Right Now | Visitor Log
Modern office furniture can increase employee productivity and boost your space utilization. Here are 15 of our favorite furniture pieces.
---
We recently wrote about the benefits of modern office furniture. The advantages include increased employee productivity, impressing visitors, and more efficient space management - clearly, the furniture you use is integral to your success.
The latest office furniture designs can solve problems you didn't know you had. From chairs that charge phones, to desks that burn calories, to collaborative workspace furniture that does the multi-tasking for you. With high-touch technologies tucked into your office furniture, you can maximize space and efficiency.
The Best Modern Office Furniture
Here are 15 smart office furniture pieces that are sure to spark workplace enthusiasm for your organization.

1. Everywhere Table
Remember your grandma's table with that leaf she brought out for special occasions? This genius table designed by Herman Miller is the professional version to help you maximize office space management. With widths up to 72 inches, these tables can seat your largest meetings, then fold up and roll out of sight. Don't waste space with a conference room that usually sits empty, pop up a conference table whenever you need it in any open space.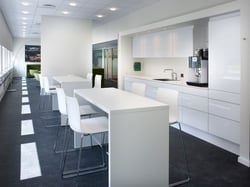 2. Time Out Table
No, you haven't been bad. But you do need a break in your day. Or sometimes a quick meet and greet.
Time out tables offer a lounge-like appeal and footrests for renewing your energy. These multi-purpose desks are a break room staple across urban coworking spaces.
3. Vibrant Armchair
Bring out your inner Skittles commercial. You will be sure to smile when you see get down to work in one of these spectacularly bright chairs - they will bring out the kid in you. In electrifying purple and shocking green, they will set you apart from the pack.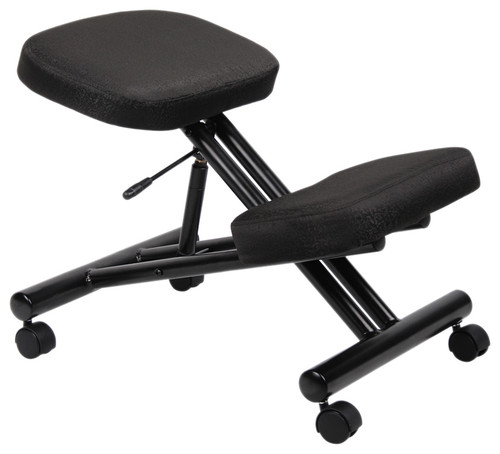 4. Ergonomic Kneeling Stool
Benefits galore with this modern stool. It is designed to encourage a strong, upright posture and to relieve muscle strain. It also adds comfort at multiple heights.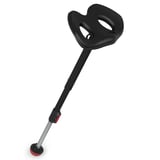 5. Mogo Seat
Pull up a chair literally anywhere, with this modern seating solution. Its pivoting seat leg engages your muscles, and at 2 pounds, it can go anywhere you do.
6. Zenergy Ball Chair
This new age version of the exercise ball is all grown up with this burst-proof and mesh-covered beauty. With multiple colors and a lightweight design, it will perk up your space in an instant.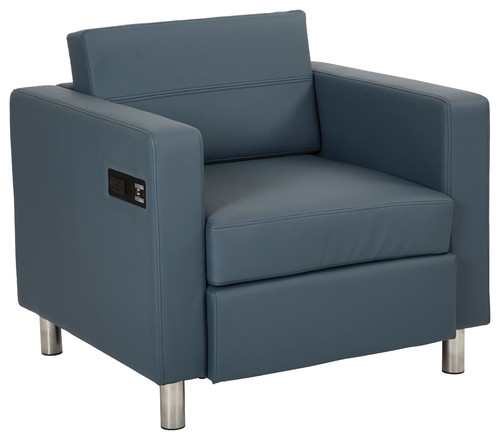 7. Charging Chair
Between your iPhone, your iPad, and your iBrain, can there ever be enough outlets? Let your guests recharge after a long trip to meet you, or charge up during your meetings. Forget the battle for the chair near the outlet, this chair comes with its own.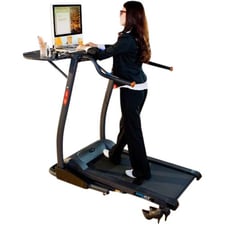 8. Treadmill Desk
In today's busy world, who has time to exercise? The ultimate multi-tasker, a treadmill desk lets you lead a conference call and send emails all while you work out. Gets those steps while you get the job done.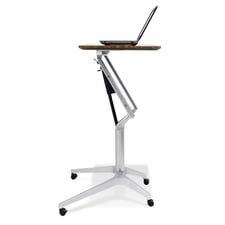 9. Adjustable Laptop Desk
Can't decide whether to work sitting or standing? Using a counter-balance system, these desks switch from seated to standing height silently in seconds. On castors, they roll with you from the boardroom to break room and can join you on the road.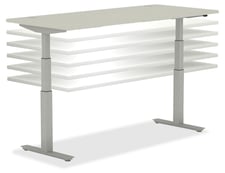 10. Electronic Height Adjustable Desk
For larger desks, try an electronic adjuster for easy adaptability. Fitted with a power cord, these desks raise and lower at the touch of a button, while providing a much larger workstation.
11. Balance Stool
Balance training is great for long-term health, and can easily be worked into the modern office environment. Balance stools encourage ergonomic core strength, much like a balance ball. But they take up a smaller footprint and are offered in more professional designs.

12. Modular Seating
Modular exemplifies modern seating, with its minimalism and flexibility for any meeting that might break out throughout the work day. Separate the modules for more formal business meetings, or push them together for collaborating. Configured concavely for community or convexly for privacy, they are incredibly versatile.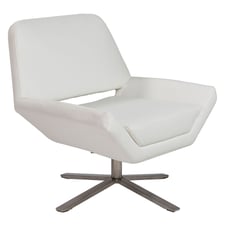 13. Swivel Lounge Chair
If the movie Big were made today, Tom Hanks would have spun himself silly in this fashionable update to the swivel chair. Combining business with pleasure, these chairs are as beautiful as they are powerful. Comfortable, yet striking, in an easy-care fabric, they appeal to many senses.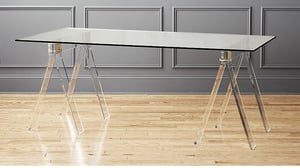 14. Glass & Acrylic Desk
Can your organization use more transparency? This desk is like a leaked memo. A brilliant glass top rests on a trendy acrylic base, combining elegance with innovation. A showstopper, this desk will add a unique tone to your space.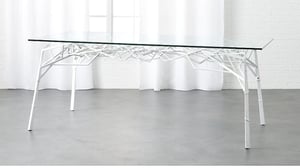 15. Twig White Desk
Functioning well as a desk or collaborative workspace, this is one piece you'll want to showcase. A true work of art with solid construction, employees will clamor for this one.
Summary
Modern office furniture can be more than just functional, it's also a whole lot of fun! What better way to invigorate employees and excite your clients than housing the latest office design and furniture innovations? We hope you enjoyed this article, now get back to work/exercise.