Congratulations! Your company is growing, revenue is going up and you are hiring new employees. Now it's time to determine something you may have never considered before - your real estate and office strategy. Perhaps you'll explore a remote workforce or however there are many clear benefits of having work in the office.
More and more early-stage companies are opting for using coworking spaces in lieu of leasing a traditional office space. At the same time, small and medium business searches for private offices grew 40% per month in 2017, according office broker platform Hubble.
Which approach is best for your organization? Here we break down the benefits each real estate option.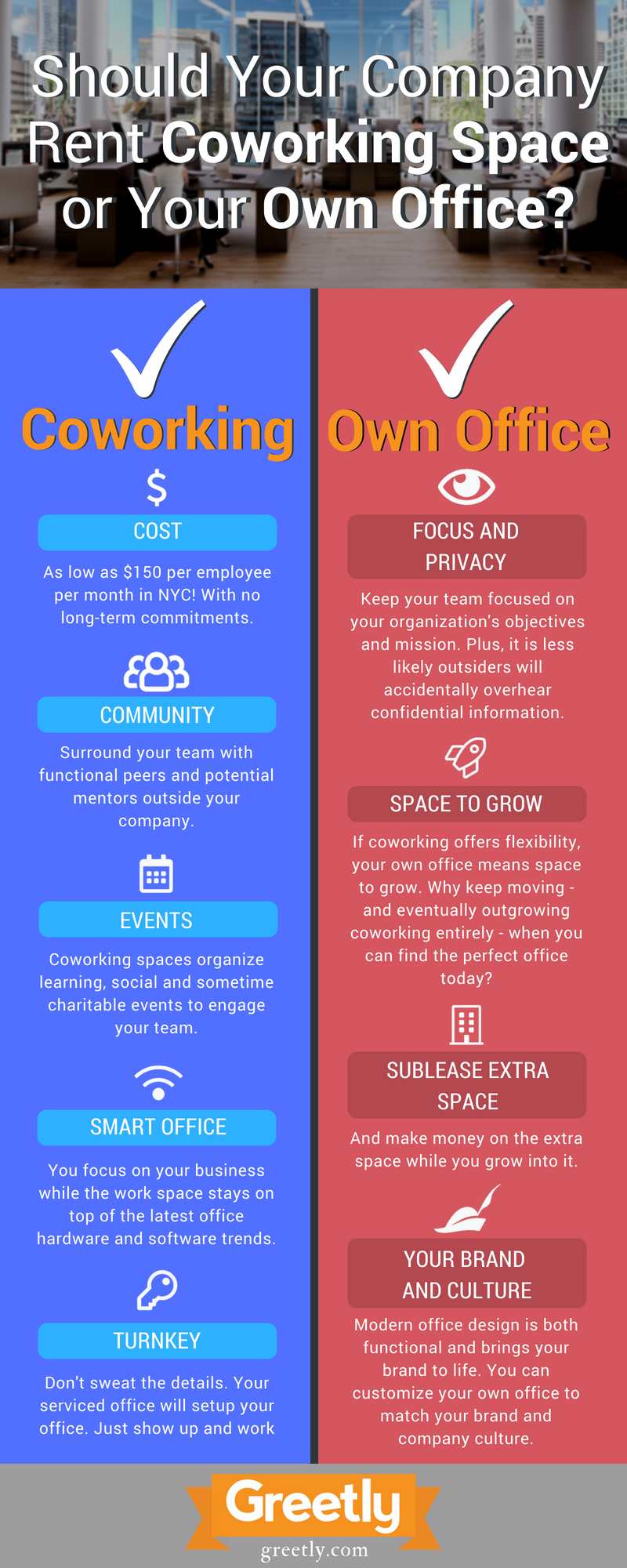 The Benefits of Coworking Spaces
The shared workspace is a fast rising trend. Today we are seeing a merging of more traditional serviced offices with the original coworking spaces, which were essentially open floorplans. Interest in private offices within coworking workplaces is on the rise, and some of the world's largest companies are getting into the action. Here is why.
Cost
Coworking spaces are much more affordable in the short term, with the cost in New York City starting as low as $150 per month. Plus, commitments are much shorter than a traditional lease; often just month-to-month. If your isn't ready to make a major cash commitment, you could maintain a lot of flexibility working out of a coworking space.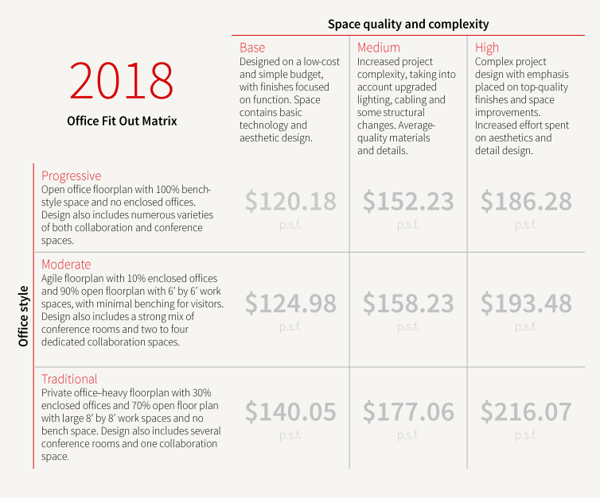 Compare that to the cost of building out your own office space. JLL reviewed data from 2,800 projects across the US and Canada in 2017. They found that office fit out - the cost of designing, construction and furnishing a work space - also known as tenant improvements. The study showed a range between $120.18 and $216.07 per square foot. The variation was due to features selected and market. While these costs can be negotiated as part of a lease, they are incorporated into your coworking rental.
Community
Almost by definition, coworking spaces surround you with a community, making it easy for you and your employees to network with the other companies in the space. You can stay on top of industry news, learn from their functional peers and even find a mentor outside the organization easily shared workspace. You might even your next hire. While this is important for workers at every stage of their career, this will be especially meaningful if you have a younger workforce.
Events
The best shared workspaces offer coworking events that can help bring your team together to enjoy some quality time after hours. This is another great chance for networking with the companies and people around you. Before you choose a space, ask to see their upcoming events calendar and look for a variety of social and learning - and, ideally, charitable - opportunitities.
Smart Office
From strong Wifi to collaboration areas, when you lease a coworking space, you no longer need to make sure your office is using the greatest productivity tools. Your shared workspace should be a fully digital office utilizing coworking software that maximizes your team's productivity.
Turnkey
Don't sweat the details. Let your landlord setup your new office for you, including buying all of the furniture and maintaining the equipment. You won't need to hire a dedicated office manager. If nothing else, this approach is easy, and we like easy!
Bonus: Balance Sheet
For the financially inclined founders, there are GAAP principals too. Having a long-term lease, 12 months or longer, means a long-term assets and liabilities on your balance sheet. Since most coworking terms are month-to-month, you'll leave your accountant tiddling his or her thumbs.
The Benefits of Leasing Your Own Office
Over 98% of commercial real estate is the traditional office. The workplace evolved in this manner for good reason. Here are the advantages of leasing your own office to house your organization.
Focus and Privacy
Your own office is ideal for helping your team focus. Your employees won't be distracted by other companies around them so they can be more productive during the day. Because a tactic helped another company grow (and did it really?) doesn't mean it will for yours - your situation is unique.
If your team needs to discuss sensitive information, they won't have to worry about being overheard. Many companies benefit from the privacy of their own office space. Overall, research suggests the open office floor plans, a central tenant of coworking spaces, hinders productivity.
Space to Grow
You have room to grow if you lease your own space. Coworking offers flexibility, but constantly moving will be distracting to your team. And many shared workspaces have limits on how big the companies using their space can be, so you will eventually have to move out.
If you're looking for a new space anyway, it can be time and cost efficient to find one with room to grow at the beginning.
Sublease Extra Space
You can make money by subleasing extra office space, especially if you rent a space large enough for your team to grow. We've even heard stories of recouping nearly all of your office expense.
Reflect Your Brand and Culture
Modern office design is both functional and brings your brand to life. You can customize your own office to match your brand and company culture. At shared workspaces, you don't have any control over the layout of the office or the decorations, but in your own space, you can create an atmosphere that's most conducive to your company's success. Not only does this help employees think about your company's mission, it also differentiates you from the competition when you are hiring employees.
Take, for example, the decision of Charlie Thuillier, CEO at Opto Ice Cream. Of his recent decision to move into a private workspace, Charlie said "we have spent a huge amount of time investing in our culture and employee wellbeing. Coworking spaces are great but we wouldn't want to risk diluting our culture as we scaled".
Summary
There are a lot of factors to consider when finding a new home for your growing company. Both shared workspaces and your own lease have their advantages. And each company has their own set of circumstances.
When you evaluate the comparison above, customize them to your company. At what stages of their careers are your team? Are you seeking social and learning opportunities or focus on your core values? What is your employee growth plan?
if you are looking to make your work environment even more productive for you and your team.