The coworking industry is growing at an accelerating rate. There are many factors driving the growth of serviced offices. Some are financial, like lease flexibility and taking your rent liability off of the balance sheet. Softer benefits, including allowing your team to co-mingle and get ideas and mentorship from people outside of your organization.
Any shared workspace can provide the basics - a clean desk, great Wifi and ample caffeine. A special coworking space also breeds a sense of community and belonging.
It is easy to argue the most important person is to any shared office is the community manager. We recently covered the tasks and skills of a highly effective community manager. She:
Fosters "spontaneous" interactions that help member companies grow
Sells new memberships
Plans events
Maintains cleanliness and ensure everything is in find working order
Does community outreach
Handles mail and deliveries
Provides a smile and energy to members and visitors alike
If this is the most important position, it is also the most important job description. Since our mission is to help you save time, we combed dozens of job postings to bring you a coworking space Community Manager job description template. We aimed to provide more than you need so you can cut it down and customize it and depending on your needs and priorities.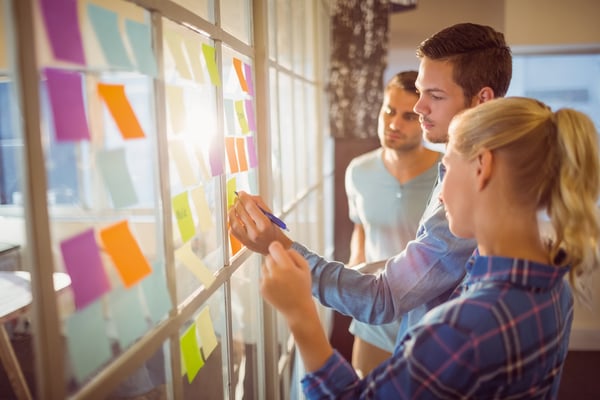 [Your Coworking Space] Community Manager
About [Your coworking space]
We are [your geography]'s premier coworking space for [your niche or what makes your shared space great]. Our mission is to provide an office environment that inspires startups, independent professionals, non-profits and artists to get more done. We are proud of our local community and so we provide a place for organizers to accomplish great things. We achieve all of this with the hospitality mindset.
[Your coworking space] is actively seeking a friendly, analytical and detail-oriented person to be the face of [your coworking space] in the role of Community Manager. You will help us grow the community by creating a great member experience while executing sales and operational tasks with excellence. This is your opportunity to take ownership and responsibility of a mission-driven business with the complete support and experience of the owners. Their is lots of growth opportunity in this position.
Community Manager Responsibilities Include:
Community Management

Create a friendly environment to facilitate high member satisfaction
Espouse [your coworking space]'s values
Plan and launch community initiatives to create connections between members of different organizations. This might include targeted member introductions, recommending possible mentor matches, running networking events and managing communications within the space and through digital vehicles.
Seek out information about the business and personal objectives of tenant organizations and their individual members
Resolve issues between members quickly and in a manner that diffuses tension
Foster a sense of inclusivity where fresh ideas are welcome
Be knowledgeable about [your coworking space]'s membership contracts and guidelines, as well as federal, state and local laws that manage the work environment. Explain these policies to members, as necessary.
Oversee new member onboarding and member moves out of the space

Events Planning and Execution

Build a quarterly calendar of coworking events that engages all stakeholders:

Current members: Educational (e.g., lunch and learns) and appreciation events (e.g., happy hours and themed parties)
Future members: Lead generation and sales-related events
Local community: Identify outside organizers and encourage them to use our event space. Depending on the exact nature, these events should also be used to build [your coworking space]'s CRM and digital community.

Manage to the allotted budget
Present our community professionally
With your team, oversee the event itself, from catering to a smooth event check-in process to cleanup

Business Development

With the owners, be responsible for setting and achieving sales objectives, occupancy rates and pricing
Conduct tours for prospective members
Contact the local press and community leaders to generate interest in [your coworking space]
Engage with the local community by attending relevant events they are hosting
Ensure that new members will fit with [your coworking space]'s culture dynamics and mission
Maintain a positive relationship with key vendors and our landlord

Facilities and Space Management

Manage all building operations to the satisfaction of members
Maximize up-time and availability of key facilities assets like the Wifi network, kitchen, printers/copiers
Keep members aware of facilities issues that may impact them
Utilize a variety of coworking software applications manage the space and membership
Make recommendations to the owners about new features or perks that will entice members
Submit maintenance tickets for repairs to the facility and key equipment
Ensure cleaning is conducted to spec
Be aware of local laws and regulations as they pertain to member safety and emergency preparedness

Personnel Management

Manage a team to achieve the community, sales and facilities goals stated above
Be responsible for the professional development of each team member
Conduct regular meetings with the entire team to ensure members are aligned on key initiatives and performance goals
Hold weekly one-on-one meetings with each team member to review the status of individual tasks and goals
Lead regular performance reviews of team members
Share perspectives on the team with ownership

Experience and Requirements
College graduate with a 4-year degree
2-4 years experience with increasing responsibility in either a sales or customer service role
Demonstrated project management skills
Highly technically capable. Able to understand and work with the variety of hardware and software applications that our space depends on.
Experience managing corporate social media campaigns
Experience with written content generation in a business environment and basic graphic design skills are a plus
Passion for [your geography] and our entrepreneurial community
Interest in working independently with only occasional interactions with the owners
Fluent in English. Ability to speak additional language is a plus.
A high level ethics, empathy and dependability
Legally authorized to work in [your geography]
Finishing Touches: A Community Manager Job Description That Lands Great Candidates
Remember, this is only a template. Before you customize our community manager job description, carefully consider your needs and priorities. Make sure those are emphasized. Be honest about the level of responsibility your future community manager will have. And carefully balance your expected requirements against the salary you can provide.
Once your job description is ready, you should share it far-and-wide. A great place to start, if your shared workspace is already open, is with your members. They are likely to know someone who is looking for a new position and fits the culture. (Be careful though, hiring from a tenant company will send the wrong signals.) If you are part of a coworking co-op (how meta) or industry forum, share it there. Beyond the coworking industry, share your community space hiring needs with your personal network and entrepreneurial job boards.
We look forward to meeting your amazing new community manager soon!