Government Visitor Management That Keeps Constituents Happy
Visitor management systems are integral in keeping government officials, employees, constituents, and all other visitors safe and healthy. With all the digital, physical, and COVID risks threatening offices, it's essential to track the ins and outs of daily operations.
Is your government workplace ready for multitudes of bustling guests? Let our experts help you decide.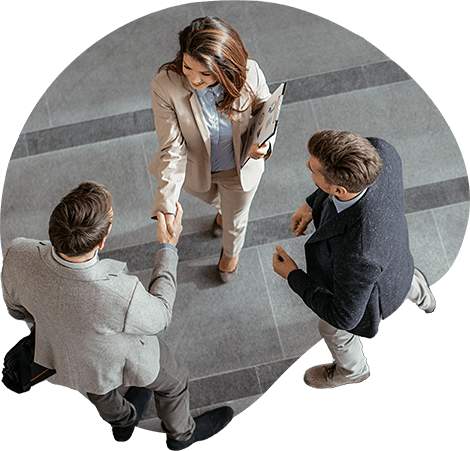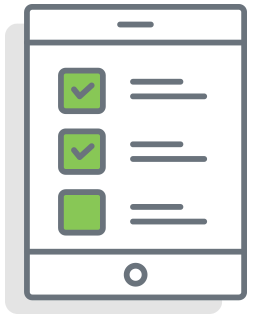 Why Government Agencies Implement Greetly's
Visitor Management System
A visitor management system for government agencies tracks the operations of federal, state, and local government buildings or departments. Ultimately, the goal is to capture vital information about each visitor and to record every guest's entry and departure. This is vital to keep personnel and data safe, and to also easily comply with audits.
Many government agencies provide constituent services, for example, DMVs, medical services, permitting offices, and more. These government offices use visitor management software to manage queues. Visitors check in by service type, answer any necessary information, and are automatically added to the proper queue. Personnel who provide services know who is next to be seen. These system also provide tools for data analysis.
What Are the Benefits of Using Visitor Management Systems for Government?
Experts predict the US visitor management system market will reach $8.7 billion by 2026. Worldwide, decision-makers have discovered the wonders of this technology for government, hospitality, manufacturing, and corporate institutions.
Here are some of the primary reasons workplaces around the globe are adopting digital visitor management:
Offer Seamless, Self-Help Visitor Check-In
Research shows that most people prefer to use technology to help themselves and ensure accuracy. By utilizing visitor management technology constituents and vendors can check themselves into your agency or office. The best visitor management systems can be customized to capture exactly the information you need for every type of visitor.
The check-in process is fast and it eliminates miscommunication and human error. And even faster for repeat visitors or guests who have preregistered themselves. They can just scan a QR code and they are automatically checked in.
Automate Visitor Queues and Other Processes
Visitor check-in systems automate the queue management process. When a guest checks themselves into your agency, they are automatically added to a queue for assistance. Government personnel see a realtime log of who is next to be seen, potentially including a photo image of the visitor.
Visitor management systems can also automate processes like asking guests to complete an online profile, providing Wifi information, and sending a survey after they exit the premises. Package and food deliveries can also be handled by visitor management software.
Contactless Visitor Check-In
Long before the onset of COVID-19, researched showed a vast majority of people preferred a self-help sign-in processes. Today, visitors demand touchless check-in. People prefer to minimize close-up human contact if possible.
Modern visitor check-in software allows visitors to sign-into a government office from their own cell phones. This includes entering their information, electronically signing document, and even scanning their government-issued ID. All of this reduces the risk of COVID-19 and other illnesses overwhelming staffing and making constituents sick.
With traditional visitor management processes, every visitor touchpoint required interacting with an employee.
For example, someone has to collect IDs and oversee manual logins. Another employee should confirm the purpose of a guest's visit. Plus, an additional someone has to ensure everyone observes floor restrictions. Later, the agency might require data entry to digitize all of the information they collected and tracked.
A cloud-based visitor management system for government can perform these fundamental tasks with fewer employees required. This allows you to focus staff on more providing better service and increasing overall productivity.
Visitor management systems capture and securely log the visitor's information, ranging from per their contact information, reason for visit, and timestamp. More advanced features include taking visitor photos, capturing electronic signatures on legal documents, like nondisclosure agreements (NDA) or waivers.
A digital visitor log allows agencies to quickly run reports. Review visitor information at a single office or across premises, search, sort and filter the data, save custom reports, download them, or even have them automatically sent to your inbox on a timely basis.
Visitor management systems allow governments to respond to audits and management information requests in seconds versus hours or days with more manual processes.
There are various government visitor management services available on the market, but none can top what Greetly offers: unmatched savings of time and money. The company aims to eliminate tedious and irrelevant administrative tasks that take a toll on otherwise productive days. Additionally, it focuses on providing it's users with these benefits in an easy-to-use platform.
Here's what clients can expect from Greetly's government visitor management system:
Highly Customizable Visitor Management
Every aspect of Greetly can be customized to the exact needs of your government office. Not just the logos and colors. You can modify check-in workflows based on the types of visitors you get. If you need some to scan their driver's license, no problem. You want others to review a safety video and answer questions, Greetly can do that.
Instant Host Alert Notifications
Greetly cuts out the middleman. As soon as the visitor checks in Greetly sends reception notifications to the right government person or people. Only Greetly includes an unlimited number of voice call, text message, email, Microsoft Teams, Slack, and Google Hangouts notifications with all licenses.
Communicate with Constituents
With Greetly, communication is a 2-way street. Do you want visitors to complete their profile while they wait? Or to view safety information? Or do you want to send a survey the next day asking about their experience? Greetly automates these tasks and more. And this can be customized based on the check-in workflow.
Digital Visitor Queue Management
Depending on your use cases, Greetly can automatically add visitors to a queue as soon as they check themselves in. Guests can be put into different queues depending on the reason they came to your office. This queue can be viewed in realtime by personnel making it easy to call the next person in line.
Emergency Evacuation Notifications and Logs
The feature we hope you never use. But what if you need to evacuate your premises? With Greetly you can notify all government personnel and visitors in just a couple of clicks.
Everyone will have the ability to indicate they are safe. Using a cloud-based evacuation log, Greetly admins can actively track who is safe and who might need assistance from first responders.
Temporary Access Control
Some visitors, like inter-agency task members and contractors, may require access to the facility. Maybe it's the ability to get through the front door once, or several secure areas for several days. Greetly integrates with leading access control systems giving certain visitors the ability to enter certain areas like an employee could. Don't worry, you maintain complete control and the visitor's movements can be viewed in Greetly's cloud-based visitor log.
Greetly Integrates With 3rd-Party Applications You Already Use
Here's what a client representing a California county client has to say about Greetly's visitor management system:
"Great experience. Very easy to set up and start using immediately. Very intuitive. We use it at the front of our office for visitors to check in and alert the employee they are looking for. It calls the employee's desk and sends them a text to alert them of the visitor so they can greet them and open the door."
Interested in trying Greetly? Schedule a free demo!
Let us help you discover the Greetly difference
See how Greetly can be the game-changer your office needs to make constituents happy, keep employees safe, and boost the productivity of your workforce.