A well-planned corporate event can produce a powerful, positive impact on your business. Your reasons for hosting may include:
Team building and internal networking
Attracting new customers
Cementing existing business relationships
Introducing new products or services
Giving back to your local community
Thanking customers or clients for their business
A creative, engaging function begins with the right venue. Whatever your inspiration for hosting, here are seven unique places to host the perfect corporate event.
1. Explore Local Partnerships
Find ways to support the other small businesses in your area by hosting your next event in that up-and-coming coffee shop, restaurant or winery with a private room. Working together with your other local business owners keeps you all mindful of ways to support one another as you seek to make your neighborhood one in which small businesses can thrive.
2. Relax Together
Who couldn't use a little extra relaxation? Spas have become popular corporate event venues. Taking time to feel great can be part of the workday, and everybody's ready to cooperate a little more effectively after a relaxing massage or facial.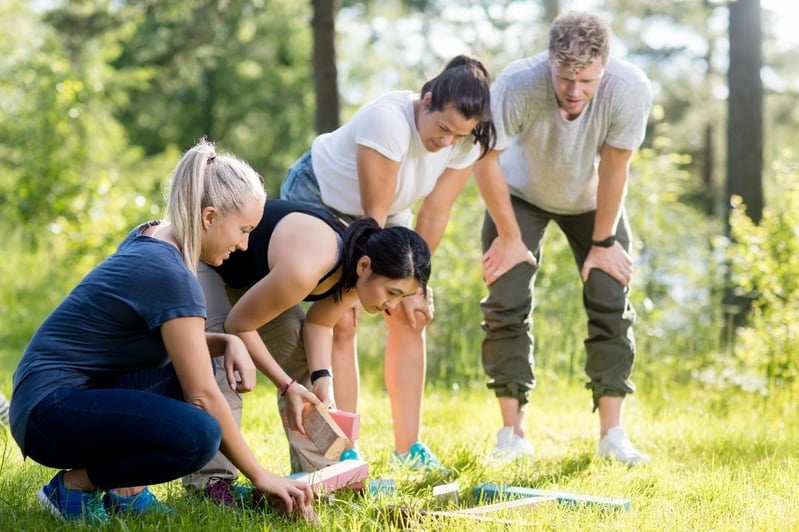 3. Engage the Outdoors
Exploring nature can be an excellent way for people to connect in a new environment. If a hike, ride, or paddle is on your agenda, make sure you've taken into account the weather, the necessary equipment and provisions for a successful outing, and the varying ability levels of all your guests.
4. Incorporate Fun and Games
Classic team building can occur at obstacle courses designed for corporate outings. Or, consider creating a family friendly event which could include a game area, bounce houses or something unique to what your organization does as longs as it gets everyone involved in having fun.
5. Get Inspired by Art
A gathering at a local art gallery could be the sort of outside-of-the-box experience that gets people thinking and talking in new and meaningful ways. Supporting your local artists and hosting your event in an inspiring location is a win-win. Or, anchor your event around an outdoor art installation to combine creative thinking with fresh air.
6. Use Traditional Venues with a Twist
When holding your event at a hotel conference room, a coworking space or in a more traditional office setting, add elements that will generate buzz. If you have a new product or service to highlight, consider including hands-on demonstrations or interactive features that will get guests connecting through new and authentic experiences.
7. Act Locally
Whatever local charities are closest to your heart or the mission of your business, finding ways to do good is a powerful way to connect with local communities. From organizing a road race for a favorite cause to holding a dinner to benefit a local shelter, the sky is the limit.
Conclusion
There are many benefits to holding offsite corporate events. In today's low unemployment environment, companies are going offsite to increase employee satisfaction.
When considering team building and networking event ideas for your company, start with an exploration of your goals. Be realistic about the time and budget you can dedicate to your function. This will go a long way to inform your event venue options. Then use the list of creative options above to find an place to hold your event that will engage attendees.
Featured image courtesy of Audrey Michel Wedding Photographer