In London in 2006, CEO Mark Furness founded essensys on the premise that orchestration, automation and self-service would completely transform the world of IT and had the potential to deliver huge benefits. He saw an opportunity to simplify the delivery of services in a flexible, multi-tenanted environment.
Setting out to do just that with co-founders Bryn Sadler and Barry Clark over dinner at a small Thai restaurant in South London, they embarked on the essensys journey.
"I started essensys back in 2006 with a mission to make a difference in the space-as-a-service industry that I am passionate about. I wanted the business to solve complex issues and allow operators to spend time on their growth strategy. I am absolutely thrilled that we were able to turn essensys into the tech behind the most successful workspaces worldwide."
-- Mark Furness, essensys founder and CEO
Why Was the essensys Solution so Prevalent?
Back in 2006, the coworking industry was only just taking shape and the market was still unsure what the term entailed. In the early days of the industry, there was not a solution on the market that helped workspace operators tackle multiple operations to allow them to manage their workspace operations efficiently. This resulted in operators having to introduce multiple systems, manage multiple contracts, control multiple expenditures and organize various staff trainings – which resulted in a real operational headache! Whilst it can be possible to manage at one site, complexity grows as operators scale and the number of their sites increase. Managing multiple systems and vendors across multiple sites, at the same time as operating efficiently is impossible.
That's where essensys came in, providing mission critical coworking space software that essentially makes operators lives easier, through two intuitive products, Connect and Operate.
essensys simplifies the complexities of technology with automation, self-service, and real-time visibility across an entire workspace portfolio. This allows operators to focus their time on running their spaces and building relationships with members, rather than managing IT and tinkering with software. With essensys, there is no need to deploy a heavy IT resource as the associated complexities are removed. essensys isn't designed to be used by technical IT people, it is designed to be used by any person regardless of their technical knowledge and ability.
What makes essensys unique is what happens behind the scenes. Designed, owned, and operated by essensys, the essensysCloud is the industry's only private cloud network built exclusively to deliver services and security to coworking operations. The essensysCloud enables tenants with the widest range of on-demand services, which can be provisioned quickly with a few clicks of the button. The operator has full control of their workspace services, with the peace of mind that privacy and integrity will not be compromised. By plugging into a secure, private cloud network, operators can scale their business with ease.
Why Does the essensys Solution Remain Important Today?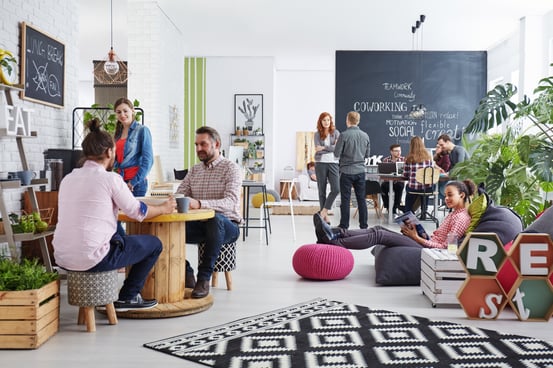 Flexible workspace is becoming more mainstream, yet the business model remains complex and requires operational stability behind the scenes. Providers need their space to be turnkey and move-in ready so tenants can get straight to work. They also need to deliver the best possible experiences for tenants, which requires clear visibility into tenant behavior and how to optimize space usage.
With essensys, operators can move tenants in with ease and instantly set up or make changes to their services, including network, bandwidth Wi-Fi management, and voice services. Management of flexible workspace is made simple and operators are in control of the IT across their entire workspace portfolio via a single interface. This allows operators to focus their time on running their spaces, scale profitably and build relationships with members rather than waste time running in and out of communications rooms.
Additionally, In order to understand member behavior and how the spaces are being used, operators need full visibility of data across their sites, at both high level and individual customer level with real-time, smart insights. essensys' advanced reporting gives operators a 360-degree view of their portfolio and can be used to identify up-sell opportunities, tailor compelling propositions, and improve both service performance and member experience based on usage trends and data.
Market Forecasts:
Continued Focus on Service and Hospitality
It's long been established that coworking spaces offer more than just a place to work and form part of a community. In today's, and even more in tomorrow's, coworking market operators will put more effort into extending greater amenities and services for their members. Beyond the mere accessibility of amenities, from as essential as meeting rooms and events to as high-end as wellness and bike rooms, we expect operators to begin offering a level of hospitality consistent with a hotel concierge.
Increased Share of Flex Space in Investment Portfolios
A prediction over the last few years has been the increase in flex space offering across commercial real estate portfolios. For 2019, that prediction makes the ranks yet again. Considering the global economic uncertainty due to UK's Brexit movement and a looming economic slowdown in the US, flexible office space will continue to be a key consideration of companies of all sizes when it comes to business security. Investors and asset managers will continue to see the value of implementing flex space across new and existing portfolios, not only as a measure to occupy existing vacant spaces but as a means to capitalize on the growing coworking model.
Enterprise-Grade Technologies
Coworking operators, especially ambitious and well-funded operators expanding to new markets, will dedicate more resources to enterprise-grade technology in 2019. With a multi-site coworking operation, they will rely more heavily on technology, such as a visitor management system to deliver an excellent member experience and simplify operational complexity. They will also put a priority on offering reliable internet service and security that members depend on.
Expansion of Coworking Across Non-Traditional Office Spaces
Coworking has been slowly but surely creeping its way into unexpected places. The fundamental driver is its ability to enable a new way of working across all sectors, company sizes and locations. For many non-traditional workspaces, it's a traffic driver and revenue simulator for underutilized space. For the same reason that technology has forever changed how people work, it has changed how and where people shop as well. Suffering retail centers, malls, and consumer squares with less foot traffic will become a new spot for coworking concepts in 2019 to fill vacant space. In the same way, flexible space is rejuvenating retail, it's driving traffic to hotel lobbies.
You can read the full essensys 2019 Coworking Market Forecast.
Editor's note, earlier this year Greetly introduced a direct integration with essensys Operate. Greetly can also integrate with essensys Operate via Zapier.