My brother and co-founder, Jak, and I moved to Bristol, in the hills of South West England, back in 2008. Our plan was to start a design practice. When we arrived we were faced with a choice:
Rent a garage, like numerous startup founders before us had done
Or join this thing called Hamilton House, which at that point was just an idea for a creative coworking community. The space itself was a 50,000 square foot derelict building in a run-down part of town called Stokes Croft. At that time the area had more drug addicts on the streets than people living in flats. It was gritty, to say the least.

Transforming a Neighborhood Through Coworking
The vision that the Hamilton House founders had was infectious. They wanted to revitalize a dodgy part of town, create new opportunities and support a creative underclass that was just starting to transform into the vibrant culture that Stokes Croft is today. We signed up with Hamilton House straight away as founding tenants.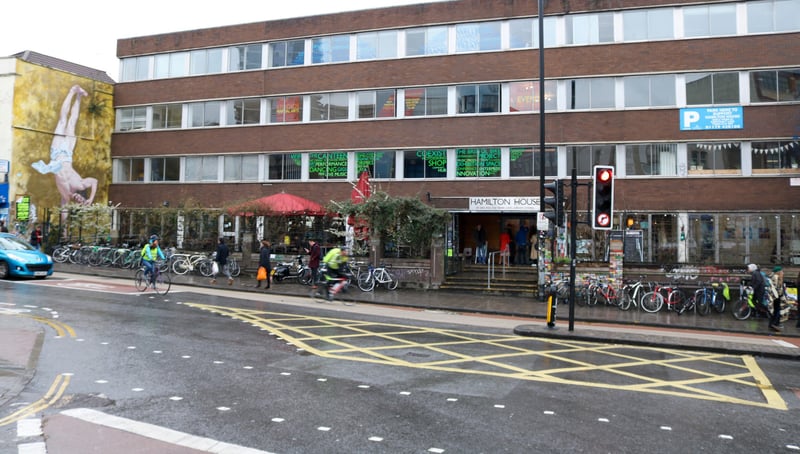 The results are incredible.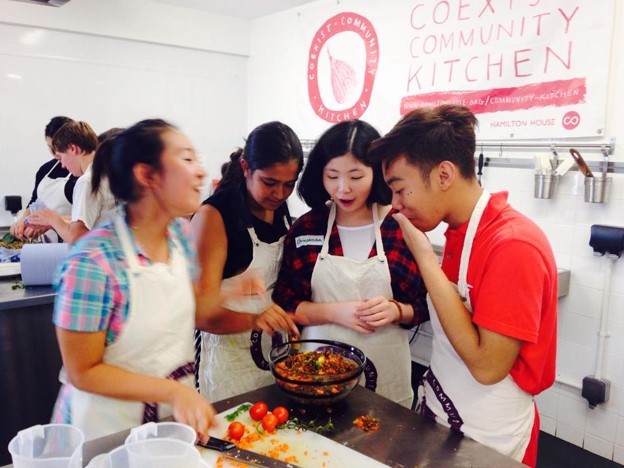 Today, Hamilton House has grown to support thousands of independent artists, freelancers and social enterprises through private and shared workspace. Other resources include learning workshops, networking events, a community kitchen and plenty of other shared assets and community building opportunities. And, of course, infrastructure and coworking software to help the community thrive.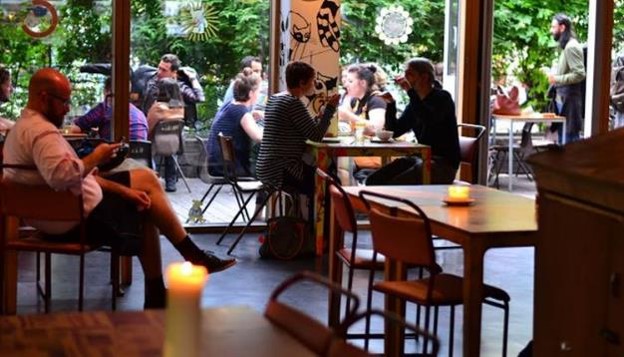 And Stokes Croft? While some may cry "gentrification!" it's clear that a neighborhood anchor such as Hamilton House can do miracles for under-served neighborhoods. The area is more vibrant than it has been in many decades, featuring dozens of restaurants and bars, other coworking spaces, unique shops and even more interesting people. It's still kinda gritty, but hey, we wouldn't want it any other way.
The Birth of Habu Coworking Software
Over the years our involvement at Hamilton House has been deep and extensive. I guess that stems from having a real sense of ownership in the space as the first members in the building. We've done everything from space design, greening the office with plants, helping get 140 solar panels on the roof, facilitating floor meetings, through to a workspace management consultancy.
Oh, yeah, and we implemented the IT infrastructure for the entire massive building!
The earliest idea for Habu came from one of our design projects way back in 2009. We were tasks with developing an interactive community noticeboard as part of one of our public art projects. We decided to bring this idea of connecting community into the heart of Hamilton House in the form of a member directory.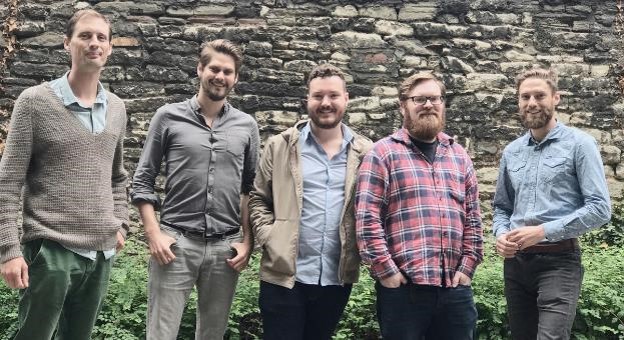 This quickly developed into the first real iteration of Habu, a bespoke workspace management software for our home coworking space. Once we built it, we saw how useful the tech would be to the growing coworking market, so we founded Habu officially in 2014.
After a couple of years of extensive market research, product development and beta testing we released Habu in 2016 and have continually enhanced it with exciting feature releases.
What We're Aiming For
At the crux of it, there are a couple of fundamental goals with Habu.
Firstly, we wanted to bring the benefits of workspace tech to the thousands of independent coworking spaces around the globe. We saw that global corporations had harnessed tech efficiencies with expensive facility management software and WeWork had used tech to power their own growth and community connectivity. So we wanted to make that power accessible to coworking spaces with fewer resources.
Secondly, we wanted to empower coworking founders and community managers to focus on what they do best, whether that be fostering community connection or business development, rather than staying stuck in complex admin processes. We saw this first hand at our coworking space, which we joined as founding members of in 2008. Ongoing management became complex and got out-of-hand rapidly as the space grew. So, in a way, we built Habu to both promote optimal practices as we see them but also to support our customers' need for flexible software that solves their day-to-day problems.
These goals have helped us make the right decisions about product development. Which means that these days we can proudly describe Habu as
the simplest, most user-friendly software you can use to manage your coworking space!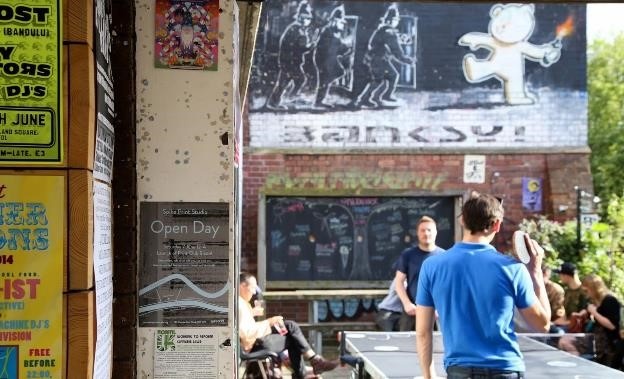 It Ain't Always Rosy
As with most startups, our journey hasn't been without significant challenges. Perhaps the most keenly felt has been the ever-encroaching funding deadlines. However, we've managed to pull it off every time and we're incredibly resourceful, so we stretch our funding as far as it can possibly go.
Aside from that, product development has been significantly challenging. It's very hard to build a great product for the coworking market. Our customers need Habu to eliminate the management of complex processes, but these processes vary widely on a per-customer basis. They also need the product to be simple and intuitive, without sacrificing power and flexibility. It's challenging to say the least!
Always Be Releasing
In order to overcome these challenges, we've focused heavily on gathering customer feedback and proper prioritization in our product development.
We release major updates to the Habu platform every couple of months, and smaller ones every two weeks. Our most recent, and my current favorite, is our hot-off-the-press User Area. I love it because it's a feature that delights both workspace management and the end users of workspaces. It liberates community managers from a whole host of minor, yet essential tasks, and empowers members and non-members with the autonomy to take control. The new User Area lets members manage their own data as well as discover and connect with other people in their community.
And for me, what we're doing with our new User Area is quite different than what our competitors are doing. The differentiation is in the name. With other software, you might see a 'Member Portal' feature. And it's just that. A portal for members. However, with Habu, we enable a great experience for both members and non-members alike. All users are guaranteed to have a fantastic user journey, the difference being that members and non-members will experience things differently and be able to access different services based on the workspace settings. The Habu User Area is also ultra-responsive, fast and easy to use. What's more, the way we've set it up allows a seamless link from workspace websites through to the Habu platform.
Conclusion
Coworking is Improving Communities
Just like Hamilton House has transformed Bristol's Stokes Croft neighborhood, there is a like coworking space becoming the pillar of your community too. These new neighborhood hubs are generating jobs and creating new opportunities for entrepreneurs to meet, connect and succeed.
Moreover, shared workspaces help employees connect and network. Not only does this help businesses grow, it also improves the mental health of entrepreneurs and employees. This is why freelancers and large corporations are rapidly adopting coworking.
Where Habu Is Going
Looking into our crystal ball, I'd like to think that our fresh and innovative approach to technology will see us disrupting the broader workspace market much more deeply and broadly over the next year.
We have an amazing team and some pretty exciting tech in development at the moment. Our upcoming products will enable much greater automation for all workspaces, ranging from mini-coworking spaces through to mega-workspaces. It's currently hush-hush, so I'd be in trouble with Jak for revealing more than I have...
Guest post by Robert Ollett, co-founder at Habu. Robert is also a designer, reader, philosopher & plant whisperer. He plays dad, husband & attacking midfield out of hours.