Improving Experience
Everything to Know About Visitor Management Host Notifications
When choosing visitor management software, makes sure your app offers SMS, voice calls, email, and instant message notifications -- included in the price.
---
Before starting Greetly, I was VP of Marketing for an Inc. 500 company. This meant I spent my working hours drifting from meeting to meeting.
When I had visitors the receptionist would call my desk phone and, when I inevitably didn't answer because I was in a conference room, leave a message. This visitor management system did not work because I was not informed of my guests in a practical manner.
The lesson: As you consider visitor check-in apps, make sure it offers real-time host notifications that can be customized to the way each and every employee works. Make sure your digital receptionist offers all of the notification types below, and that selections can be customized per each employee's work style and preferences.
The best visitor management software offers these types of host notifications:
Text Messages (SMS)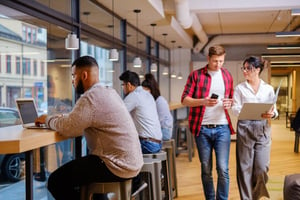 90% of text messages (technically SMS, or short message service) are read within 3 seconds! But you don't need stats to know the power of text messages in the modern office -- you are probably reading this on your smartphone right now. The landline my former receptionist would call was anchored to my desk. Text messages reach employees anytime, anywhere. If an important visitor arrives, or that food delivery you've been waiting to devour, it won't be missed because you stepped away.
There is an even more compelling reason for instant text notifications... speed. Most text messages are processed in milliseconds and reach the recipient's phone within 15 seconds. While they can be delayed, speed is fast and delivery rates are high. SMS notifications are virtually instant.
Some visitor registration apps do not include text messages, charge extra for them, or only include them with the highest pricing plans. If your office is looking for real-time reception notifications, make sure you understand the price including unlimited text messages.
Voice Calls

For most of the last 100 years, voice calls were the primary way to let employees know they had a visitor. When a visitor arrived the receptionist would call the host employee on their office phone or the phone closest to their workspace. So there is a level of comfort in these notifications.
Today though, we are on the move more than ever before. Make sure voice call host notifications can be received on:
Landline phones, including direct lines and dialing extensions
Smartphones
Notifications might direct dial numbers or extensions through a PBX. They can reach someone in the office or around the world. And, of course, they are automated and can leave a voice mail if the notification call goes unanswered.

Email
Email is the Internet's first killer app. While many may now favor text messaging, email is used by billions of people each day. And whereas employees may pay for their own text messages, and therefore not want the company to send them any, the employer generally owns the work email address. Consider email a staple notification type for any workplace.
Email is not perfect though. 20% of emails do not reach the recipient's inbox. They may be blocked by the sender's gateway, corporate firewalls, individual email spam filters, or other technical breakdowns. Further, emails can be delayed through no fault of the sender or receiver. While most emails are delivered within a second or two, it can be much longer. While the occasional delayed or missed email is inevitable, there are steps you can take to ensure visitor reception email notifications come through quickly.
Corporate Instant Messages

Most organizations, and likely yours, have adopted a corporate instant messaging service. There are many reasons including collaboration, security, and saving money versus alternative communication mediums, for example, international phone calls.
Slack
The early leader in this field was Slack which claim more than 8 million daily active users -- with a majority using the service for free.
Microsoft Teams
Leveraging their massive customer base of enterprise and government institutions, Microsoft launched Teams and made it an easy-to-install add-on. This allowed Teams to surpass Slack in terms of the size of its user base.
Google Hangouts Chat
Not to be left out, Google is leveraging Google Hangouts Chat to G Suite users, similar to how Microsoft used Teams.
The best iPad receptionists, like Greetly, offer integrations to all major corporate IM systems. While less pervasive overall than texting, if your organization uses Slack, Microsoft Teams, or Google Hangouts, now known as Chat, this is where they are checking for new information throughout the workday. Also, like SMS, these major corporate IMs provide reception notifications that are delivered virtually instantaneously, often in less than a second.
Conclusion
So which reception notifications are right for you? All of them!
Different employees have different tools, styles, and preferences. Select a digital receptionist that offers the speed of SMS and Slack, standardization of voice calls, and high availability of email. Give each employee the power to choose which reception notifications they will receive.