The Importance of Welcoming Visitors the Right Way
Learn why it's important for businesses to invest in a Visitor Management System to welcome visitors, vendors, and interview candidates the right way.
---
Human error is all too common when it comes to welcoming guests and conducting a manual sign-in process. Also, a significant lack of privacy exists. Businesses cannot quickly gather data so are often operating in the dark when it comes to determining the number of guests, whether the intake process was thoroughly completed, visitor movements, and the quality of the guest experience. A visitor management system provides transparency and takes things to the next level by streamlining the entire process using high tech. With virtual management software, an organization can effortlessly welcome, register, and monitor guests efficiently.
Reasons to Invest in a Visitor Management System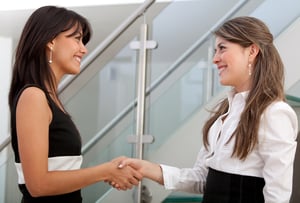 Research has shown that businesses have started to invest in visitor management software in record numbers. Projections show that the demand for visitor management systems will increase by 13% by 2025. Many business owners are turning to lobby tracking software to combat security breaches and ensure safety within the place.
A visitor management system lets you effectively welcome guests and say 'goodbye' to tedious manual check-in. Businesses no longer need a security guard, receptionist, or host to greet guests and encourage them to sign in via paper logbook. The fully customizable visitor management system features a digital receptionist which provides guests with an efficient check-in system.
Greetly visitor management system was the first no-touch visitor check-in. This feature is invaluable for hybrid offices.
A Visitor Management Solution Provides Safety
A virtual receptionist is a gatekeeper for your organization. Only approved visitors will gain access to the core of the business. Printed badges can help identify visitors versus employees. If someone is planning something nefarious, knowing that a state-of-the-art virtual management system is in place will normally deter them from trying to enter the establishment.
The visitor management software lets you track who is on-site and at what time they visited the office. If an emergency should occur such as a fire, earthquake, or active shooter, emergency personnel will know exactly who is on-site so they can ensure that everyone is accounted for following an evacuation. They can quickly use the software to assess the situation.
The software provides an SOS feature to alert during a disaster, Admin stays in control of issuing alerts and can use AI to spur an evacuation, if necessary, which circumvents any human interference and helps avoid false alarms.
The Greetly visitor management system is used by the Dallas Cowboys and the United States Air Force to ensure safety. It provides instant notifications about visitors to the facility, customers, scheduled entries and exits, gathers e-signatures, and prints visitors' badges.
Improved Visitor Check-In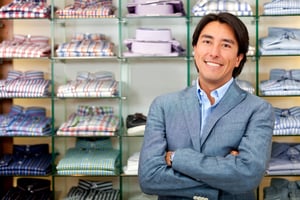 A virtual check-in system is all about visibility. It effectively screens, logs, collects data, and identifies all visitors to your business. The entire process is hassle-free. You can then manage all data gathered. The visitor management software securely stores legal documentation that visitors might need to sign when visiting the business such as contracts or NDAs. Visitor badges are quickly printed for visitors.
Streamlined Visitor Management
A visitor management solution provides hassle-free check-in which enhances your guest experience. It effortlessly identifies, screens, and logs the data for each visitor. It provides a secure system powered by the cloud and AI. If a visitor is unknown or was not invited, then the system evaluates and screens them before providing entry.
The visitor management software records every visitor's detail when they check into the building. It will record their face ID and store the information in the cloud.
When one of your staff invites a guest to the establishment, preregistration can take place using the Google or Outlook calendar. Guests are sent a pre-appointment invitation that shows the address of the business, driving directions, and instructions on how to check in upon arrival.
Following the quick check-in, the guest's experience is completely tracked
Provides Greater Employee Productivity
The use of visitor management software is not just for guests. Employees must also check into the building using the virtual receptionist.
Review Data in Real Time
You can quickly analyze and review all visitor data through cloud integrations. With the data, you can review your visitor operations and learn new ways to increase your organization's productivity. Cloud integrations combined with virtual dashboards offer real-time data reports so you can stay current on guest operations and make genuine data-backed decisions.
Greetly Visitor Management Software
With Greetly you not only gain visitor access control but more. The system allows or disallows entry to visitors. It even further defines where a visitor can go and what they are allowed to do when visiting the premises. Virtual check-in is just one component of visitor management software. An organization can also use the system to focus on areas that matter to them, and which are a high priority for their industry.
The entire experience starts before a visitor ever arrives at your business. When one of your staff invites a guest, Greetly's visitor management system launches things like appointment confirmations and more. Guests are provided with precise directions and/or a map so they know exactly where they are going within the building and not just wandering around aimlessly.
The entry process varies defending your business but will include the sign-in app or registration which will include the use of access tokens, keycards, or badges. An advanced system can use facial recognition, personal identification, and more.
Temporary access is another layer that many organizations use which might let a guest open a door only one time or allow access to a series of doors or elevator access. With access control credentials, you are put at the helm to decide if you want it turned off or turned on.
How Greetly Works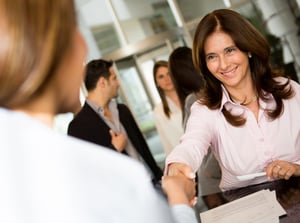 One of the things that set Greetly apart from other visitor management solutions is that it is fully customizable. The digital receptionist manages guests, vendors, deliveries, and more with ease.
The guest signs themselves in upon arrival using a kiosk or with a touchless smartphone sign-in. They will be asked to provide their name. Visitor photos can be taken and e-sign documents requested.
Your staff will receive real-time reception notifications when a visitor checks in via email, phone calls, text messages, or corporate instant message via Slack, Microsoft Teams, or Google Hangouts Chat. In fact, you can even have two-way communication between visitors and hosts directly through Greetly, for example, if the employee needs to tell the visitor they are running a few minutes late.
The entire check-in process is digital. All information is stored in the cloud-based visitor management logbook such as entry and exit times, host, and other data that you might want to collect from guests.
Conclusion
A visitor management system saves time not only for your company but also for visitors. It streamlines the check-in process while ensuring safety for everyone involved. You'll have rapid access to rich analytics so you can stay up to date on who visits, why they came, and how long they stayed. You can use the insights to improve your organization's operations and processes even further. Visitor management software is no longer a nice tech perk but a must-have for any modern workplace.