Greetly is always listening to what you - our valued users - think we can do better. We have always received positive feedback for our easy-to-use visitor logbook.
So Why Did We Make Upgrades
A few months ago we did an extensive listening tour. Actually more of an observational tour. In-person and via Webinars we watched how many of our customers use Greetly and it sparked some thinking.
A large shipping company showed us they review and download the visitor log as part of their security protocols. One of the world's large flex office companies did the same to build their CRM database and digital community. We saw an opportunity for admins to get the key data even faster.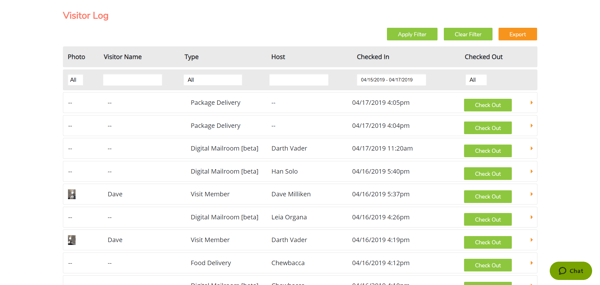 And The Results Are...
Search, Sort and Filter
Now, every single column in the visitor log can be searched, sorted and filtered. So the shipping company can determine who is actively onsite by filtering for visitors who have not checked out. Meanwhile, our coworking space client can show only visitors who came for a tour or an event.
With these updates, you can customize the visitor log to show just the information you need in a matter of seconds.
1-Click Visitor Checkout
Some clients told us the receptionist or security guard is responsible for checking visitors out as they depart. They do this from the visitor log screen of the web-based admin. While it was just 2 clicks away in the past, now everything can be done without leaving the visitor log dashboard.
We also have a university and a large government agency that use Greetly as queue management software. Since we unveiled the new visitor log feature, their service providers have praised us on the running dashboard so they can quickly see and claim the next customer.
Download Your Results (or Zap them)
Did we mention just 1-click? Because downloading your results is also just 1-click away.
Or, skip that entirely. Using our Zapier integration you can easily push just the check-ins you want to a Google Doc, Excel file, Mailchimp... The options are endless. In fact, you can even send visitors an email or text message with a thank you note or survey and their visit experience.

Conclusion
Our mission is to Save Your ADMINutes. So if you know how we can improve Greetly, we want to hear from you. If you have ideas on how we can make Greetly even better, please contact us at 1-833-GREETLY or by email at success@greetly.com.
Until then, we hope you enjoy the new digital visitor logbook.