Productivity Tips
Does My Office Need a Visitor Check-in App? | Greetly
See how a visitor management system helps The Farm SoHo get more done while impressing guests and increasing the safety of their member companies.
---
Right now, this very second, you probably have a strong sense of which employees are in the office. But do you know how many visitors are onsite?
Large companies have dedicated receptionists and security at the office entrance ready to scan IDs and assign visitor badges. Many smaller companies forego guest registration altogether for fear of spending a lot of money on complex visitor management systems. Meanwhile, today's visitor sign-in apps are a cost-efficient way to protect your people and intellectual property while boosting productivity.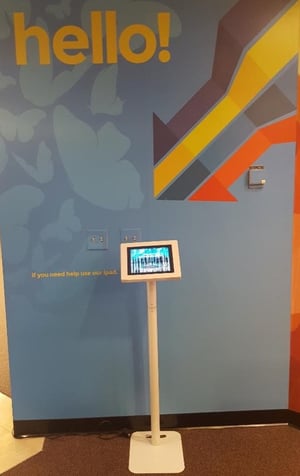 Why You Need a Check-in App Today
Productivity
Are you looking to increase profit without putting in more hours? Of course, you are, and so are your employees.
Today's modern office is full of automation and self-help tools. This allows you and your employees to get more done and increase job satisfaction.
A visitor check-in app increases productivity. Self-help visitor registration systems allow guests to check themselves in and instantly notifies employees. This reduces distractions and facilitates productivity.
Employee and visitor safety
It's important for employees to feel safe in their work environment. They shouldn't feel unsure of an unknown person walking around the office. They should be able to feel safe and secure knowing that every individual they do not recognize has been granted permission to enter the office.
In the unlikely and unfortunate case of an office emergency, such as a fire, it's imperative that you have a visitor logbook. You'll want to make sure you know exactly who was inside the building when the fire started. A cloud-based visitor log is much more likely to be practical in a chaotic environment.
Privacy
Sure, you can use an old-fashioned paper log. Of course, that will be illegible should you wish to use the information. Plus, it allows everyone that comes later to leaf through the book to see which competitors have been to the facility.
Impress visitors
Surely you care about what customers, vendors, and potential employees think when they enter your office. That is why you outfitted all workstations with modern office furniture. So why are you having them sign in with paper? Or not at all. Or keeping them waiting at the reception trying to find someone - anyone - to ask for help.
Using high-touch technologies will create lasting first impressions. Or, you can wait until sign-in apps are commonplace and you can claim the retro approach!
Doubles as an event app
Do you ever host networking events? Good visitor registration software can also be your event app. Quickly register attendees. Later, download the database and add them to your CRM database.

Features Of the Best Check-in Apps
Not all receptionist management software is created equal. When evaluating apps, look for the following features:
Easy-to-use
Everyone who walks up to your digital receptionist must know how to use it. Before going deep into your software evaluation, download a free trial and show it around the office. Ensure everyone agrees the visitor interface is very intuitive.
The right notifications
Do your employees prefer to receive voice calls when they have a visitor or package? Or Slack reception notifications? Text or email? Make sure your automated receptionist works the way you and your employees do.
Visitor badges
Visitor badges help employees know that an individual they do not recognize has been by the front desk. Your app must have a visitor photo capture so the picture can be included on the visitor badge. Ensure the app is compatible with a name badge printer from a reputable manufacturer.
Digital visitor logbook
Capture visitor information in a legible and usable manner. You will have a time-stamped check-in (and check out) that includes first name, last name, contact information, company name, and whatever else you need about a visitor. With an easy CSV download, you can sort visitors for analytics purposes.
"Set it and forget it"
Leave the bulky software that requires dedicated personnel to the big companies. Your front desk sign-in app should require nearly zero interaction required by your employees. Visitors will take care of themselves and your team can focus on building your business.
Summary
If you are not using a digital receptionist you are behind the times. An Android or iPad receptionist can greatly help you streamline the visitor registration process. The receptionist app will save you time and money. It will impress your visitors while simultaneously creating a more secure workplace. Plus, your visitor check-in app will give you virtually unlimited options to customize the registration process.