While flying cars may still be up in the air by 2030, modern corporate office design trends paint a more clear picture. If you are thinking about our actively planning a new office, the design elements below will help you build an office that will be productive for the long-term.
Mobile workstations
By 2030, millennials will make up 75 percent of the working population, according to report by Wired magazine and the U.S. Bureau of Labor predictions. As millennials take over the workforce, so will their habits and preferences. With this in mind, providing the employees of 2030 with the ability to easily move around the office and work in more collaborative settings will be key.
What will this look like? Desktops will become obsolete. Laptops, tablets and other mobile devices will take over as the primary form of office technology. All data will live in the cloud and be accessible wherever employees are as they move about the space.
If you're looking to replace some of the technology in your office, think ahead and move to a more mobile option for your employees.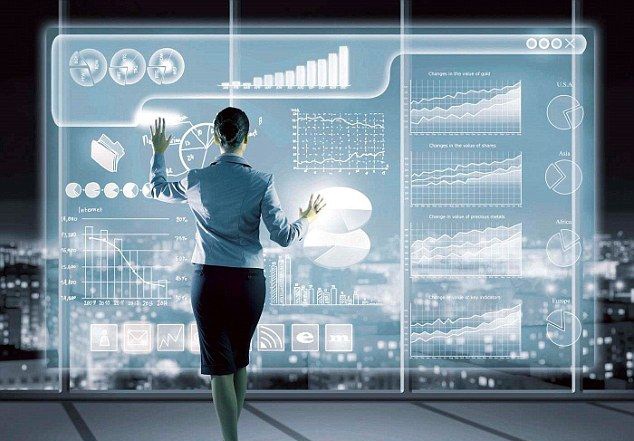 Everything Automated
In the modern office of tomorrow, anything that can be automated will be. What does this mean? Administrative tasks will take up less and less of your team's time and budget.
An employee will share their travel needs and an AI travel agent will provide the final reservation
Calendar invites will be replaced by tools that arrange the best day, time and conference room based on human and asset availability
Visitors will use location-based check-in apps to be instantly connected with their host before they've event taken their coat off
This kind of office automation will free up time and energy for employees, resulting in more productivity throughout the office.
Integration > Balance
This article by Forbes highlights how "millennials prefer work life integration as opposed to work life balance." What this means is that rather than turning off work after hours, work and life will coexist simultaneously. Imagine an environment where employees can come into work later or leave earlier depending on their schedules, but work later into the evening and answer emails from home at any time of day.
With mobile phones, and that mobile workstation mentioned above, weaving work into life is where we're heading. Giving employees the ability to work the way they want will help retain and attract younger employees. In fact, 77 percent of millennials in a Bentley University study said "flexible work hours would make them more productive."
Conclusion
The office of the future is going to be the best version yet. Gone are cubicles and formality. Replaced with a young and vibrant workforce, increased mobility, employee flexibility and technologies that help you retain employees and improve productivity.
Images credits: Archinect and etrix Technologies