Why Manufacturers Need Visitor Management
Why a visitor management system is vital for keeping workers in manufacturing facilities safe and productive.
---
Executive Summary
Workers in manufacturing companies face health risks due to face-to-face work, enclosed environments, and regular exposure to outside personnel entering their premises.
Using a visitor management system can reduce these risks by controlling the number of guests and their access. Self-help reception software can also take visitors' temperatures and be touchless to keep everyone healthy and productive.
Guest information can be quickly pulled up for contact tracing and security purposes.

---
As some companies have adopted permanent work-from-home setups, certain industries are slowly going back to the office. In doing so, these firms must ensure they follow safety guidelines to protect their employees and to keep them happy.
The manufacturing industry performs a vital role in the global supply chain, and most of its employees are deployed in enclosed areas where close contact and foot traffic are inevitable. Contributing to that are the guests that come into the building as the business resumes its operations.
To respond to the need of promoting a safer workplace, a visitor management solution for manufacturers supports existing physical security protocols in controlling and monitoring access in manufacturing areas.
Touchless Visitor Check-In Process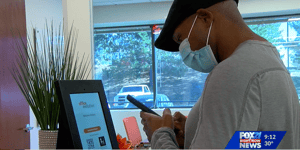 Considering that surfaces harbor microorganisms, contact with shared devices may pose health risks. Your company can reduce this threat through the no touch check-in process through visitor management for manufacturing companies.
Through a web page or an app, guests can log their arrival at your reception area, without the need to use the local computer terminal or the traditional logbook.
Visitor Pre-Registration
Invite guests, take note of their information and purpose, and confirm their appointment with a visitor management system for manufacturers. This will allow your company to limit the number of visitors at a certain time and to prepare any documents or items that will be needed to assist each guest.
Obtain Health Declaration and Other Forms
Visitor management for manufacturing companies expedites and organizes the collection of health declaration forms and data privacy consent. International protocols require entities that collect and process information to get an individual's consent prior to obtaining the information.
This can take the form of thermal temperature scanning at the point of entry. Or, requiring the visitors to answer a health screening questionnaire. Manufacturers can also capture visitor eSignatures ensuring their responses are correct.
Seamless Entry Process and Access Control

Current security systems that use key cards, badges, facial recognition, and other identifiable information, can be set up to work with a visitor management system for manufacturers.
Taking note of the reason for the visit, you can limit a guest's access to certain floors, elevators, and common areas. Once guests have checked in, they will be met by the company's representative who will guide them to the right office or they will be given the directions to meet their contact person.
Building access can also be programmed to expire at the end of the appointment.
Quick Deployment At Specific Locations
We understand that manufacturing production areas have several entry and exit points that visitor management for manufacturing companies will have to cover. Our visitor management system for manufacturers can be deployed to all entrances and exits to regulate which ones will be used for deliveries, job applicants, VIPs, and other guests.
Avoid Overwhelming Your Employees
One of the apprehensions when it comes to introducing new information management software is the learning curve among employees. After the initial onboarding of the visitor management for manufacturing companies, your receptionist and your IT team should no longer feel overwhelmed by the amount of information that they need to process.
Furthermore, it may even free them up from having to schedule guests, collect information, and explain protocols.
Quick and Accurate Report Generation

With the application of strict health protocols in business organizations, guest information is not just logged for security purposes but also for contact tracing. With a visitor management system for manufacturers, you can pull up the report in just a few minutes and from there determine the areas that were accessed by each individual and the time they spent at specific sections.
Comply With Industry Requirements
National and international data privacy and health declaration guidelines instruct data collectors to carefully handle their customer's information and to delete certain data at specific times.
Since health guidelines change as new discoveries emerge, the visitor management system can flexibly adjust to new procedures to protect your employees and guests.
To Sum It Up
The use of a visitor management system for manufacturers benefits your business by automating data management and making guest relations more seamless. Discover how we can enhance your existing security and safety processes by booking our Greetly no obligation free demo.