How Cannabis Companies Grow with

Visitor Management
Impress customers. Maintain compliance. A better way to manage your dispensary and grow.
Growing a cannabis business, whether a retail dispensary, cultivation facility, extraction shop, logistics business, or all the above, you're challenged with operating an efficient shop while complying with a complex range of regulatory requirements. With Greetly welcoming your most important visitors, you can safeguard your product, equipment, and people while also offering a smooth check-in experience. 
And an effective visitor management system does even more for your cannabis company…
When guests enter a legal marijuana business that uses Greetly's virtual receptionist, our touchless visitor sign-in solution streamlines intake which can include driver's license scanning. Why is this valuable? Because when visitors encounter a digital receptionist they experience speed, accuracy, and privacy, their first impression is that they're entering an organization that understands technology and branding. Yes, Greetly's visitor management solution displays only your brand and check-workflows that meet your exact reception and compliance needs. With Greetly, the strength of your brand is front and center – and first impressions are at the door of your business.
When check-in is complete, Greetly sends host alert notifications with the visitor's name, photo, and any other info you need so employees can welcome the guest warmly and promptly. The visitor management software not only logs the visitor's entry but can also allow you to build a visitor database that can be used in several ways, including the cultivation of relationships that may generate business growth. For example, you can automate follow-up communications to ensure you don't lose important connections and reduce contact information errors that often result from paperwork. Run visitor log reports in seconds, or automate them, to analyze visitor trends and respond to internal or third-party audits.
Greetly is a better way to greet visitors – and a better way to promote, conduct, and grow your cannabis business.
Why Leading Cannabis Companies Use Greetly's Visitor Management System
We all know some people are shy when it comes to their cannabis needs. Remove the nervousness with Greetly.
For customers and vendors, Greetly looks like a friendly face that allows them to conduct business and get on with their day. After all, we provide a simple-to-use interface including touchless customer check-in.
When you look deeper though you'll see that Greetly is a powerful tool that can help you maintain compliance, pass audits, and grows your CRM database or loyalty program.
Friendly Visitor Greeting and Data Logging is the Greetly Advantage
Impress Customers
Give your customers and business partners a great first impression. A tech-forward approach that puts them in control.
Plus, Greetly can automate communications with your customers. Want to send them specials after the check-in? Or a survey after they finish their business? Build customer engagement and loyalty with Greetly's customer sign-in software.
Instant Visitor Queues
Say 'bye bye' to long lines. Greetly's visitor check-in app will create an electronic customer queue. Or separate queues for Rec and Med.
Budtenders have a real-time log of who is next to be seen, which can include a photo image of the customer, their driver's license details, and more so they can start serving the next guest.
Compliance is a Breeze
Being in a highly regulated industry, cannabis companies need to know everyone that comes and goes from their dispensaries, grows, and extraction facilities. This no longer needs to be a burden.
Our virtual receptionist can scan driver's licenses and state-issued cannabis industry IDs. Not only does Greetly help you stay compliant, we make collecting data and running reports fast and easy.
What Are the Benefits of Using Visitor Management Systems for the Cannabis Industry?
Our management team had been searching for a solution our customers could use to elevate their shopping experience. Greetly's technology has delivered on its promise to make our customers' entry and exit into our three locations easy and seamless, allowing for a better shopping experience. We look forward to the next 50,000 shoppers having a flawless interaction with the VMS solution as the first 40,000 users already have."
- Joe VanOudenhove III, Sky King Fireworks Franchise Owner
Customer-Friendly Self-Help Check-In
Research shows that most people prefer to use technology to help themselves and ensure accuracy. This is especially true in cannabis where some people wish to maintain privacy around their visits to dispensaries. The best visitor management systems can be customized to capture exactly the information you need to maintain compliance for both REC and MED shoppers, plus visitors to your grow and extraction facilities.
The check-in process is fast and it eliminates miscommunication and human error. And even faster for repeat visitors or guests who have preregistered themselves. They can just scan a QR code and they are automatically checked in.
Build Your Loyalty Database
Customers get to use a friendly sign-in app that makes every guest comfortable. Behind the scenes, Greetly is a customer loyalty ninja.
Your digital receptionist solution can grow your CRM and loyalty programs with every customer check-in. We can collect names, contact information, and more so you are able to customize communications with first-time and regular visitors.
Automate Communications
Greetly offers unlimited host alert notifications. When visitors or deliveries arrive, staff can be notified by voice call to mobile or landline phone (including extensions), text message (SMS), email, Microsoft Teams, Google Hangouts Chat, and/or Slack. That is just the tip of the iceburg.
Greetly's customer check-in software can also automate messages back to customers. For example, Greetly can automatically send to customers current specials, exit surveys, or a thank you for shopping at your store a few hours after their visit. These can be sent by text message or email.
Whatever you wish to communicate with customers Greetly can accommodate.
Contactless Visitor Check-In
Long before the onset of COVID-19, many people preferred to help themselves. Today, visitors demand touchless check-in.
Modern visitor check-in software allows visitors to sign into your cannabis dispensary, grow, or back office from their own smartphones. This includes entering their name and contact information, electronically signing documents, and even scanning their government-issued ID. All of this reduces the risk of COVID-19 and other illnesses overwhelming staffing and making constituents sick.
Streamline Customer Queues
Visitor check-in systems automate the queue management process. When a customer checks themselves into your dispensary, they are automatically added to a queue for assistance. Cannabis organization employees see a realtime log of who is next to be seen, potentially including a photo image of the visitor.
Visitor management systems can also automate processes like asking guests to complete an online profile, providing Wifi information, and sending a survey after they exit the premises. Package and food deliveries can also be handled by visitor management software.

Maintain Compliance
Visitor management systems capture and securely log the visitor's information, ranging from their contact information, reason for visit, and timestamp. More advanced features include scanning government-issued identification, including both driver's licenses and MED cards. Greetly can even capture electronic signatures on legal documents like NDAs waivers.
If the state comes calling with an audit, you'll be able to respond in minutes versus days with manual visitor management processes. Our cloud-based visitor log allows you to view customer and vendor information at a single dispensary or across all of your premises. You can search, sort, and filter the data, save custom reports, download them, or even have them automatically sent to your inbox on a timely basis.
Download Our Digital
Receptionist Checklist
Greetly provides an easy-to-use cloud-based digital receptionist checklist to help you find what you need in a visitor management system. Fill out the form below and you'll receive our checklist immediately.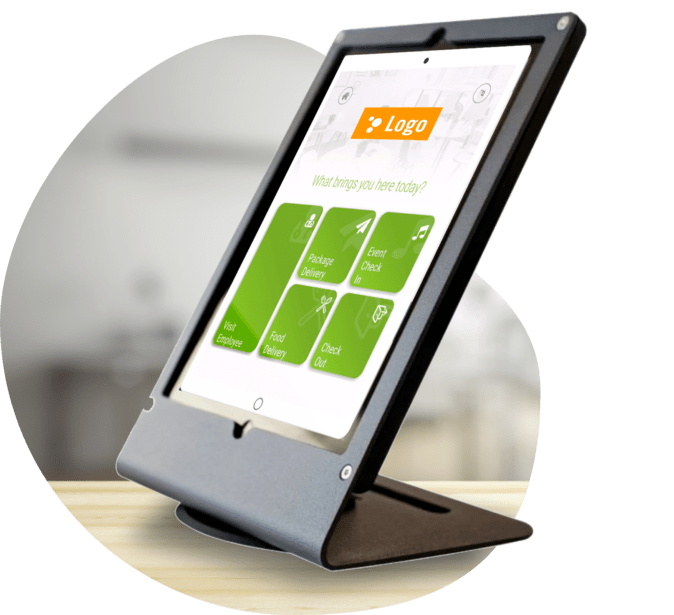 A Visitor Check-in App Unlike Any Other

!

Schedule a free demo with Greetly today! We will take the time to get to know your business and share all of Greetly's simple-to-use features that guarantee an excellent experience for your customers and ensure your workplace's efficiency and productivity.

Our award-winning visitor check-in app works on iPad and Android tablets, and touchless on visitors' own smartphones, technology your customers know and understand. Greetly creates a great customer experience while keeping your workplace healthy and productive.
Try The World's Most Customizable Visitor Management System
Try Greetly free with a no-obligation demo today. This fully featured trial comes with 24/7 support to get you up and running quickly. Our 14-day trial allows you to test Greetly and show it to your VIP visitors.