Compliance and Audits Made Easy with a Visitor Management System
Want to avoid wasting 58 days dealing with compliance audits and $14.82 mln on noncompliance penalties? Here's how visitor management software can help.
---
Executive Summary
With the ever-stricter laws and regulations, compliance is becoming a major concern for businesses. This is particularly true for highly regulated industries, such as finance, manufacturing, healthcare, transportation, and governmental entities.
Noncompliance can lead to penalties and regulatory constraints. They can also damage an organization's reputation, which will affect its whole operation and wellbeing.
A visitor management system offers great potential to help businesses face regulatory challenges, stay compliant, and pass audits effortlessly.

---
Did you know that organizations spend almost $4 million on compliance-related activities and fines annually? Ninety-four percent of the respondents in the same 2020 Telos survey expect to face challenges in meeting privacy and IT security requirements in the cloud. What's more, 58 working days are devoted to compliance audits quarterly.
Ensuring compliance is particularly critical for businesses operating in strictly regulated industries like financial and healthcare institutions, logistics and transportation companies, and governmental and associated entities. This requires significant effort and bites into business resources.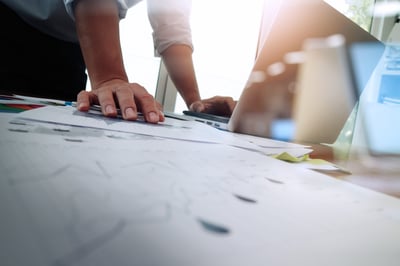 A failure to comply with the ever-increasing number of regulations can result in staggering extra costs. It's well established that non-compliance is much more costly than maintaining compliance. Reportedly, the annual cost of non-compliance to businesses increased by 45% between 2011 and 2018. A GlobalScape study points at $5.47 million spent by organizations on ensuring compliance vs an average of $14.82 million drained by non-compliance issues.
Taking all these figures into account, it becomes obvious that to avoid unnecessary overspending, businesses have to make sure they operate in line with the relevant regulations. How can you achieve compliance and optimize the process of meeting legal and regulatory obligations? Adopting a visitor management solution can be the answer to this major concern of running a business.
To help you solve your compliance issues, we'll walk you through the ways a visitor management system can assist your compliance efforts.
Let's get started by highlighting the primary concepts of regulation, compliance, and audits and their interrelations.
High-Level Overview of Regulation, Compliance, and Audit
Defined as a set of rules or laws, regulations are intended to govern the operations of an organization, type of business, or industry. Recent years have seen the introduction of a great number of regulations and standards that companies need to follow. Some of the most noteworthy ones are:
The Sarbanes-Oxley Act of 2002 was enacted in response to the Enron and WorldCom financial scandals. It was designed to provide protection against fraudulent activities and accounting errors and sets rules for keeping and storing business records.
Payment Card Industry Data Security Standard (PCI DSS) was introduced in 2004 by Visa, MasterCard, Discover, and American Express. This is a body of policies and procedures aimed at ensuring secure debit, credit, and cash card transactions.
Occupational Safety and Health Administration (OSHA) requirements were enacted by the U.S. Congress in 1971. They were designed to ensure U.S. workers' health and safety.
Dodd-Frank Act (2010) was introduced to ensure transparency and accountability of bank operations. The ultimate purpose of the Act is to protect bank clients.
General Data Protection Regulation (GDPR) was introduced in the EU in 2018 to provide for the unification and update of data privacy laws protecting individuals and data.
Federal Information Security Management Act (FISMA) was created in 2002. It requires reviewing information security programs by federal agencies annually to ensure that the data risk is below the set levels.
The Can-Spam Act of 2003 stipulates that businesses have to provide legitimate return email addresses, offer opt-out options, and signal commercial emails as advertising.
Health Insurance Portability and Accountability Act (HIPAA) of 1996 requires electronic health records systems standardization. It also specifies security mechanisms for data privacy and patient confidentiality protection.
On the other hand, compliance can be related to the process and the state of being in line with all established specifications and guidelines. Maintaining compliance involves following industry regulations, your organization's policies, and all relevant local, national, and international legal requirements. This is essential for avoiding penalties and reputational damage.
Compliance guidelines vary across countries and industries. Multinational companies, for example, need to be compliant with all regulations introduced in the countries they operate in. For instance, GDPR applies to all organizations that operate in the EU irrespective of where they're based.
Compliance audits aim at reviewing an organization's adherence to regulatory guidelines. The reports were produced to evaluate the degree and effectiveness of regulatory compliance, security policies, user access controls, and risk management procedures.
The parameters that a compliance audit examines vary depending on the company ownership (private or public) and the types of data handled. For example, Payment Card Industry Data Security Standard compliance audits are particularly relevant to financial services transmitting data related to credit cards. And a Sarbanes-Oxley Act compliance audit evaluates the security and disaster recovery capabilities of organizations.
Now that we've discussed the basic terms, we can proceed with the next practical question: Which industries are subjected to compliance regulations and face the need to undergo compliance audits?
Who Do Regulations and Compliance Audits Apply to?
Compliance and audits are particularly relevant to regulated industries, such as:
Manufacturing
Manufacturing involves responsibilities for protecting workers, visitors, equipment, products, and data. For manufacturing companies, compliance encompasses all the legal, technical, and industry requirements and regulations that businesses need to satisfy in their production and marketing processes.
Manufacturing firms are dealing with growing concerns related to the risk of non-compliance, especially when functioning across different countries and legislations.
Logistics and Transportation
This is another sector where compliance has a heavy impact. Let's take the penalty encountered by American Export Lines for transporting automobile parts to Iran and Afghanistan amounting to $518,000.
This is just one of the examples of companies that have suffered significant expenses due to noncompliance recently. It's a clear indication of the critical role staying compliant plays in avoiding costly penalties.
Government and Companies Serving Government Entities
The activities of various state, local, and federal governments have to follow regulations for maintaining, retaining, and archiving communication carried out through electronic channels. Compliance with these regulations helps avoid fines and sanctions and minimizes the risks of misusing email and social media.
Banking and Financial Institutions
Banking and financial institutions are subject to regulations governing the transmission and storage of sensitive financial information. Such organizations see an increased scope and complexity of activities and operate in a dynamic and increasingly complicated regulatory environment.
Factors like the consumer credit crisis and protection and a few high-profile compliance failures have drawn the attention of the legislators, investors, regulatory agencies, and the general public to regulatory compliance performance and customer policies.
Healthcare
Healthcare is one of the regulated industries that are increasingly being affected by international and national regulations. They are designed to ensure high-quality care for all patients and prevent abuse and fraud.
Healthcare compliance also aims to protect valuable information and patient safety and privacy. It also governs patient billing.
In general, ensuring compliance for all organizations operating in these regulated fields demands specialized knowledge and technology.
Types of Compliance
There are two main types of compliance related to rules and guidelines created by different entities:
Regulatory compliance, i.e. the rules, guidelines, and practices set by external regulations, such as a government agency requiring a specific level of compliance
Corporate compliance refers to the framework of rules and practices introduced by a company following internal policies
So, regulatory and corporate compliance show great similarities and can only be distinguished by the source of the regulations and requirements imposed. Since anything below 100% compliance is likely to result in heavy fines and impaired credibility for a business, it's critical to stay compliant to build trust with your customers and partners. Adopting the right technology, such as a vritual receptionist, can be the best and easiest way to achieve your compliance goals.
How Visitor Management Is Central to Compliance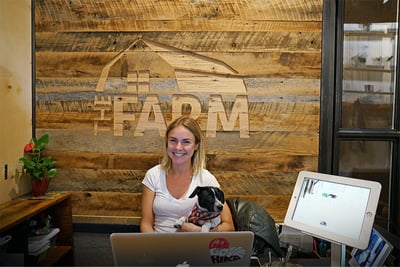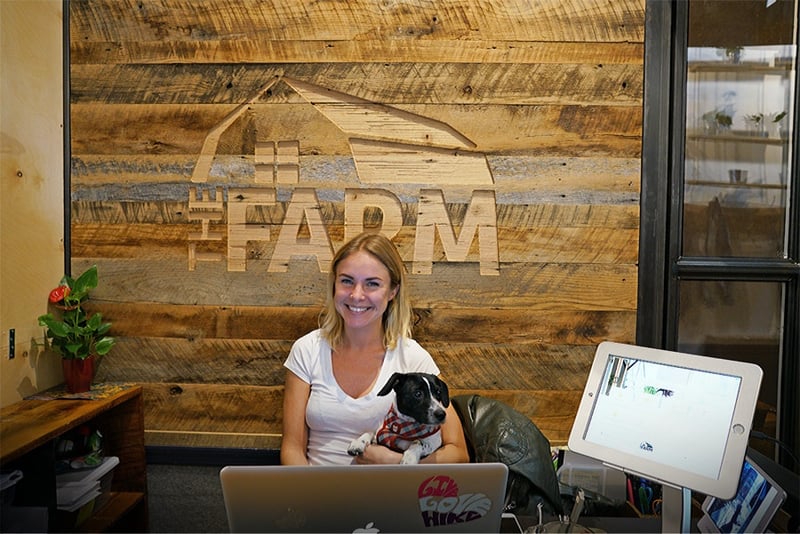 It doesn't come as a surprise that the global market for visitor management solutions is expected to double between 2021 and 2026 reaching a staggering $2.3 billion. The benefits of adopting a digital receptionist go above and beyond ensuring fast sign-in and creating an outstanding visitor experience. They encompass streamlining compliance-related activities and reducing the stress associated with preparing and undergoing compliance audits.
Let's take a closer look at the visitor management features that help you and your team meet regulatory requirements.
Visitor Authentication
A full-fledged visitor management solution, such as Greetly, enables you to verify the real identities of your visitors by scanning driver's licenses or other forms of legal ID. In this way, you can make sure that the people on your premises are exactly who they say they are.
The barcode scanner automatically captures the relevant pieces of information from a driver's license or any other government-issued or corporate ID card. This information can be further checked against other in-house or third-party databases like your watchlist, FINRA list, and criminal or sex offender lists.
Detailed Visitor Log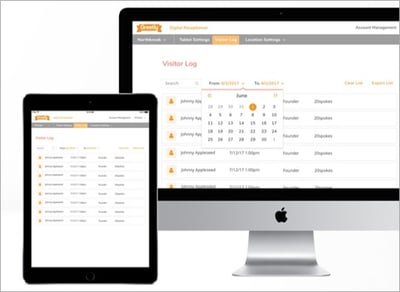 Lobby tracking software allows you to know who, where, and when your guests visit. In addition, it confirms their arrival and departure and can attach an exact timestamp. So, you can keep a precise log including the purpose of the visit, hostname, visitor details, exact time of entering and leaving your workplace, and more.
As an exceptionally customizable cloud-based solution, Greetly, for example, offers various options for data logging and touchless visitor check-in and out. Your guests can use either the visitor self-service kiosk or their own smartphones.
In addition, you can set different workflows for first-time visitors or different types of visitors, controlling the information you collect. Gathering and storing the right data in the cloud helps you stay compliant and have all information at your fingertips, making audit preparation fast and hassle-free.
Visitor Photos
A virtual receptionist can take a photo of your visitors at their registration and attach it to their details, badges, and host notifications. This option further facilitates guest identification and enhances security.
It's particularly valuable in cases of emergency, speeding up the search for unaccounted-for individuals. As emergency preparedness is critical for meeting regulatory requirements, visitor management software that offers the functionality of taking and retaining guest photos can go a long way in helping you ensure compliance.
Printing Visitor Badges
With a modern visitor management solution, you can have visitor badges automatically printed upon their successful sign-in at the self-service kiosk. You can customize the information on the badges depending on your company policies, requirements, and operations.
For example, a visitor badge can include the visitors' name, photo, host, assigned access, and more. All these details will allow your employees and security team to identify a security or compliance risk at a single glance.
Electronic Signatures
A full-cycle digital receptionist comes with the capacity to automatically collect electronic signatures on one or more legal documents, such as nondisclosure agreements (NDAs), waivers, and more.
Greetly, for instance, allows the flexibility and convenience of signing documents electronically during the pre-registration process, on the visitor registration kiosk, or on their own smartphone during the sign-in process. All electronic documents, including signing time, date, and location, are stored in PDFs securely in the cloud. This helps keep your IP safe and your workplace compliant.
Advanced Reporting and Analytics
Modern visitor management systems support the digitalization of all your visitor information and come with cloud-based guest books. This helps you maintain privacy and stay compliant.
You can access and filter your records anytime from any web-enabled device so you can find the data you need quickly and efficiently. You can run reports to respond to audits in a matter of minutes, avoiding the anxiety and waste of valuable time. This is indispensable in case of both unexpected and scheduled audits.
Safety Features
Visitor management comes with safety features that are particularly important when you have to comply with regulations, such as evacuation procedures and OSHA. Greetly, for example, supports emergency preparedness through reliable evacuation notifications and a cloud-based evacuation logbook, which enhances the efficiency of emergency response and helps you stay compliant.
Another functionality that is critical for ensuring workplace security and compliance is access control giving you the confidence of having your guests visit only the spaces they're allowed to. A watchlist feature helps prevent the wrong people from entering your premises. The personalized visitor badges we discussed earlier also make a significant contribution to maintaining your workplace safe and compliant.
Conclusion - Take Off the Compliance Burden and Never Fail a Compliance Audit Again
Navigating ever-stricter and changing laws, regulations, requirements, and standards is getting increasingly demanding. With all potential penalties, fines, reputation damage, and career impacts, failing an audit could be a disaster.
Whether you're challenged by an internal or regulatory audit, implementing the right technology can be a lifesaver for you and your business. A modern visitor management solution like Greetly can take the burden off your shoulders by streamlining all compliance-related activities and audit procedures.
From verifying your guest identity to collecting electronic signatures, to aggregating visitor information and generating reports - you have everything required to comply with all regulations and successfully pass audits. And the best news - it comes naturally integrated into your digital receptionist with no additional software, hardware, or expenses.